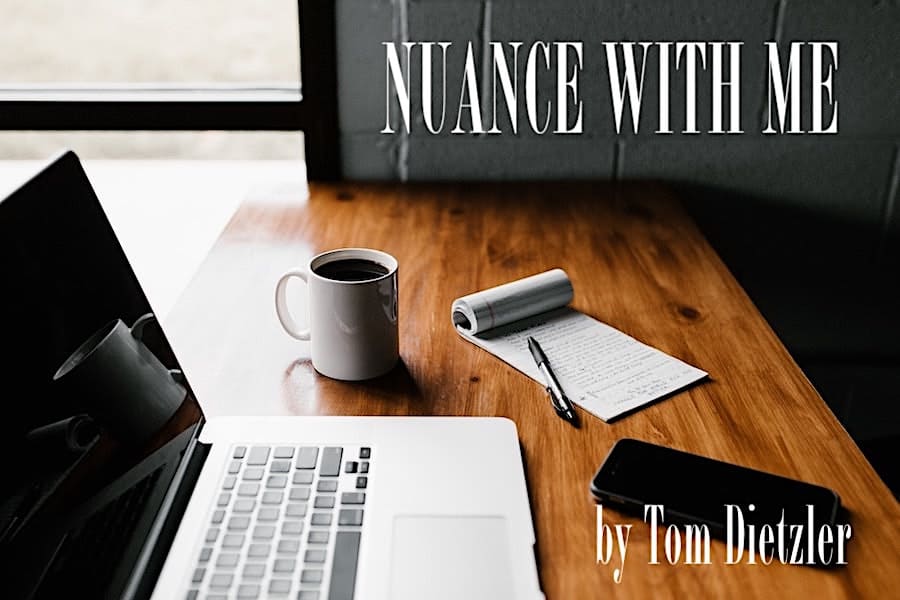 In this piece, I reference people that I have come to know through this platform and elsewhere. Upon re-reading this, I realize that it might sound a bit like Thomas Jackson. Look him up, too.
Being ticked off is rarely the answer. I know this. I walk around with the voice inside my head "You have so much to be thankful for.
Then sometimes I hear Susan Rooks (the Grammar Goddess) say "You have so much for which to be thankful."
Then I tell myself, "You can end that sentence with the word 'for' if you want, and I think Susan would be ok with it."
Then I counter with "Stop having multiple conversations and just think about one thing, ok?"
At this point, my dog has stopped to linger somewhere on an especially strong scent, and I have to pull him away by saying "Come on…" and yank at his leash with firmness punctuated by frustration. And it reminds me that I am ticked off.
I am ticked off at myself. For being ticked off.
We all have stuff in our lives. (I now realize that I am channeling Kimberly Davis.) Realizing that I have conjured up remembrances of two very good friends from LinkedIn, I smile, and my anger fades a little bit. And then I realize that I have affection and admiration for two beings who have come to me through the ether of cyberspace, on a social media platform. And I have never met them in person. And that makes me sad, somewhat, but it also gives me inspiration that the great day of actually meeting them is yet to be enjoyed. And I am thankful for that.
Walking the streets of Grand Chute, WI (if you are not familiar with Grand Chute, it's just a few miles west of Little Chute, WI) early in the morning can accentuate any mood that you are in. Last night I slept thinly, waking often, grumbling because I was awake, and then allowing my addled brain to keep going over the same thing. This is some of the stuff which would qualify as the "stuff" to which Kimberly refers: My aging parents, 92 and 91, aren't behaving in a way that gives any of us, their descendants, any joy. My angst is piling up. My parents' situation rebooted in my brain. Deep breaths, yank the dog's leash, one foot in front of the other.
My parents' actions are causing dissent amongst my siblings and me; some sharp words are being exchanged, fatigue, exasperation, and all the things that caring for aged parents can cause. They are in relatively good health and living on their own independently. I had originally written that last sentence to be a list, with "relatively good health" and "living on their own independently" to be the first two in a series of things that they have going for them. I changed the structure of the sentence because I couldn't think of anything more to add to the list. I am thankful that they are still here among us. I thought about various ways to write that last sentence, too.
Yada yada yada. I could go on about my stuff. It's my stuff. You have your stuff. We could sit on adjacent bar stools, which I would really like, and swap stories about each other's stuff. We will always have stuff. Right, Kimberly? This pandemic is compounding everyone's stuff. Ticked off is our default setting. A guy had tailgated me and then passed me about 500 feet before we got to a stop sign the other day… it was like he had declared war on me. Two miles later it was totally forgotten, but in that moment, I was so ticked off. Because, yes, ticked off is right there below the surface, locked, loaded, and ready to spring forth, with little or no provocation.
I am told that at this point my document is some 600 + words long. Almost all of those words have been spent inside my own head, in my own world, pacing back and forth to make sure that I have listed all the things that are making my life so suckful at the moment. Except that it's not.
When we wallow in our stuff we give it too much importance. We magnify its place and give it way too much bandwidth. As I walked around those darkened streets this morning, my dog Oliver kept his usual pace, turning back to look at me periodically to see if he could coax a treat out of me with his sad, longing eyes. And I realized that he's a great dog, my faithful friend, and the reason that I get out of bed so stinking early in the day to walk those streets. If I'd bother to lift my eyes, I would see the sky being painted in a thousand hues of pink and orange and colors that haven't been assigned yet, but a few of them certainly have something to do with the promise of another day.
Somewhere in the 7,497 steps that I take, a few hundred of those will take me back home. A warm place, a comfortable place, where my wife and breakfast await. And this day, our granddaughter Naomi is here, as we had shuttled her to our hearth last night to allow our daughter the opportunity to sleep in after a 12 hour night shift as a nurse in a local hospital. If I can't give thanks for Naomi's rosy little cheeks busting out in a toothless grin when she sees me walk in, I might as well quit suckin' air and move on to the afterlife.
Am I suggesting that we forget about our stuff and just plaster a silly grin on our face and make-believe that everything is peachy? Not at all. I am offering an option: give yourself space to grieve, and be vexed about stuff, and to wish and pray that things were different. Fix what can be fixed, and leave the rest. But we dasn't (channeling my late Aunt Ruthie with that word…) live our lives as all one thing and not a host of others.
If we focus on the crapstorms, our lives will seem like unending ones. If we pause and give thanks for people like my wife, and Naomi, or Susan Rooks, Kimberly Davis, Jeff Ikler, Rich Gassen, Sarah Elkins or Mark O'Brien or any number of others – who give us reasons to smile, to think, to be better, to be smarter… we become a vessel of gratitude instead of being a deep hole of despair, disappointment, and regret. And yes, it did occur to me to use a different word in front of "hole" in that last sentence.
Naomi and my wife don't have any social media profiles yet, but the rest of the people named in the preceding paragraph do. Look them up, and you can share my affection for them and their presence on the planet at the same time as you. And be thankful for them, Good Gracious, I certainly am grateful for the ways that they give me to be off the charts thankful with every single post, comment, or interaction that I have with them.
Kimberly Davis used a phrase this week in her weekly "Musings" (her e-newsletter) that stopped me dead in my tracks. She said, "Hurt people hurt people." Oh bingo, why yes. I had only heard that phrase recently and it resonates big time. If we define ourselves as hurt and do nothing to remedy it, we become weapons in the world. What if we became lights, balm, or refuges, instead? Wouldn't it be better being that shining light that benefits others?
When I chose the name for this little corner of BizCatalyst 360°, I did it with intention. "Nuance with Me" is how I write, trying to see both sides of a lot of things. (Hats off to Dennis Pitocco for the gift that BC360° is!) We all have stuff. But we dasn't let that stuff define us. If we don't treat our stuff as the stuff we need to overcome to help us be better, we end up in those holes, cursing the darkness. There is darkness, no question. There is also plenty of light. I named some of them. Add your name to the list.