Introduction
For 28 years, Inspired Work has delivered many of the world's most effective solutions for individuals who work and for employers that want to become great places to work. But, with every passing year, more and more individuals are having challenges with the vast changes impacting every profession and industry. Today, we tout unemployment figures of 3.8% but all of us know that is a political number. The most telling figure is in underemployment. Underemployment deeply impacts 25-48% of our nation's workers. These are individuals being kicked to the curb by change and it is a growing crisis that impacts most of us directly and indirectly.

We are introducing a new digital platform that brings all of Inspired Work's intellectual capital to the national market. Here's the kicker. We will deliver a one-stop work-solution for individuals, employers & entrepreneurs without any charges for our core services. Underemployment is the back story to America's shocking unrest. So, even if you are blissfully happy with your work, there has never been a point in time where giving everyone who works the tools to modernize and thrive.
A Few Examples
Underemployed professionals understandably tend to horde money. So, at the very time, they most need high-quality career support, they sit at home trying to hack solutions on the Internet. Work is perhaps the most unorganized category on the Internet. We will lead them to solutions with a few strokes of a mouse.
Business owners are so focused on getting clients and meeting payroll, they tend to be unfocused in building and developing their talent. The same programs that Inspired Work has delivered to organizations such as The Walt Disney Company, The University of Southern California and HBO will be provided to all employers without charge.
Talent Managers tend to live by their budgets. Now, some of the best learning, employee engagement, and executive development programs will be available without impacting their budget.
Parents are at a loss in what to tell their children to prepare them for the future of work. In fact, today's college graduates will change careers, not jobs, 4-6 times. Workskunk will provide the kind of video content that is relatable to people of all ages and will help all of us set new expectations for the future of work.
In other words, we are committed to upholding the long-term brand of Inspired Work, which is to create experiences so memorable, they provide a turning-point in how someone works.
Much of today's political and cultural unrest comes from a population that doesn't see a secure future, especially in having a livelihood. Our country needs a reliable source of solutions for people who work and people who will work in the future that is factual, elegantly easy to use and impactful. In other words, we are committed to upholding the long-term brand of Inspired Work, which is to create experiences so memorable, they provide a turning-point in how someone works. Our country has the single most powerful and diverse talent base in the world. But, misinformation and fear are prompting far too many of us to give up hope when, in fact, the work opportunities coming towards us are more plentiful and engaging than anything before.
Complaining about technology and cheap outsourcing distracts all of us from changing the way that we live and work. In fact, we have little time left to get our culture past this mediocre conversation. What is the higher truth? Technology is offering us freedom from monotonous and repetitive work. In fact, we are being offered new forms of freedom that can transform our lifestyles, give us greater power to solve problems and grow in ways that we exceed our wildest dreams. Workskunk will take those dreams and present them in practical and actionable ways. It will help those of us who are stuck, open up the doors to a bright new and highly personalized future.
For years, skunkworks have served as laboratories where cutting-edge organizations invented new products and innovations. Workskunk will be the home where anyone who works can reinvent themselves and where employers can invent new and better ways to work.
Right Now, Change is in the Driver's Seat
How big is the growing challenge? One of our senators recently suggested that "We ought to get all of these coal miners into trucking." Today, truck driver is the #1 job for men in this country. However, Anderson Graduate school just released a study that indicates the impact of AI and Robotics on this vital job category: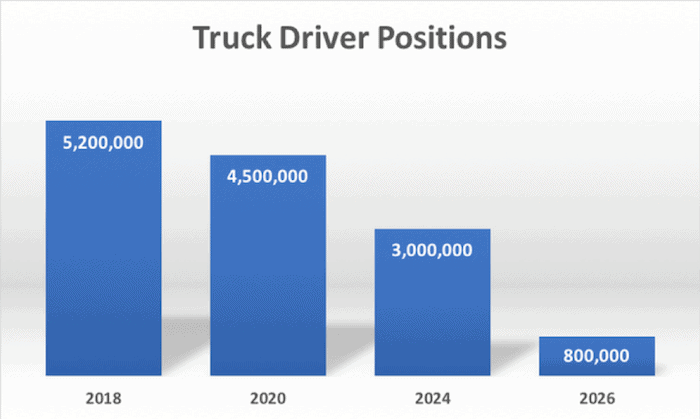 This means income will at best stagnate and truckers ought to be looking for significant career reinvention right now. Unless we begin career reinventions today, every year will introduce reduced expectations and less opportunity. Does that sound familiar? This isn't a political problem, it is a living problem. Add thousands of additional task-based jobs to this equation and all of us have a vested interest in seeing that we give everyone who works access to real and actionable solutions.
But, where do you begin?
Many of us go to the Internet to find answers about our careers but it isn't organized. It's common to not even know what to look for. So, we spend hours "hacking" and searching for that solution that will change everything. Well, help is on its way and you will soon be able to find those perfect answers with lightning speed. Elegantly simple, comprehensive solutions will be available for anyone who works.
We have helped thousands of individuals change and modernize their work, not by finding new ways to survive but personalized ways to thrive.

Since 1990, Inspired Work has provided groundbreaking career and workplace development programs. We have helped thousands of individuals change and modernize their work, not by finding new ways to survive but personalized ways to thrive. The graduates of our highly experiential group programs led to a wide range of organizational development services with employers such as The Walt Disney Company, University of Southern California, Loyola Marymount University, HBO, and others. The founder of Inspired Work, David Harder and his colleagues write books, appear in international keynotes, and contribute to a growing body of work based on the best from human, leadership, and executive development as well as academia and behavioral science.

Workskunk will take Inspired Work's incredible library of services and bring it to a digital platform available to everyone. Our core services will be cost-free. Any individual or organization will be able to access a comprehensive array of solutions about work. The solutions will include career development, learning programs for much-needed life skills and services for employers that include leadership development, employee engagement as well as unique learning programs.
Why will we make our core services cost-free?
Inspired Work, as well as its competitors, use an obsolete business model. We fiercely protect our intellectual capital and then sell it to the highest bidder. Unless we intervene, the underemployed work population will continue to skyrocket and turmoil will continue to grow.
Additional Services
Workskunk will add a broad array of totally new services for all members. We will be launching a news channel that provides two anchors who bring weekly stories, trends, insights and business opportunities to members. But, unlike existing news channels, our news will be interpreted so that members get valuable and actionable insights as the world continues to change. A mentoring service will allow members to sign up for being mentored into new industries or to become mentors to others. Our book club will provide the best and brightest authors to people who want to learn. In fact, Workskunk's core strategy is to turn every member into a vital active learner, perhaps the single most important characteristic for modern success.
Workskunk Premium
All of the free-core services will help anyone achieve their desired goal. Workskunk Premium will enhance this experience by providing customized services tailored to an individual/organization's needs. The benefits will significantly save time and well worth the $79 monthly fee.
Benefits include:
✅ Curated news alerts filtered, bundled and forwarded to members
✅ Unusual networking opportunities from the leadership of Workskunk
✅ Customized support based on professional type, learning needs, and industry
✅ Ongoing access to virtual and in-person summits offering leadership, global influence, and trends
Workskunk for Individuals. Workskunk will help individuals not only catch-up to accelerate change, it will help them use it to the advantage of their careers and personal fulfillment.
Workskunk for Businesses. Workskunk will help business owners develop their employees without having to set aside funds. In fact, a low-cost premium membership will manage the entire process for them.
Workskunk for Employers. Talent Managers routinely have to deal with budget changes that upset the best plans. Workskunk will help employers meet people development needs by minimizing the impact of budget changes.
How will the money be spent?
Below is a break down by percentages on how funds will be expensed: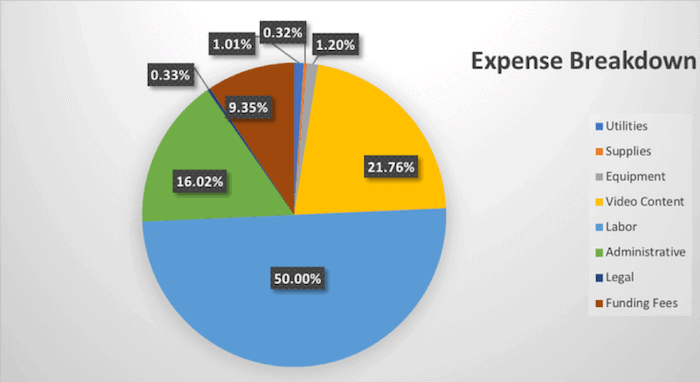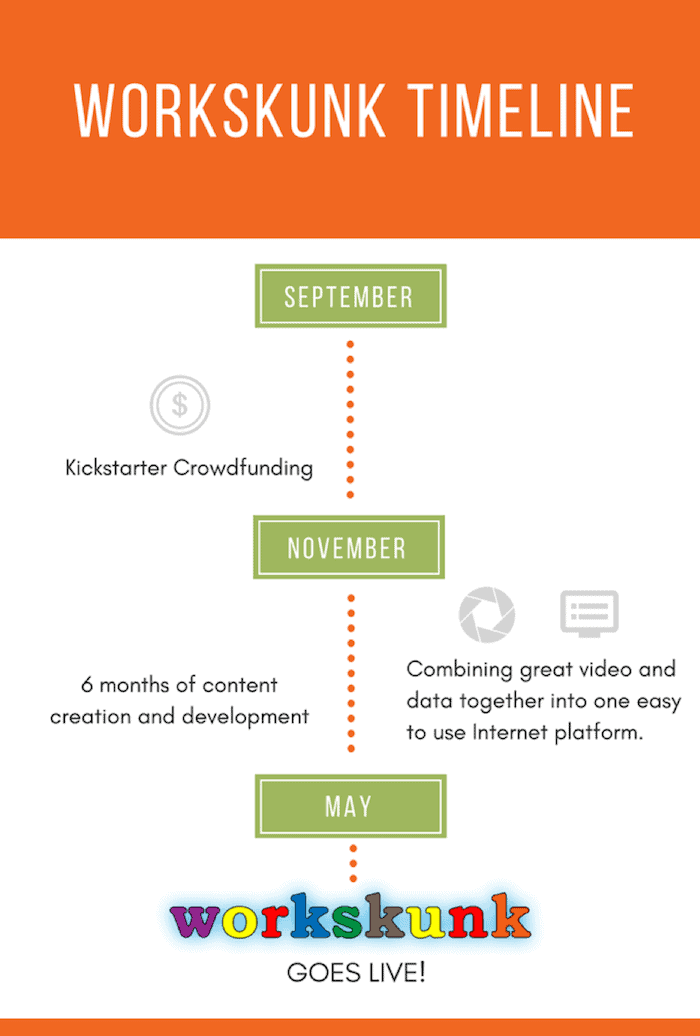 Risks and challenges
Inspired Work has never been in the position of becoming a diversity-rich organization to be successful. Our video casting must reflect all genders, a full economic spectrum, and all races. In other words, we want and need to have our members see people they relate to.
This platform can become a major disruptor in a wide variety of industries. That opens the door to our biggest risks and forces us to grow quickly and skillfully. We do not have room for errors and when errors do happen, it will be critical to learn from them and move forward with greater awareness.
Once Workskunk is off the ground and operating, we will need to secure world-class and fresh content continually. If we are to remain a cultural game changer, we will need the kind of talent that sits at the heads of our most sophisticated and largest client organizations.
CLICK HERE TO SUPPORT OUR WORKSKUNK MOVEMENT TODAY!
---