Trees play such an important role in our lives and certainly touch the heart with both grace and strength regardless of the season. When in full leaf, whichever way observed, there is a feeling of emancipation as if they know exactly what is happening on a daily basis; preparing for Winter, Spring, Summer and in The Fall, when nutrients from golden leave are absorbed into these majestic beauties.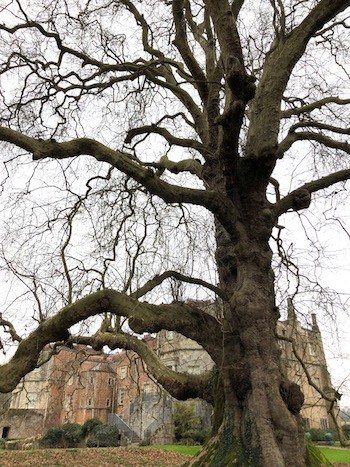 Glistening sunlight filters past leafless branches and when the sun is centered behind a trunk, light is split; one side and the other. The glow is surreal as if angel's wings spread themselves on either side and when the sun moves, imagination and fantasy come into play. An angel in full glory, ordering not only wings but in full form, resplendent with crown and glistening eyes of Peace and Hope.
Divinely connected, Winter branches reach out to Heaven and Universe, a tree freed of leaves, sunshine unlimited as it caresses trunk and branches. Look up and follow the heart to a new perspective, as treetop branches grasp the angel's offered hand.
Every tree is unique; with its own 'personality'; engaging with other trees in friendly sways and ways. Each tree, varied branches, a unique design. A unique, living being.
Strolling through woodland; a family of trees or through an avenue of Nature's awesome giants, there is an atmosphere; a form of tangible synergy received from and extended to those uplifted by such grandeur.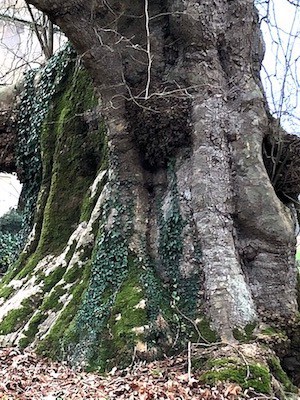 Most stare upwards; a natural inclination. Gradually lower eyes to ground level, free imagination. Be open to fantasy and another world opens its doors. Look closer; forests of moss, so bright so green.
Topmost branches glancing down; a stroller's presence noted. Strong vibes received; gratitude and love of Nature abounds.
Beside the River Test are weeping willows; winter clad; branches hovering naked of leaves over the surface. A contrast with their summer clothes when they literally dominate the scene; not so much in size, but flowing in empathy with surroundings they bless.
A swan greets passers-by with a touch of delightful conceit and natural superiority. This particular swan seemed to pose while photos are taken of this gorgeous specimen; a feathered angel.
Close by is a 'Summer Garden' where a stream flows gently by; snowdrops and other beautiful blooms bless the stream's bank with such color that is so rewarding in the middle of winter as if presenting a new life; a celebration indeed of Mother Nature's gift to us in mid-winter.
Winter Trees are resplendent, awaiting the glory of Spring and Summer to come; enveloping anyone walking beside them with a feeling of serenity and hope.