Spicy coffee. Ah, the warm scents of cinnamon, nutmeg and chilli. Deeply inhaled every morning it kicks my ass through the daylit hours. My addiction of choice to accomplish the practical tasks that uphold my pretence of normality. My parameter for a 9-5 world.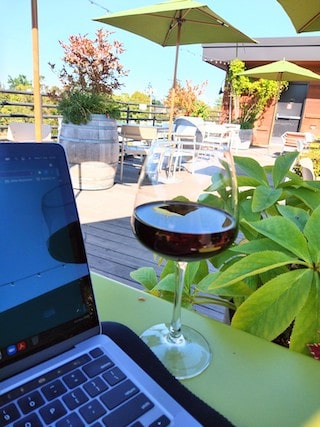 Now, evening is slipping in.  The days grow shorter. The earth turns even as the pandemic sweeps on.  Shops close earlier now. The new normal.  Lack of staff or, inventory. A last struggle to keep the doors open.  People have slowed, newly aware of everyone around them. Masked, Unmasked.  Vaccinated, Unvaccinated. Social norms mutating in a viral, global movement. Time itself has been warped by the virus. It is a blessing in terrifying disguise.
At this moment, it is Happy Hour in Year Two of pandemic time. 4 pm is the new 5. My cuppa has morphed into a rounded glass of red wine.  Sweet solace in this brave new world.  September blows in with musky scents of autumn. Dust devils dance mischievously, snatching leaves from heat-worn trees. Summer memories are crawling down the pavement cracks, chased in by cooling nights.
Daily, there are new mask mandates and changing policies amid rising Delta infections. The Lambda strain waits in the corridors. The stark truth is, we don't know what we are doing. On any level.
We are being challenged in mind and soul to seek out and create something – better.
We tried so hard to forget 2020… To move on, reverse ass-backward to "Normal".  We suckled on the perceptions of our previous normal lives like a baby on the breast. Travelling, socializing with friends, going to events, we embraced our fresh air freedoms. The End of The Pandemic trumpeted in by a new government and administration.
Winter is slipping in along the pumpkin patch rows. Waiting to grin at us through Halloween-carved grimaces.  My Facemask dangles from one ear, tangling in my earring.  Small irritations in the big scheme of life. Sipping at my wine, I confess to confusion.
Wear a mask to stand and order, take it off to sit down and drink. Wear it in the changing room, take it off in the pool. Vaccination is mandated for work, but not at the bar. Watching local businesses close their doors for good. Boarded, graffitied windows neighboring Gucci and Apple sparkled displays. Shorter hours couldn't stand against the waves of increased costs and dis-enchanted workers. They tried. I wonder about a "booming economy" as the homeless crowd the streets. Schools are opening as children languish in hospitals. Wall Street bubbles with bedazzled investors in a city of ghost buildings with rising rents.  Yes, I am confused. Media does not translate to reality.
Statistics 101. Forever thank you to my U of Montana professor who laid it out so succinctly.  Believe the numbers, not the curves.  Statistics do what you tell them to…The economy is not booming.  How can it be?  Manufacturing is pulling the brakes due to a lack of parts. That means job losses.  Small businesses are closing, unable to bear the combined costs of inflation. People are homeless, (or, "houseless") due to unaffordable rents and house prices.  California, Nevada, Greece, Italy, Russia are burning.  China, India, Louisiana flooded. Catastrophes of biblical measures in conjunction with the virus. So, tell me, how do these facts in formula form equal in any way a "recovering" national or global economy?   How are we doing "better"?
I am confused. Full of  "whys" my wine has no taste for. As I sip, watching the sky turn evening orange from fire smoke, reality no longer follows any social media storyline.
In this changing world, we need new words that engage directly with an inclusive reality.  To exchange repetitive social media lists of "how to be happy" with social definitions of sustaining happiness.  Interpret and translate cultural differences into common ground humanity.  Build a vocabulary for environmental and social action based on global connections. Divided, we are all failing and, falling.
It's time to shake off the lethargy fed by media distractions and divisive political agendas. Take a breath, square our shoulders and view reality clearly beyond media-directed statistics. Numbers driven for unsupportable consumerism and temporary satisfactions. It's time to "get real".
I am confused about many things in this "new" world. But, there is one thing I know in my heart and soul.  We ARE all in this together. All the money in the world won't save any one person. Time to drop our race-horse blinders and gallop away from the racetrack of politics.
Race instead toward a new future unfettered by the endless circle of the old, worn track. It's time to stand strong, new, together.  Earth doesn't care what colour, religion, or language self-defines us.  A rich house is as easily destroyed as a miner's shack. Nature levels us all.
I am confused every day, by so many things.  Except, this one thing. In our new world, we must walk away from our separation divisions and grow towards our greatest mutation.  Our mutual, inter-connected commonality of – humanity.
In a Brave New World, let's be brave together.