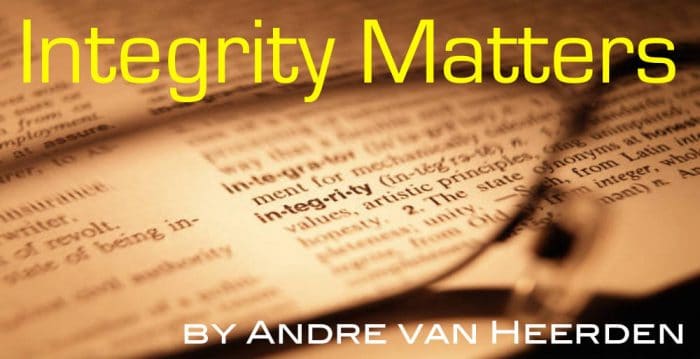 "I was preparing a speech in praise of the emperor in which I was to utter any number of lies to win the applause of people who knew very well that they were lies."
–Saint Augustine in Confessions
If the first duty of a leader is to define reality, that is, to tell it like it is, then it is easy to see the reason for the global leadership crisis and the abject failure of the leadership development industry to make a difference – we live in a culture that insists that we can define reality for ourselves in defiance of objective reality. Yet the comprehension of reality is where wisdom begins, and leadership is impossible without wisdom.
The mortification of Augustine over the irony of the situation in which he was placed by his position as a celebrity speaker at the court of the Roman emperor should ring a few bells in postmodern ears. After all, in the Age of PC, who in the corporate cauldron or the political cesspool does not from time to time utter untruths in order to curry favour with the powers that be?
Playing fast and loose with the truth is a human failing well-documented from the earliest times, but in the postmodern West it has been elevated to the status of a devotional ritual that is performed intermittently throughout every day by people in politics, business, and social relationships of all descriptions. Trained to tell it not like it is, but rather as one would like it to be, or as those in authority insist it must be, most people are predisposed to say what is useful as opposed to what is true.
And so, politicians say whatever it takes to get elected; corporate executives put a spin on practically every word they speak; job-seekers unashamedly pass off elaborate works of fiction as trustworthy curricula vitarum; academics parrot the prevailing orthodoxy in their quest for tenure; and the media, mainline and social, positively revel in the post-truth atmosphere of the postmodern West.
How can a leader possibly inspire belief, confidence, and commitment in situations where disillusionment, cynicism, and self-delusion have infected most of the population? The predominant worldview in western society is neither receptive to leadership nor primed to produce people capable of it. And this is the central challenge to all leaders and the leadership development industry.
In a recently published media interview, Brigid Carroll, an associate professor at the University of Auckland School of Business rightly deplored what Harvard Business Review called "the great training robbery", with billions squandered by business worldwide on ineffective leadership development programs. However, her own rather esoteric view of leadership provides no meaningful alternative.
Carroll, author of a new book, Responsible Leadership: Realism and Romanticism, co-edited with British academic Steve Kempster, disparages what she deems the inadequacy of the traditional understanding of leadership, which she believes focuses on individual charismatic leadership. She prefers instead to see leadership as asking the big questions, like "sustainability, social responsibility, innovation, marketplace shifts, and inequality", and seeking solutions through "groups connecting and holding responsibilities".
Now the sophistry employed here is typical of the regime of political correctness under which we groan, and also the very industry she claims to be debunking. When she disdains the idea of charismatic leadership, she is attacking a straw man – books repudiating the charisma model have been around for ages e.g. Built to Last by Collins and Porras, and The Leadership Challenge by Kouzes and Posner. But, more serious in view of her credentialed status, is her failure to define reality.
Her so-called big questions are not what leadership is about; they are some of the many issues that require leadership to resolve them. We must first understand the nature of leadership before we can apply it to any issue at all. Moreover, "sustainability, social responsibility, innovation, marketplace shifts, and inequality", are nothing more than meaningless abstractions, politically correct buzzwords, as long as they remain cut adrift from objective reality.
Of course, defining them in terms of objective reality requires an understanding of the nature of things, what is good for them and what is bad for them. That alone is what will enable one to know precisely what it is that needs to be sustained and how, what actually constitutes social responsibility and according to what ethical norms, whether innovations will help or harm people and the planet, how marketplace shifts are the result of human choice rather than some brute determinism, and how we might acquire a substantive grasp of the causes of inequality and the extent to which its eradication is possible or even desirable.
Continued on Next Page