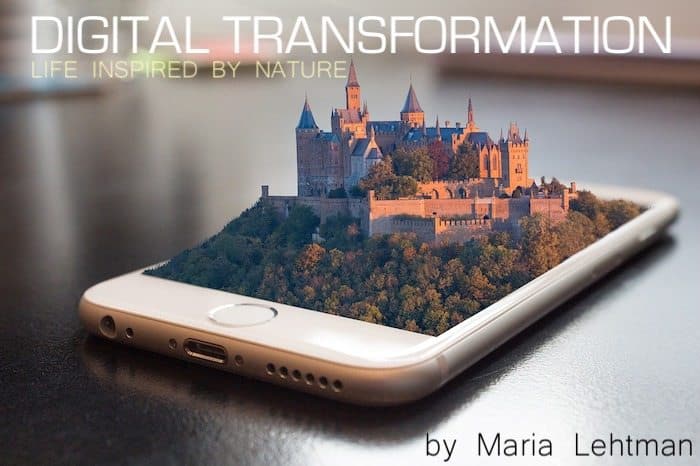 Digital Leadership Principles
"Intuition is like a Sword of Truth. Wielding it does not reveal what we think – but who we truly are."
~ Maria Lehtman
Do you feel that news headlines today are filled with fear? "Fear returns to Wall Street…" (CNBC), "Robots will destroy our jobs…" (The Guardian), "Cybercrime: an unprecedented threat to society?" (Information Age)…
Is fear contagious? If so, how do we lead people in a world that seems to be spinning out of our control? There is a way, although it takes more effort than doing what you did before.
What can fear do for you?
When we feel dread, alarm or panic – we suffer physiological consequences in our bodies. We experience a chain reaction in the brain that starts with a stressful stimulus ending with a release of chemicals that cause a racing heart, fast breathing, energized muscles, etc.
In other words, fear acts as a trigger to a fight-or-flight response. Fear is a behavioral pattern that tells us how to cope with adverse situations. It is necessary, yet, most of our modern-day threats are psychological rather than physical. Just reading the headlines raises a level of alarm in your body. If that happens even to the most seasoned leader, imagine what it does to people less prepared and schooled in managing stress. Pay attention to what triggers your emotions.
Do you recognize a fear of failure, fear of being left out, fear of not knowing, fear of the unknown, fear of losing autonomy? Facing your fears and understanding the source will help to anticipate and cope with them and address the adversity affecting your organization.
Why is fear the first obstacle you need to combat in intuitive leadership?
Fear effectively blocks all higher intelligence paths. Our ability to use perception ties directly to the amount of panic we feel. In stressful situations, it is surprisingly easy to ignore emotional intelligence, the silent information, our senses and guidance from others. We might even read accurate data, and be unable to interpret it correctly.
We become trapped in the invisible web of panic without ever realizing it was there.
Intuition, on the other hand, is a tool to listen to your senses:
– How do I feel?
– When I see/hear [this] why is my pulse getting agitated, breathing shallower?
– Can I understand what I'm feeling and why?
When you confront your fears, you begin to see that your leadership talent is much more than what technology, rank, financial situation or even the number of staff defines. If you lose the 1'000 people reporting to you, does that make you a lesser leader? No, it does not. Leadership is about the 'how,' not the 'what.' If you accept change, you will reflect that in your ecosystem.
"Fear is not real. The only place that fear can exist is in our thoughts of the future – Fear is a Choice."
Change is a constant factor in today's business world. We have an endless amount of information available for improving our business, and yet, we may miss out on the most important part if we disregard our emotional intelligence and the use of intuition.
While you are unlikely to waltz into a boardroom calling off a major organizational change because of a gut feeling you had waking up – you might be able to pinpoint what exactly creates the uncomfortable feeling.
Intuition can provide great insight into data, trends, opportunities and avenues of choices in the future. Building up confidence is a delicate task especially in times of escalating change, waves of fake news and panic-ridden headlines.
Leading through digital transformation never gets any easier, but you become more accustomed to the fact that adversity lifts its head every morning. Intuition and consciousness are tools to manage it.
How to read signs of intuition? Intuitive insight will always let you stand on a neutral ground. It will provide information without strong emotional impact although it does manifest through senses. Intuition increases presence, observation, a feeling of detachment and compassion without judgement.
Fear on the other hand comes with a range of emotions and a feeling of separation. It hinders vision of a positive or neutral outcome and narrows the perspective. Fear is a subjective, inside-out view.
Leading Without Fear
There are many ways to lead people, but a few of them are extremely counter-productive. The first one is trying to do steer ahead alone. The second to deploy a transformation using fear as a motivator. Yet, even in today's experienced business culture these approaches are applied frequently.
Why? Because it is human nature to reflect the very feelings we have inside us. Every time we act out in stress, we automatically spread fear.
Some years ago I was in the middle of a major IT transformation program. We had been working uphill every single day for six months to catch up on the ambitious timeline. I started to feel extremely stressed out. I thought it was due to the program until my mentor asked me: "What are you so afraid of?"
The question woke me up! I was frustrated, but more so, I felt a fear of failure looming over me. It was not because of the program as such. My confidence was shaken by the fact that I had people in my network questioning whether we were 'doing it right.'
We implemented a change in the steering communication structure and the program team to instill more confidence in our stakeholders. I still had the pressure but without a major fear factor. Adding transparency and choosing the right people at the right time is critical to success.
Digital Age is About Stepping into the Unknown
Learning to lead by intuition is always a step into the unknown. You need to hunger for knowledge and then let go of your fear of the unknown. Digital Leadership relies on innovation, curiosity, motivation and the willingness to integrate people and technology.
You decide how your future pans out – not by defining 'what' it is, but 'how.'
The most concrete way of doing that is to find a path that creates a feeling of passion in you. A new direction may not bring immediate results, but it creates a path to another future. People will always identify with a passionate leader.
"You can't connect the dots looking forward; you can only connect them looking backward. So you have to trust that the dots will somehow connect in your future."
---
Sources:
*) More Reading: Dr. Judith Orloff, New York Times Bestseller, "Emotional Freedom: Liberate Yourself From Negative Emotions and Transform Your Life" (Three Rivers Press, 2011)