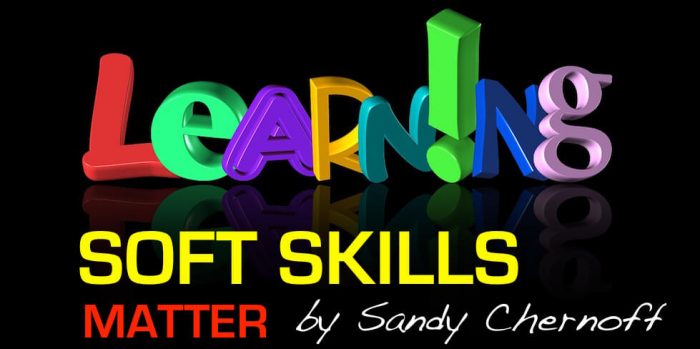 Every job requires a specific set of technical, vocational, or professional skills that are learned in the program that one takes to acquire those specific skills.  That is a given and an expectation when one applies for a position.  So why does one also need soft skills?
Soft skills include the ability to effectively communicate with co-workers, superiors, customers/clients, suppliers, etc.  This means being an active listener, one who takes responsibility for what one does by being accountable for your actions, and asserts themselves when it is appropriate in an honest and respectful manner.  In addition, one needs to have the ability to handle conflicts effectively so that they do not get out of hand.  One must also understand that there are gender differences in communication approaches and styles so when speaking with the opposite gender you may have to adjust your communication style to suit them.  Finally, different people have different personality types and each of those usually requires flexibility is communication style as well so that you can be sure that they will understand your message, interpret it as you wish so that you will get the result that you are seeking.  All of these aspects of communication are essential for the reduction of disappointment, resentment, confusion, miscommunication, and stress.
These skills also include the ability to be a good team player, manage one's time efficiently, handle stress effectively when it is occurring.  Being able to do all of that will make you valuable to the organization.
Embrace change as it is necessary, and as it has become the new norm, this is an essential one.  If one is not willing to do this, you will likely be left behind or even, in some cases, let go of your position.
Sometimes one is required to make a presentation to a client/customer or the team and so that is another important ability to have so that you can do it well.   Most people would rather do anything than to be asked to publicly speak, however, if you have the tools to prepare well and deliver your information in a comprehensive, clear, and engaging manner you will be appreciated for that accomplishment.
In some situations, one may be required to take on a leadership role and so knowing how to do that effectively might be key.  Managers need to be able to recognize the potential in their team members and be able to help them to fulfill that potential which will be advantageous to them and then to the team as a whole.  You will want to acknowledge contributions by team members and leverage the specific skills of each member so that the team will be able to achieve its goals and complete its projects and jobs in a timely and efficient manner.
Perhaps you will be asked to run a meeting or two from time to time…..that also needs to be done well so that the expected results will occur from that meeting.
Soft skills are key to helping one to be successful in every aspect of one's life so learning them and practising them is very important for one's happiness, creativity, and success.  In addition, if you have good soft skills you will also experience less stress.
If you feel you do not possess many of these skills, as most programs, sadly, do not include them in their curriculum, it would be a good idea to find some courses or a coach so that you can learn them and be able to practice them in your daily life.