Last week, special investigators, appointed by the Governor of the Commonwealth of Virginia, released their final report on an "equity audit and investigation of Virginia Military Institute."  VMI is a public state-supported liberal arts college in western Virginia, a military academy that prepares students for both military and civilian life.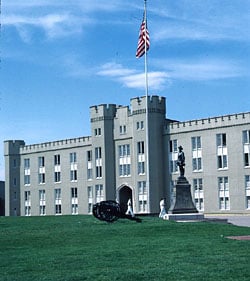 The Institute, founded in 1839, has a proud history.  Visitors are quickly indoctrinated into the story of how VMI cadets were the only military school cadets to fight in a war, called to action in the battle of New Market on May 15, 1864, contributing to the Confederate victory in that battle.
New cadets reenact the battle during their Rat Year and, until December 2020, all rats (freshmen) saluted the statue of Stonewall Jackson which stood outside the barracks.
I am a VMI alumnus parent.  I was, and am, thankful that my son received an amazing education, an opportunity to commission in the U. S. Marine Corps, and a huge alumni association that would help him throughout his life.
I didn't think too much about the Confederate aspect of the Institute; actually, I'm not sure I really understood it in 2009.
VMI originated in 1839 as a school of higher education for white men.  In 1968, African American males were admitted.  Women were admitted in 1996, over significant resistance.  Diversity was legislated, and everyone was expected to get on board.
How'd that work for them?
In October 2020, the long-time Superintendent of VMI was asked to resign by the Governor of the Commonwealth, saying he had lost confidence in his leadership.
The events of 2020 and the turmoil of the nation finally roused the anger in minority cadets, and the stories of racism grew loud.  The Governor of the Commonwealth, a VMI alumna himself, initiated an investigation and found sufficient concern to remove the Superintendent.
He then engaged a law firm to complete an in-depth investigation.  The law firm released their report on June 1, 2021.  Their conclusions, as described in the executive summary stated that:
Racial and gender disparities persist at VMI
VMI's culture creates barriers to addressing and solving these problems.
VMI must be held accountable.
If you're interested you can read the public report.  But that isn't what caught my attention.  What caught my attention is how deeply the school (faculty and cadets) resisted the investigation.  The executive summary states:
"The reaction to the investigation from the larger VMI community and the Institute itself demonstrates the effect of this problematic culture. The unusual amount of vitriol, criticism, condescension, and condemnation from many in the VMI community regarding the investigation has been alarming."
"Additionally, despite a pledge of cooperation, VMI's leadership sought to control the investigation, the message, and the report's findings."
"VMI also sought to keep members of the VMI community, including current senior administrators, from participating in interviews, and it engaged in public messaging designed to encourage the VMI community to disbelieve and reject this report, particularly when their efforts to thwart the investigation proved unsuccessful. These actions by VMI negatively impacted the investigation, especially because, as VMI knew, there was no process to compel VMI's cooperation."
So, I have to ask the question: What are they afraid of?
Perhaps they are afraid of change.  I get that.  We all get a little testy when our world changes around us.
Perhaps they are afraid of losing their heritage.  Again, that is a genuine concern for a school so steeped in the history of our country.  They don't want what they have esteemed for so long to be cancelled.
Perhaps they are afraid of losing their power.  There are a lot of celebrity thought leaders today who want to empower the white male to stay in power.  The changes in our country's demographics don't bode well for sustaining that power.
Perhaps they resent the legislation that forced a more diverse cadet population.  Reading the investigative report, one gets the sense that is an underlying theme…."Heck, we let 'em in, what more do you want?"
A microcosm
What is happening at VMI seems to be a microcosm of what is happening in our country.   All of the past legislative attempts to force equality are blowing up in resistance.  It seems to me that there is a segment of the country that really never wanted the equality in the first place.  Perhaps they really didn't understand that until now.  And as they grow louder in their voices, their ears are closing up.
Is there a segment of the population that doesn't really want equality?  I really don't think that is the case.  Instead, I think that segment is frightened.  What might they be frightened of?
Perhaps they are frightened that the results of their hard work is being channeled to those who don't want to work hard.  I get that.  I don't want to evolve to a point people who do not contribute to the economy are able to live the same life I live.
Perhaps they are frightened that their values system is eroding, being replaced by those who don't have the same reverence for our country.  I get that too.  It does seem that many of the traditions and symbols that we grew up with don't hold the same strength, and that makes me sad.
Perhaps they worry that what made America a great nation is crumbling. I think it is, actually.  I think our country is going down a path that can easily wipe out everything for everyone.
Adam Kinzinger, (R-IL) made a comment recently that, with all of the bickering and in-fighting, we run the risk of not having the wherewithal to address critical issues facing the country and, we may all lose.
We are teaching a slanted view of history to our children and are happy with that.
We are so busy arguing about the yes/no question of where there is climate change that we aren't discussing and addressing any real issues that we could actually fix.
We are spending a great deal of time, energy, and money on finding the cause of COVID.  Why are we doing that?  I suspect that it isn't to conduct a "lessons learned" exercise but instead is simply so one side can point the finger at the other.
We've got to stop this
We've got to stop this, folks.  This isn't who we are, and the future before us isn't where we want to be.
When we won't engage in a civil conversation with someone we know "leans" differently, we've lost.  And quite frankly, we've got an awful lot to lose.
What are we afraid of?
What should we be afraid of?