Making your website accessible seems to be the best thing to do when 1 in 4 US adults have some sort of disability and 15% of the world's population is disabled. The idea is to ensure your website, products, and services are easily accessible to everyone including those with any disability.
If a visually impaired individual can't order a t-shirt from an ecommerce store, that means the store isn't fully accessible. Even if a single website visitor faces any accessibility issue, you need to fix it. In fact, it isn't about the number of disabled individuals who visit your website and might have a problem with browsing, but it is more…
Let's see why web accessibility is important and how you can improve your website's accessibility easily and effectively.
What is Web Accessibility?
Web accessibility refers to designing and coding your website and web tools in a way that they can be used by people with disabilities. This means disabled individuals can interact with your website easily without hurdles.
People with cognitive issues, auditory problems, speech disabilities, or any other disability use certain devices (e.g. screen readers) to navigate and use the internet. Your website must be fully functional irrespective of the person's disability or a device one is using.
This is what website accessibility means.
Why Website Accessibility Is Important?
Your website is already getting heaps of global traffic and you aren't even targeting disabled people, why do you need to make your website accessible?
What's in it for you?
Website accessibility is essential for your business due to the benefits that it offers:
You'll be able to reach and connect with the disabled individuals
Saves your business from lawsuits
Makes your website ADA, Section 58, WCAG, etc. compliant
It makes your website cross-device accessible for everyone
It improves business reputation
Your website will work for everyone under all circumstances leading to an increase in organic traffic and a reduction in bounce rate
Increase in leads and sales
In today's digital era, it is more important than ever to ensure your message is delivered appropriately to the right audience and people can understand it clearly. Reducing noise is essential and web accessibility helps you achieve this.
How to Make Your Website Accessible
W3C has listed the accessibility principles and a complete checklist that provides businesses all actions they need to take to make their website and tools accessible. For example, you need to make title, text, images, interaction, and structure accessible.
Doing it manually is a time-intensive task, and it is expensive too.
Using an AI-powered web accessibility tool that makes your website accessible automatically is the best solution that leading websites in the world are using (e.g. BMW). accessiBe is one of the leading and the most used web accessibility solution that makes your website fully accessible and compliant automatically.
Here is how accessiBe works:
Add a JS code on your website
The accessibility interface will appear on your website instantly
Its AI tool will scan your website in the background
The scanning is completed in 48 hours and your website will be fully accessible within 48 hours
Here is how the accessibility interface by accessiBe looks on the BMW website: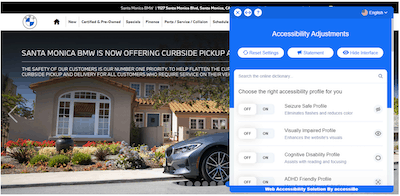 The interface lets people with disabilities to select a profile, customize it, and accessiBe will make your website accessible for them based on the selected profile. Here is how the website looks for visually impaired people: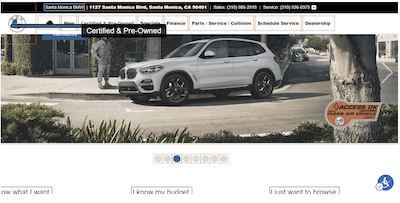 Impressive, right?
You can find accessiBe on Facebook and see how they're making websites accessible and compliant across the globe.
Final words
Making your website accessible isn't a big deal anymore. It all comes down to your preferences. You need to understand that web accessibility is the future of the internet. It is a global phenomenon that's already reshaping the internet.
Get on the accessibility bandwagon before it gets too late.