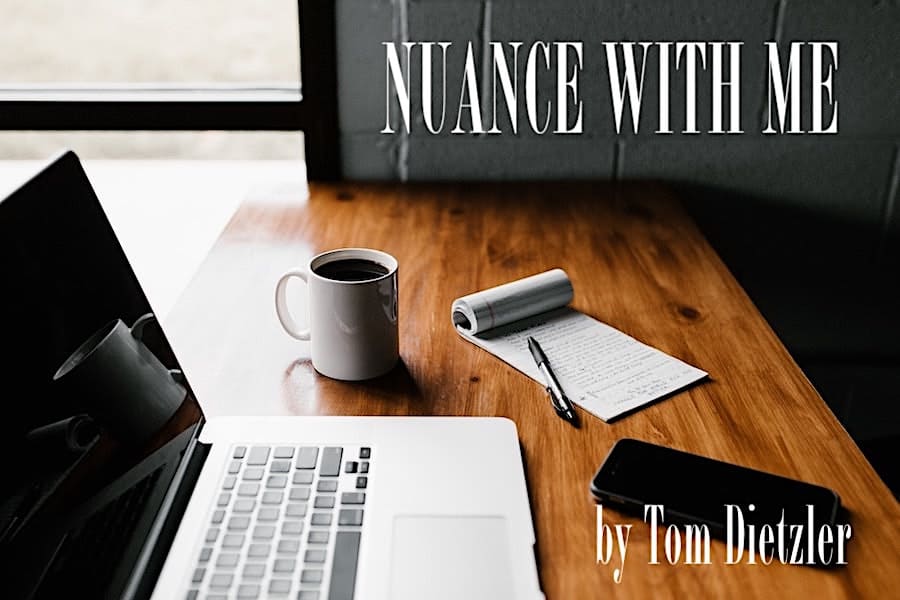 There I was, seated in the back seat of our vehicle. The back seat for me is not normal. Why the heck would we be listening to Disney Radio… they can call it Disney Radio – it's more like "We can bludgeon your ears and sensibilities with preteen pop stars… but we decided to call it 'Disney Radio' instead…" Disney Radio was not my normal choice of stations to listen to. I was coming off a busy day at work, the building was nearly empty, and another thing not normal for a Thursday in October, but the kids have a few days off of school, so I had lined up a couple of projects to be done in the building to take advantage of the empty building.
The two projects were progressing, and I was glad to be able to get those items checked off the list. They weren't done yet, later in the day when I had to leave… and it's not normal for me to leave with contractors still in the building working. Our maintenance guy was still around, so he is more than capable to look after things when I am not around.
Things not being normal is pretty normal for 2020. I don't know if I would even recognize normal anymore.
I hate thinking or talking about normal. It's not normal for me to obsess about whether things are normal or not, but this is 2020. If they, whoever "they" are, are even thinking about making a template for anything as far as future years… well, you can expect a strongly worded missive from me. That will learn them, for sure.  It's not been normal for me to write to the local newspaper for four or five years now, and normal situations may elicit normal reactions, but we are nowhere near normal right now.
Does it even matter that we have no idea of what normal looks like if it ever descends upon us again? We will have some semblance of what normal was, by how many references to, and longing for, the "good old days when…" happens. I can't wait to say "I remember when I would be able to flip my mask off and take a deep breath like I was coming up from being underwater for way too long." Having asthma in the days of COVID makes mask wearing a real pain in the hindquarters… but I'd rather be out of breath than get mask shamed by someone crusading for maskers. It's ok, I will survive… it's not normal for me to complain so I won't.
This election season is not a normal one either. My current status is that I am not weathering it as I normally do. I love the horse race elements to an election, I love the analysis (note the first four letters of analysis, it might give you an insight as to why I over combobulate on such a thing…) and of course, there are the historical implications. But this election, so fraught with importance and such a vital piece in our overall future as a republic… it's to the point that I can't even enjoy my normal enjoyment of it, much less my own political preferences. That's really not normal for me.
I have a litany of what's not normal in this election and even what's less normal in my reaction to all of it. Suffice to say that at some point I may need to dive into my own take on the election, but see – that wouldn't be normal. I am wholeheartedly trying not to say anything, on social media, about politics. That wouldn't be normal, as it's too easily divisive and way too easy to turn off people with who you might otherwise be able to interact with. Another time. Definitely maybe on that…
Allow me to circle back. I can deal with all of this being not normal. Normal doesn't exist in a time or space, I look at normal as the sum total of a bunch of experiences, and normal was the average of those, instead of one slice of that as being illustrative of the whole collection. It doesn't matter what our normals are, it does matter that we allow ourselves to feel what we are and to be what and where we are. I refuse to be a slave to what normal is and what normal was or what we feel it ought to be.
You see, sitting in the back seat of the car, it's neither good nor bad. Disney Radio serves its purpose too. Being removed from our workday after it's over, is a good thing, I think. All those things come together to make something else happen. I am in the backseat listening to Disney Radio after work yesterday because we have important cargo on board. You see, I have a nearly four-month-old hand, holding onto mine, and it kind of blows up the need for anything normal. For the duration of the ride, that hand holding mine is all that I need anything to be.
Naomi's hand, holding mine. Naomi is our first grandchild, who will turn 4 months old on Election Day.