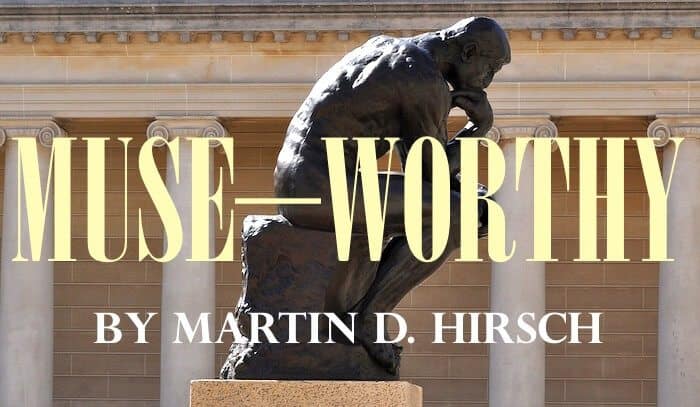 I recently wrote about a life-changing dinner conversation my wife and I had years ago with a guest from my company's European headquarters we had hosted for dinner in New York. I mentioned in the article how my wife nearly leapt out of her chair at the very first opening to express our willingness to live abroad. Despite the fact that we had never had a serious discussion about it, my wife enthusiastically volunteered that, "We'd go in a heartbeat!" if the opportunity arose. Soon afterward, I was offered an expat assignment in Switzerland that lasted for 16 life-enriching years.
Why my wife had seized on that conversation as some sort of life line, I wrote, was the subject of another story. This is that story.
Odd Couple, Kindred Souls
Outwardly, my wife and I are about as different as a couple can be. She's Chinese, was raised in Taiwan in the 1960s, and grew up in a privileged household with a father who held a high position in the government. She moved to New York at the age of 19, to attend college and go to law school. I'm Jewish, was raised in Central New Jersey in the 1950s, and grew up on a struggling chicken farm. I moved to New York at the age of 27, to start my career in communications and journalism.
Beyond the coincidence that we both came to New York on the very same day – Feb. 7, 1979 – my wife and I had little in common, which was part of the fascination, probably for both of us. But there was one thing that seemed to bind us: we were only children – spoiled, doted on by loving parents, impatient, intent on having our own way, disinclined to compromise.
Don't ask me how, but the combination of being so different and so alike at the same time worked. We celebrated our 27th wedding anniversary earlier this month.
Not that our bond was never tested. Getting through rough patches together brought us closer over the years. There were the early days when she was having troubles getting her legal practice off the ground. There was the time shortly after our marriage when her father in Taipei died while she and her mother were en route to visit him from New York. Later, there was the emergency call from the hospital that her mother had suffered a serious heart attack. And then, in 2000, there was the time the roof caved in from above and the floor collapsed from below.
When Life Rips the Rug Out
What do you do when the thing you're the most certain of – the very core of your reality – turns out to be false?
I was driving home from an overnight business trip and called my wife from the road to let her know I was on my way. She was 40 years old at the time, and enjoying a successful legal career in Manhattan. When I traveled on business, she would stay with her then-70-year-old mom, who spoke little English and lived on her own in Queens.
My wife's voice sounded shaky. "My mother just dropped a bombshell on me," she said. "Out of nowhere, she told me my birth mother wants to meet me."
Birth mother? "At first I was afraid she was losing her mind," my wife said. "But then she told me my birth family is trying to reach me, and that she wanted me to hear it from her."
When I got home I saw my wife in a state I didn't recognize. Normally rock-solid, steel-willed and grounded like the cornerstone of a building, she was pale, teary-eyed and brittle. She'd been dealt a combination blow that took me a while to fully comprehend.
The obvious part was the shock of learning at the age of 40 that she'd been adopted and had not only a biological mother and father she'd never known existed, but five older siblings as well. The less obvious part – and the one that haunted her for years afterward – is that she never had, nor would she ever have, the chance to let her adoptive father know how grateful she was for the deep love and affection he'd shown her his entire life.
In time I came to know my wife's monumental regret as if it were my own. Experiencing it once removed, it seemed to me like a mental tape recording of a feeling – an unfathomable, inexpressible sorrow – that would replay in my wife's mind every now and then, triggered by the mention of her father during a dinner conversation with friends or some other memory. Once the mental loop started to play, it had to run its course, unleashing a torrent of emotion, accompanied by tears that frequently turned to anguished sobs.
Piecing Together the Back Story
What had happened 40 years earlier that erected the impenetrable wall around my wife's true parentage? Why did it take four decades for the truth to make its way to her? Here's the story as I understand it.
In the fall of 1959, two men make an agreement and swear on their honor to uphold the pact for as long as they live. They are friends and high-ranking officials of the Nationalist Party of the Republic of China in Taiwan. One has five children – four girls and a boy – and the other is childless. One's wife is pregnant, in the hospital, and about to give birth. If it's a boy, the deal is off, but if it's a girl, the men have the power to pull the necessary strings to obtain the official paperwork turning the baby over to its adoptive parents as if she were legally their biological child.
As part of the pact, the two sets of parents and all related family members and friends would maintain the fiction of the girl's true parentage. Her adopted father's love would be unconditional and boundless, and never would his beloved daughter face the difficult moment of learning of her adoption, of realizing that the mother and father who conceived her were not the ones she knew and loved.
The years pass and the code of silence is maintained. The girl develops a bond with both parents, but the one with her father is beyond special. Sometimes, because her mother is not naturally inclined to formal social gatherings, the little girl stands in for her, accompanying her father to state dinners and other government events. She joins him on trips throughout Southeast Asia, sampling the foods and cultures. She develops a mind of her own and he encourages it and loves her all the more for it.
By the time the girl reaches her late teens, her parents become estranged, and she moves with her mother to New York to start new lives. The father visits periodically and the time he spends with his daughter now is more precious than ever.
He lives to see his daughter marry when she's 30, to as unlikely a husband as he has ever imagined. But they love each other, and that's all that matters. Shortly after the wedding, he dies. One pillar in the great wall of secrecy crumbles.
A few years later, the birth father succumbs to complications from Parkinson's disease. On his deathbed, he pleads to see his sixth child. The clergyman performing his last rites knows of only five and thinks the man has become delusional. Before he passes, the man instructs his only son to find his last daughter and bring her back to her birth family.
Finally, the once-impervious wall disintegrates.
Strange Reunion
Our phone rings and I answer it. A male voice at the other end asks for my wife. It's her brother, calling from California. My wife retains her composure and hears him out. He extends an invitation to visit them for Thanksgiving. We can stay at their birth mother's home in Berkeley Hills, in the Bay Area.
When we arrive at San Francisco International Airport we're greeted by a huge extended family showing us all the trappings of a state visit, heaping us with flowers and hugs, handshakes and bows.
A Chinese feast awaits us, but my wife doesn't each much. She looks uncomfortable and I do the best I can to make the most of the difficult situation in one of those moments when just showing up and being there makes all the difference.
Much of the conversation between my wife and her birth mother, siblings, aunts and uncles is in Chinese and I'm at a loss to know what's going on. After dinner, one group sits down for a talk with my wife in one room, while another ushers me to another room for… what, I wonder?
It turns out to be an intense, no-nonsense karaoke session, complete with TV videos, a circulating microphone and a robust selection of Chinese pop hits mixed with a modest assortment of American easy listening. After a short demonstration by one of my new in-laws, it's my turn. I try respectfully to demur, but it's not an option.
CONTINUE BELOW TO NEXT PAGE