How would you feel about writing your own eulogy?
Here's mine. I thought about writing it when was sick a couple of weeks ago and to think that I could have almost died. (The fear was natural because I have lost good people to the awful pandemic virus (pun intended)).
I am all good now thank you by the grace of God and the love I have to share with the world.
I have promises to keep and miles to go before I sleep and miles to go before, I sleep.

–Robert Frost
Only by facing ourselves, the good and the bad. Can we become whole? And that is a choice. Our choice. The doors are always open. Are we ready to look in the right direction? This is the question that I started asking myself.
In my life experiences and after many psychology lessons on how the mind works, I learnt that the physical place we are in is not a prison. Our prisons are created in our minds, in our heads.
Happiness is that state of consciousness which proceeds from the achievement of one's values

–Ayn Rand
Our values in life bring us happiness. 
Because I value your time here. Because I value you. I would like to tell you, my story. Today is a day that will change the way you look at life, your job search & career journey!
My 6 Values & Code of Honor in life!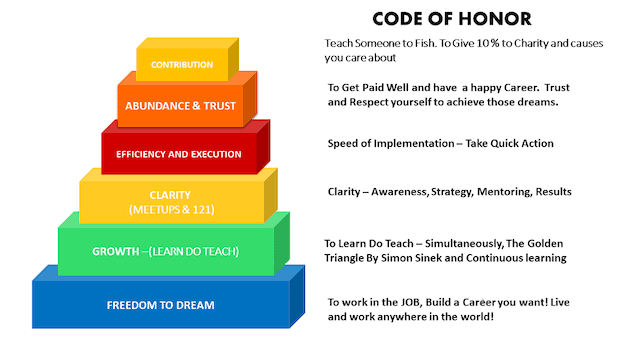 CONTRIBUTION – Teach Someone to Fish. Donate to Charity 10%
Trust – Confidentiality – Trust and Respect
EFFICIENCY AND EXECUTION – Speed of Implementation – Take Action
CLARITY (Purpose, Meetups & 121) – Strategy, Mentoring, Results
GROWTH – To Learn Do Teach – Simultaneously
FREEDOM TO DREAM – To Work in a JOB or Build the Career YOU Want! Live and work anywhere in the world!
And now if I died today, I would like to share what I would read at my eulogy!
Recently after a coaching session with my mentor, I was thinking about what it would be like to be at my own funeral and to listen to what my friends and family would say about me. I was thinking about what people would say about my values and what I did in life.
Writing my eulogy was hard because I felt I had not accomplished anything in my life. When in fact, writing it made me realize how much I had actually done and how much more I can accomplish.  I am so scared and nervous to share it with you, but I want you to understand how our values and purpose can drive us to living a fuller life.
I believe this is how people would feel about me & I would read about me during my funeral!
____________________
My name is Fatima Williams. And I love my life. I am always grateful to the Almighty Lord and the universe that has given us, such abundant earth and beautiful things for us to live our life. I value each moment that was given to me on Earth. I value the amazing family, friends, and people I interacted with over the years.
Like every other person. Even though I loved my life, I wasn't able to succeed for many years.
I realized that the search for money and the desire to earn, had badly blinded me from living to my full potential, it stopped me from following my true passion and purpose in life to the fullest. It was not what I truly wanted. I did my duties as a great mentor & coach during my career, a dutiful daughter, a loving sister and as an inspiring friend.
I knew that I had come into this world with a clear purpose and mission in life: To help and inspire people. 
It was the year 1998 when I was 12 years old, my principal called me into her office because I had done something terribly wrong, and instead of reprimanding and abusing me like most teachers or any other person would, she looked at me and said:
"Fatima never let anyone tell you that you are not good enough or not capable!  Right is right even if nobody does it and wrong is wrong even if everybody does it. You have so much potential and talent in you.
You are going to change many lives around you, starting with your family and that was a conversation that would change my life years later."
The greatest gift she gave me… was to be a "lifelong learner" to inspire people to their greatness.
 My Journey of Self Discovery 
The education system was flawed. They did not teach us the practical skills we needed.
The skills of resilience, courage, knowledge seeking, etc They told us to get a degree, find a job, and live as an employee!
I was an outstanding student in school. Always standing outside class. 🙂 but that conversation with my principal changed me for the better. It had me focusing on all my strengths and I started excelling and topping my grades thereafter.
When I was 15 years old my father had a stroke and my whole world crumbled. That day, I stopped focusing on my personal growth, purpose, or passions and focused on career accomplishments, certifications, and qualifications and fell into the corporate loop or so I thought. I stopped growing inwardly (Is what I thought in my head) and even though I was growing in my career I wasn't happy!
For many years in my life, I was scared to leave the job that kept me in the vicious loop. Managers who abused my talents & skills. I could see it happening right in front of my eyes and I always thought to myself always, perhaps I wasn't good enough!
I never really appreciated the wonderful things, I had in life, the great blessings I was endowed with.
It was only when my dad passed away, that I realized the importance of money, people, and relationships. I wanted to impact a larger audience like him. When my father passed away in 2014, I started looking inwardly at working on a plan to achieve my dream career goals. In 2015 I learnt about things like depression, anxiety, and panic attacks!
Linkedin, beBee, WordPress, and Medium were platforms I started meeting amazing individuals who played a key part in who I am and who I became today. They connected with my words and what I wrote, they helped me see the difference between black and white.
I wanted to inspire people to go after their life and the careers that they wanted because I was not able to do it at the time or thought that I couldn't. I had no one to guide me on that journey and I never even tried reaching out to those that could help me, because I thought that was it!
When I started my career, I lived in regret for a very long time. I made up excuses that I never went to college as my friends did, and never had materialistic things or fancy things growing up. I eventually got a master's and one of the highest qualifications in my profession. I always said I can't do this or that, I had responsibilities when in fact I could have embraced many learning opportunities and mentors who could have brought me closer to my life goals, the space I am in at the time of writing this.
But it was meant to happen.