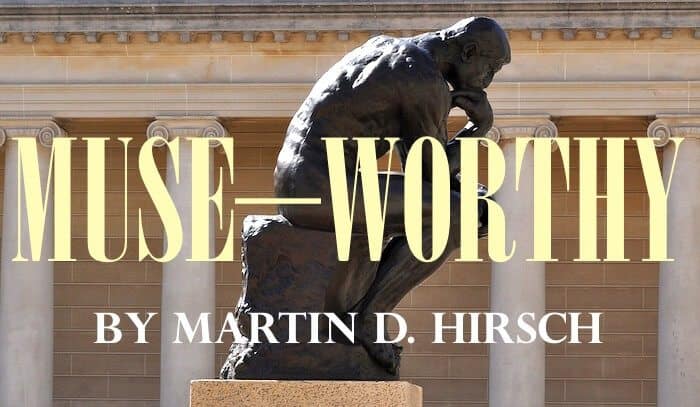 "Sometimes I wonder, is this all there is?"
Those words came out of the mouth of my mom, the rock of my life, whom I'd never heard utter a second thought or question a road not taken – not ever. She'd just moved into a pleasant assisted-living facility in Florida and we were sitting together next to the pool.
I had to make sure I'd caught her meaning.
"Are you asking if this life here on Earth is all there is?" I probed. "Like, is there an afterlife?"
"No, not that," my mom said. "I'm talking about the way my life turned out, and how different it could have been if I'd made other choices."
Never had I heard anything remotely like that from her, nor did I ever expect to. But I recalled what Socrates said about a life unexamined. So, at the risk of dredging up painful memories – for both of us – I pressed her to give me a few examples of the choices she would change if she could. She came up with three.
Three Roads Not Taken
The first occurred shortly after World War II when she and her older sister left their parents' farm in Connecticut to set up a dress shop in San Diego. My mom always had a talent for making clothes, and my aunt is a master at knitting to this day, along with having a sharp business mind that still surfaces well into her 90s.
The dress shop was their passion. But when their mother became seriously ill, they went back home to help. When their mother died soon afterward, they stayed to support their father and sacrificed their dream.
My mom came to her second crossroads in the early 1960s. The chicken farm she had run with my father had failed, relegating my dad to factory work. So my mom went back to school to learn stenography and office skills. She landed a job in an engineering firm, where she impressed her boss. When an opening for office manager came up, he offered the position to my mom. She turned it down, slamming the door in the face of an opportunity that would have led to more responsibility and, possibly, greater fulfillment."But why?" I shouted at her in exasperation.
"Because there were men in the office who were the breadwinners in their families," my mother said. "I couldn't take a job like that away from them."
The third life choice was the most difficult to discuss – her choice to stay with my father when his mental illness began to weigh us all down and make our lives a secret, silent misery. If only she had heeded the warning signals she'd sensed when they were dating, my mother confided.
The Alter of Self-Sacrifice
I couldn't understand my mom beating herself up over that. After all, despite my father's sickness, he could be a charming, funny and loveable guy, when he wasn't under one of his clouds of torment. But why would she sacrifice her own happiness, and my emotional and psychological well-being, when his obsessive-compulsive and deeply depressive tendencies were fully out in the open and doing serious damage to our family?
Ultimately, my father took his own life, taking the choice to leave out of my mom's hands. Not that it would have mattered. "I would have considered leaving him disloyal," she said. "I never could have done that."
Character as Destiny
And then a sort of quiet aha! look inhabited my mother's sweet face, as if something from her depths had dawned on her.
"I guess it wouldn't have been in my character to do anything other than what I did," she said.
The choices she didn't take were the decisions her character wouldn't let her make. Not in those times, when pledges of marriage for better or worse, family responsibility and conforming to gender roles and expectations all constituted core components of upstanding character.
What a discovery! I recall thinking after that talk beside the swimming pool. It was one of my last lucid conversations with my mother, who'd recently been diagnosed with Alzheimer's. She died seven years later.
I've returned to that conversation every Mothers Day ever since, and many times in between. It helps explain a lot about myself and the choices I've made – choices I felt compelled to make by my own character, needs and best judgment. The times were also a compelling factor.
In my generation, the hallmarks of a mature and fully developed character are all about personal fulfillment and self-actualization – having the courage to do what you want, rather than what society or anyone else expects of you. Having made my choices based on those principles, I have built a rich and rewarding life beyond my mother's imagination, and one that would have been inaccessible from the roads her character and times permitted her to take.
As I remember my mother's gentle face and soft voice asking, "Is this all there is?" I feel at peace knowing that we both did the best we could, given the hands we were dealt and the way we played them: honest to our own characters, true to our principles, and right under the circumstances at the time. What more can anyone do?