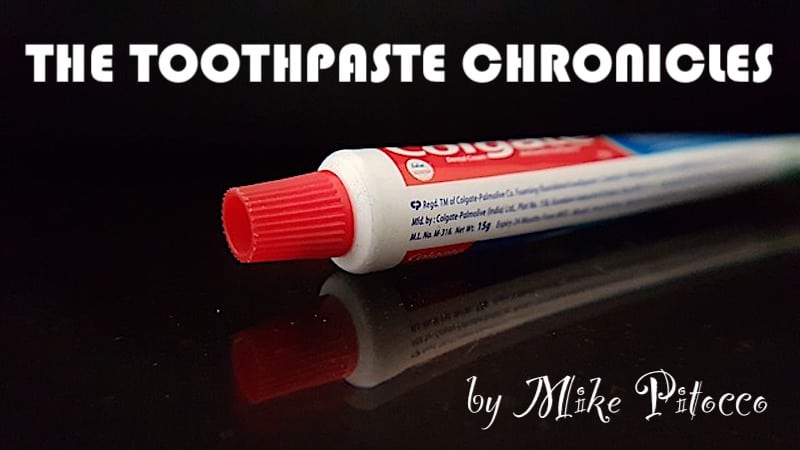 What life events will transpire from the time of the first twist of the toothpaste cap to the last squeeze? The mundane, often monotonous, the surprising, spontaneous, joyful, sad, and sometimes hurtful things of life. Our stories are diverse but similar because of our common thread, the thread of human emotions. My story is your story. We're in this together. Whether spoken or written, our stories are meant to be shared. It takes courage and vulnerability to do so. Like love, sharing involves risk. But also, like love, the risk is always worth it. I share my stories with you in mind.
Make the main thing the main thing. When we get the main thing in our life right, everything else seems to fall into place. You've heard it said, "Don't major in the minors." Getting the main thing right — determining what the top priority in our life is (and living it) — helps us avoid spending too much time, energy, and emotion on things that are not that important but have a tendency to suck the life out of us!
Charles Hummel published a little booklet in the 1960s called 'Tyranny of the Urgent'. It quickly became a business classic.  In it, Hummel argues that there is a regular tension between things that are urgent and things that are important—and far too often, the urgent wins.
In the business world, this means that the demands of your boss, your client, or petty office relationships can often take priority over things that actually matter, like thoroughly completing a task before starting the next one, or building unity in a work team that would instill camaraderie and longevity.
The urgent, though less important, is prioritized, and therefore the important is put on the back burner.
The 'Rocks, Pebbles, and Sand' story also illustrates this principle. A philosophy professor once stood before his class with a large empty jar. He filled the jar with large rocks and asked his students if the jar was full. The students said that yes, the jar was full. He then added small pebbles to the jar and asked again, "Is the jar full now?" The students agreed that the jar was indeed full. The professor then poured sand into the jar and asked again. The students then agreed that the jar was finally full.
The professor went on to explain that the jar signifies one's life. The rocks are equivalent to the most important things in your life, such as family, health, and relationships. And if the pebbles and the sand were lost, the jar would still be full and your life would still have a meaning. The pebbles represent the other things that matter in your life, such as your work, school, and home. These things often come and go, and are not permanent or essential to your overall well-being.
And finally, the sand represents the remaining small stuff and material possessions in your life. These things don't mean much to your life as a whole and are likely only done to waste time or get small tasks accomplished. The metaphor here is that if you start with putting sand into the jar, you will not have room for rocks or pebbles. This holds true for the things you let into your life too. If you spend all of your time on the small and insignificant things, you will run out of room for the things that are actually important. So in order to have a more effective life, you should prioritize important things in your life and then worry about pebbles and sand at a later time.
Whether my priorities are indeed what I say they are can be seen in how I spend my time, energy, and money. How we spend these resources speaks much more loudly about what is truly important to us than what we say. So, does your list of what you say your priorities are match reality? In other words, does your walk match your talk?
If I say my wife is the first priority in my life, does that show in the decisions I make? Do I put her needs and desires ahead of mine? Would it be news to her if she was told that I said she was the number one priority in my life?
Let's say that I claim God is first in my life (which I do). Does reality reflect that? Am I living that out or do I say that because I think it's what my pastor wants to hear? Am I putting whatever talent or gifts I've been blessed with in support of ministry of some kind? More than just reading the Bible – do I apply its teaching to my life? Do I pray only when I need something? Does my checkbook reflect what I say I believe? (ouch!!) Am I learning what it means to surrender to God's will? Do I laugh with the crowd when someone tells an off-color joke?
As a result of putting God first in my life, I've been able to love and serve my wife, my children, grandchildren, loved ones, and others in ways I could not have done on my own. God fulfilled His promise of Ezekiel 36:26, "I will give you a new heart and put a new Spirit within you; I will take the heart of stone out of your flesh and give you a heart of flesh."
Balance is important. Otherwise good things (a hobby, sports, job, etc.) become bad when they swallow up your time to the exclusion of other important things.
If you've never done it, I suggest you make a list of your top five priorities. If you've done this in the past you may want to do it again, especially if you've experienced any life-changing events. Here's my list:
#1 God
#2 Wife
#3 Children
#4 Grandchildren
#5 Ministry
I recommend two things that may help you decide just what your top priorities are:
First, Have an eternal perspective. Think beyond this life. The Bible says God has placed eternity in our hearts (Ecclesiastes 3:11). According to God, even the most vocal atheist knows deep in their heart that there is something beyond this life. What we do in this life (a blink of an eye compared to forever) has eternal consequences. Looking at things through the prism of eternity will help you focus on what is truly important.
Second, Be legacy minded. Make those you love a success long after you're gone. Spend quality time together as often as possible. Be transparent. Take opportunities to share your life stories (warts and all). Your willingness to open up will likely make you someone they turn to with questions or when they run into trouble. Prepare for opportunities so you're ready when they come. Have you considered writing? It's a great way to leave behind words you may not have had the opportunity to speak. The time to share your insights and wisdom gained by years of living and to share your faith is now.
You may have heard it said that the length of our life here on earth is like a dot compared to eternity which is like a line that extends over the land, across the ocean, out into the atmosphere, into outer space and beyond. Too many people live for the dot, not the line. Living for the purpose for which you were created will give you peace, joy, and fulfillment now and rewards beyond measure for eternity.