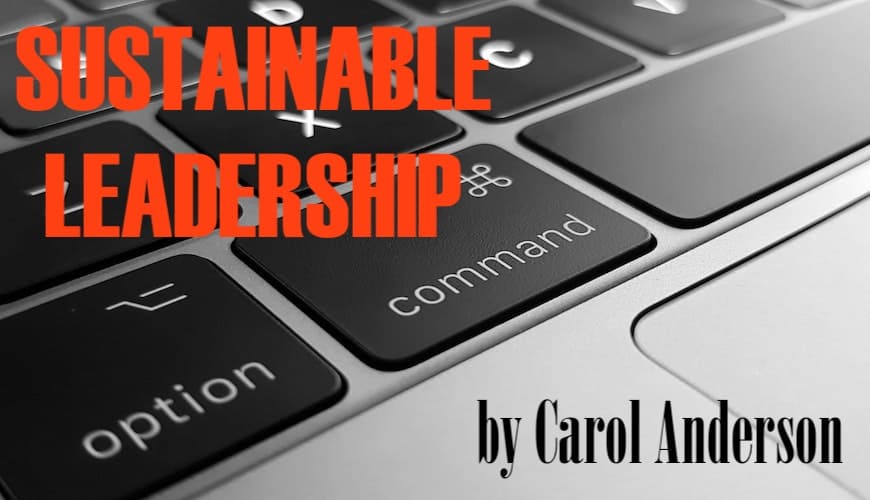 After 4 decades as a Human Resources professional, I understand our reputation – "HR work," "administrativia," "compliance," "rules."  I even saw a LinkedIn post recently that carried the well-worn story of an HR professional walking into a department, only to hear, "Who's in trouble."  When HR shows up, someone's getting fired. Yikes.
But you know what?  The infrastructure created by a Human Resources team should be the secret sauce to sustainable leadership.
Why?  Because it puts in place processes that shape human behavior.
Yes indeed. There is actually a reason why all that "HR work" exists.  Let's break it down.
Managing human performance
Here's the reality:  A few times a year, leaders talk with employees about their performance.  Sometimes, they even pepper it with a pay raise or a promotion.  They document the conversation and send the document off to be filed in a Personnel file, where it never again sees the light of day.  Unless, of course, there is some sort of employment litigation where it becomes evidence.
Here's what is really supposed to happen: Leaders create trust and openness within their team so that everyone feels safe in adjusting to change, communicating with each other about the team's performance, and reflecting regularly on what has been learned.  And that "document" that still must be completed is nothing other than a simple reflection of goals and outcomes.  No surprises.  No tense conversations.  Just a record of open and honest dialogue.
Why?  Because we humans need a little shepherding.  When left to our own devices, we might not have those regular conversations.  We might pursue goals that fly in the face of the bigger picture.   We might avoid confrontation and conflict because we don't know how to do that effectively.
So, the HR program that sometimes is labeled "Performance Management" is really just a process to facilitate dialogue, keep good records and improve performance of individuals and teams.
You don't like your organization's program?  Make it better.  An HR professional who understands their role shouldn't object to enhancing their basic program with more dialogue, more openness, more improvement.
Developing human performance
Not everyone in an organization is good at or is comfortable with open and honest dialogue.  That is where another HR program comes into play – Learning and Development.
Here's the reality:  Managers see a deficiency in their employee's performance, so they send them to training, expecting that they'll come back better.
Here's what is really supposed to happen:  The manager, in a regular dialogue with an employee, talks about the work, how it connects to the overall mission of the department and the organization, the employee's contribution to the work, and asks what resources or support the employee needs. The employee feels safe in admitting that she is not receiving timely information from a colleague.  So, the manager asks what she has done already to solve the problem, observes her ability to articulate the problem, and suggests a different way to approach the issue.  The manager asks the employee to role-play the conversation, using a different approach, and provides feedback.  The employee then sets up a time to talk with the colleague and the manager follow up.
This is "Learning and Development 101."  Talk.  Dialogue.  Set expectations.  Practice.  Follow up.  Does this sound a bit like the shepherding that we humans need to learn and grow?  Funny how it all fits together as a system, isn't it?
Finding and hiring employees
Here's the reality: HR makes the manager write and submit a job description that contains a list of duties, a set of skills, and the essential functions (so they can comply with the ADA).  The manager knows how to write the job description to achieve the pay grade they want and sends it off to HR, probably with a requisition signed by their boss.  HR posts the job and uses artificial intelligence within the technology to match keywords in the job description to the resumes that come in response.  HR screens the candidates and sends those that best match to the hiring manager, interviews and makes a decision.  HR really messes with managers' heads when they set up a more structured hiring process that includes interviewing and feedback from peers and others instead of allowing unilateral decision-making.
Here's what is really supposed to happen:  Again, we humans need a little shepherding.  Many times, managers, left to their own devices, hire "mini-mes."  We all know what that leads to:   groupthink, loss of innovation, absence of conflict, and stagnation.  Setting up panel interviews and other structural changes that HR makes are intended to shepherd managers into hiring for the right reasons….because the employee brings the right stuff, whatever that means, to the department.  This is the key role of HR in the hiring process – establishing a system that encourages a scientific approach to hiring, and coaching, the manager to see the value of the process.
See, again it's all about shepherding to keep everyone rowing in the same direction.
Dealing with employee problems
Yep, no matter how carefully a manager hires or coaches, sometimes the employee isn't the right fit.  Here's where all that good documentation comes in.  Ideally, as a manager gets the inkling that something's not right, she ramps up her dialogue, her candor, and her documentation.
Here's the reality: The frustrated manager trots down the hall to HR and says she wants to fire someone.  HR asks for the documentation.  Now here's the real issue – HR isn't asking for the documentation because they want to make life miserable for the poor manager.  HR is shepherding the manager to do the right thing.set clear expectations, coach, correct and keep good records.
Here's what is really supposed to happen:  The astute manager sees where an employee is not performing to expectations.  She talks with the employee, clarifies the expectations, and intuitively decides whether it is an issue of "can't" or "won't."  This is an important observation.  If the employee can't, the issue could be skills or resources.  Either way, the manager addresses the issue, provides support as needed, and continues to observe and provide feedback.  If the manager senses the employee could perform, but is resisting a change, that's different.  After a candid conversation with the employee, mirroring back the observation, the manager reconfirms the expectation and follows up regularly until a change is made.
Sustainable leadership in action
We, in HR, will have the most success when our processes and systems have a clear purpose and drive commitment rather than compliance.
When leaders are clear about expectations, have the opportunity to grow and learn in a safe space, the culture of the organization is sustainable through those same processes and systems that shepherd their behavior.
A message to HR professionals:  Do your leaders understand the purpose of your processes and systems?