Definitions of Situational Leadership
Situational leadership is about adapting the style of leadership to employees involved, with an eye to the environment within which they operate. It is therefore more about a leader's ability to adjust to the situation in front of her, than about personal leadership skills.
Situational leadership, in short, takes people in context seriously. The leader applies the leadership style that is best suited to the situation. The leader is agile.
Situational leadership is related to contingency theory therein they both view success as a result of matching leadership abilities and style with the situation. Yet, where contingency theory focuses on matching leadership style with the situation as such, situational leadership theory places a specific focus on matching leadership style with follower requirements.
This implies also that there is no 'one-size-fits-all'. You may say that situational leadership is flexible as it adapts to the needs of the followers in context.
During times of transition, situational leadership is key in keeping an organization afloat – swiftly implementing organizational change to match new markets and so forth – can be the difference between prosperity and bankruptcy.
The literature offers us mainly two theories of Situational Leadership
Situational Leadership according to Blanchard and Hersey
Situational Leadership according to Daniel Goleman
Let's start out by looking at Blanchard and Hersey's model.
The Situational Leadership Model by Blanchard & Hersey
Blanchard and Hersey connect four different styles of leadership with four different stages of employees' development – here called Maturity Levels. The situational leader will make an optimal match between leadership style and maturity level.
The four leadership styles, introduced by Blanchard & Hersey, are:
1. Telling (matching Maturity Level 1, see below). Use a telling leadership style when the team needs close supervision and guidance. Make decisions, create roles, objectives, and convey these to employees, who you expect to act accordingly. Works best during a crisis or when in need of repetitive results.
2. Selling (matching level 2). Use a selling leadership style when the commitment among employees is low. Explain and sell ideas and strategies to engage and motivate all involved. Communication is not entirely one-way as with the Telling leadership style; the leader is open to hearing ideas of the employees.
3. Participating (matching level 3). Use a participating leadership style when the team has a high level of competency and mainly needs a leader to facilitate the process. You may share your expertise, yet employees will likely make the final decisions.
4. Delegating (matching level 4). Use a delegating leadership style when you have confidence that the team has both the skill and motivation to problem solve on their own. You may stand by for questions, while your involvement is minimal.
No leadership style is to be viewed as better than the other. It is about matching leadership style with employees' Maturity Levels – to ensure success.
To the question: Which leadership style is best? The answer is: that depends!
Let's look at the four Maturity Levels
Maturity Levels
Maturity Levels are also called Readiness levels or Stages of Employee Development:
Level M1: Low Competence: High Commitment
Level M2: Variable Competence: Low Commitment
Level M3: High Competence: Variable Commitment
Level M4: High Competence: High Commitment
To maximize success, the leader is to lead according to the style that matches employees' Maturity Level best. Leadership style 1 (Telling) is suggested to best match Maturity Level 1. Leadership style 2 matching Maturity Level, 2, and so forth. Note that these will vary across team members and again: no one-size-fits-all!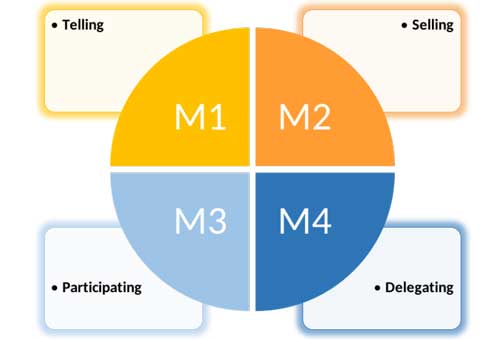 Let's move on to have a look at Daniel Goleman's situational leadership theory.
The Situational Leadership Theory by Daniel Goleman
Daniel Goleman – the author of Emotional Intelligence – incorporates the concept of emotional intelligence into the theory of situational leadership. Goleman creates six categories of situational leadership styles, where he, for each leadership style, makes a suggestion for when it is best applied. Let's look at the six categories.