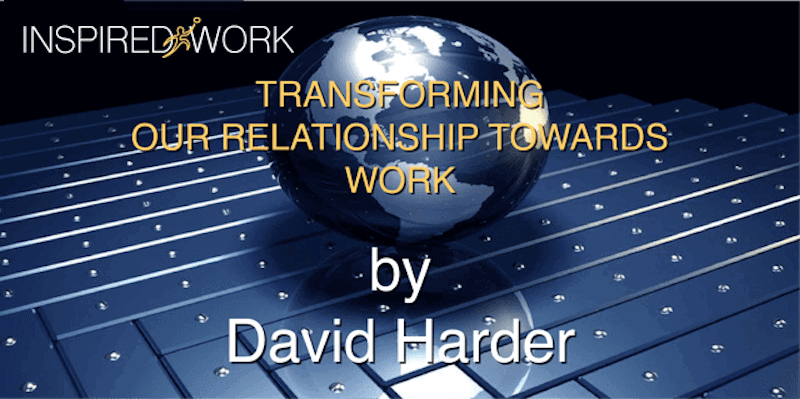 Adam Miller began the company in his apartment with his two friends Perry Wallack and Steven Seymour. Today, Cornerstone OnDemand helps many of the world's largest companies recruit, train, and manage their people. More than 27 million users in 191 countries and in 42 languages engage with its software and services. Cornerstone has become one of the world's premier resources in continuous learning and development.
We joined Adam in his office with Deaira Irons from marketing, a recent addition to the team who personifies all the company looks for bright, alert, interested, and kind. I gave them an overview of what is happening with employee engagement and why the global numbers are so dismal.
Adam: You mean they can't keep up with the changes in their jobs?
David: They can't! Most of the existing processes to end disengagement are like using a teaspoon to put out a fire. The ability to personally transform is the new game in being relevant for any length of time, and until we help all workers build the skills of self-change, matters will only get worse.
Adam: We're in the 13 percent.
Mary: You built this on a different philosophy than many companies out there. I read the characteristics of an Engagement CEO.
Adam: There is one missing characteristic.
David: What's that?
Adam: Shows respect towards all employees and learns from all of them.
David: Were you like this your whole professional life?
Adam: I worked in investment banking years ago, and it was the antithesis of tech culture. It is more of a feudal system where you become a leader by how much money you make rather than how you treat people.
Mary: Punish the serf in the way you were punished when you were one.
Adam: Exactly. You would give people literally busy work. People would get assignments on Friday afternoons and told it had to be finished on Sunday afternoon or Monday morning. Many were expected to work all-nighters once a week or multiple times in a week. I remember coming into the office when it was smaller and one of the developers was bragging that he had stayed up all night. I told him that if he did it again, he would be fired and that people are never productive when they pull 20 hours. Much of what he wrote would have to be rewritten because he was so exhausted. This culture with Cornerstone really began in the beginning and it was in opposition to what I had witnessed. We were committed to a balanced workplace. It was a little bit later in our existence where we articulated our culture. When we had 30 people, we knew we had a culture but it hadn't been defined. There was a turning point when we had 50 and would triple that number by the year-end. New people would outweigh us 2 to 1. We formalized the culture. That began with the kind of people who work here who are smart, cool, dependable, and visionary.
We believe in teamwork and client success. We were very clear about that, and then over time, found ways to infuse those qualities throughout the organization in how we hire people, how we develop them, how we fired people, how we did performance reviews, and how we recognized others.
David: You were directly involved in all of the early hires.
Adam: Yes. I hired the first 250 people. I personally hired all of them. After 250, it became impossible. My job became entirely interviewing. I stopped hiring the individual contributors and hired the managers…we have over 2,000 employees, so it just isn't feasible to continue hiring employees. I do the final interview for people that are critical for representing the company in certain ways.
David: How do you hire people that are going to protect your culture DNA?
Adam: Early on, I hired the managers. I selected the ones that would hire others. I loosened up when they proved themselves. For a while, I was the last interview. By the time they got to me, they were already meeting performance and technical requirements. But, I rejected quite a few candidates, almost always on culture fit. Periodically fights brewed about that because it was so hard to find someone. But that persistence built the standards.
Mary: It is rare, uncommon that at the top of the organization, the quality of the culture is viewed as such a significant asset where they are often primarily focused on other strategic elements. So, they push those culture pieces over to the human resources and talented people. The results are an ill-defined and squishy culture.
Adam: Our talent professionals are among the best brand ambassadors for Cornerstone because they are the ones doing a wonderful job of finding and attracting the talent we need to join our team. They are the ones upholding performance management and growth. Other things we did in our early days set the standards. We had a top performer who I fired because they were a bad culture fit. That was the first time when people took culture seriously. Here was a top asset that was not a fit with us. It didn't matter. It was established early on that the team is more important than the individual.
David: In an earlier interview, you said that by opening in Los Angeles you were put in the position of having to hire potential rather than experience.
Adam: Absolutely true.
David: Is it the same way?
Adam: It is a little less true today because tech has grown in LA. But when we began, B2B marketing and software development were extremely difficult to find in LA. We found it was better to find the people with the right competencies and build their technical skills. We did this by only hiring people that were active learners. You describe this need throughout the world. Well, it is truer in a tech company. It is exponentially truer in a hyper-growth company where we have to find people who are capable of moving up from the baseline. Most tech companies don't operate that way. In hyper-growth, they regularly pull out the individuals that are not keeping up with the growth. The way we did it here, the reason we have had such stable and high retention is that we hired people that required the same characteristics of active learning and an interest in personal growth. We hire the ones who demonstrate they want to learn and are ambitious. As a result, they have grown with us.
Mary: I bet you had some casualties.
Adam: Very few. It could be said that we defy the odds because, in so many organizations, only one or two will make it because they are exceptional. I am saying the opposite. Only one or two did not make it because everyone had the attributes. Our people make it because they are continuous learners when they arrive as well as in the parochial process because these are the people that get promoted.