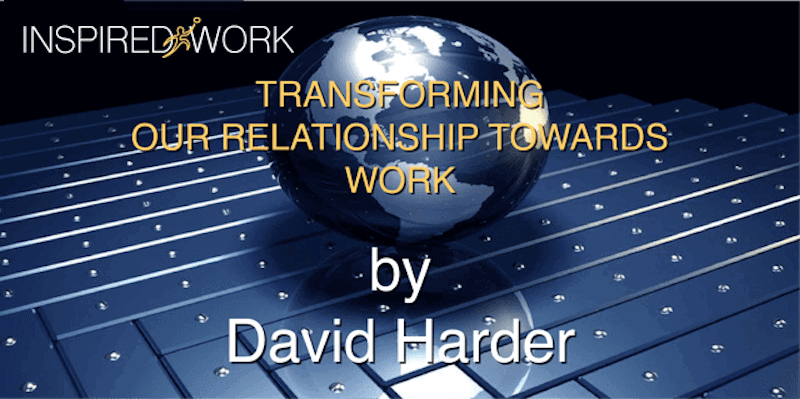 It sounds like a harsh title doesn't it? But, the underlying story merits urgent attention. In an era where many are struggling with the rate of change, we don't find solutions by studying dysfunction. Complaining about lowered expectations only distracts us from the journey of reinvention, progress, and transmutation. Far more valuable insights are gained from those who are thriving in all levels of today's work, whether self-employed or on a staff.
Transmutation:
The conversion or transformation of one species into another.
The supposed alchemical process of changing base metals into gold.
The transmutation of the American workforce is in moving from the industrial revolution and information ages into the conceptual era. The lives we want to have certainly depends on helping that process along. Besides, the human animal has always been working on something.
The work of today takes a concept that perfectly fit's the person you've become and runs with it until that gets old and you become someone new – again. Lest we dismiss this idea as irrelevant, how much is to be gained by solving the world's problems when we have the tools at our disposal to do it?
Dinosaurs will look at that opportunity with cynicism and contempt. The reaction has nothing to do with age. It is based on beliefs. There are almost equal numbers of millennials, gen-xs and baby boomers thriving and struggling with the conceptual era because they were taught to believe the past. And, dinosaurs can have babies – – many of them.
Here are two areas that can define the difference between thriving in the future or burying ourselves in the past:
Active Learning vs. Finished Learning
Those who run successful businesses and lead vital careers have a voracious thirst for knowledge. They recognize the great and exciting opportunity in the modern world is to grow. In fact, security is no longer derived from a job, security emerges from our ability to grow.
Dinosaurs stop the quest for knowledge after their initial "formal" education. For example, I cannot express how alarming it is to observe that many people show up to valuable learning experiences paid for by their employer in a state of resentment. They are angry to be taken away from their workloads. Many have become so machine-like in their work they have stopped thinking or looking or exploring. This inertia is a direct descendent of the industrial revolution, long over, where we work, we retire, we move on.
In the conceptual age, moving on is actually far more simple than it might appear. We absorb the information that interests us. We formulate a new vision. We become educated in how to turn that vision into a practical reality. Sure, discomfort often accompanies the journey but how is that more uncomfortable than watching the job or the profession or our business slowly fall into disrepair and obsolescence?
Career Dinosaurs don't pursue continuous learning with joy and anticipation. They shield themselves in the belief they cannot change.
Career Investors vs. Bean-Counters
Successful career strategists make mindful and continual investments in their success.
Dinosaurs bean-count their careers into oblivion. Dinosaurs work on their careers when they are in trouble. They think about their careers but do little until the Comet hits earth. Many, at the very time they need to invest in their careers, hoard their funds and often their time as well. Of course, change can be frightening, but savvy career masters tend to invest more rather than less during transitions.
If we need to take our careers in radical new directions, how on earth are we going to see that ourselves? How do we build new life skills to succeed if we don't even know we are missing them?
Alarmingly, bean-counting has all but killed the outplacement industry into a commodity that standardizes resumes, promotes "elevator pitches," teaches people how to network with the unemployed and asks for informational interviews. How will these practices ever provide the kind of transformative change in outlook necessary to reinvent one's career? Invest wisely in career development and so very many of us will never need or want outplacement again.
Turning self-change into an art-form has transformed my life as well as thousands of lives around me. In the past month, I've witnessed steel workers become thought leaders, academics become commercially striking change agents, and, actors become business Ted talkers.
Each and every one of them developed a concept and ran with it. They learned and they changed.
They shed the skins that trapped them and moved on.
People can't change? Bullshit.