What is Appreciative Inquiry?
Ap-pre'ci-ate,v. 1. valuing; the act of recognizing the best in people or the world around us; affirming past and present strengths, successes, and potentials; to perceive those things that give life (health, vitality, excellence) to living systems 2. to increase in value, e.g. the economy has appreciated in value. Synonyms: VALUING, PRIZING, ESTEEMING, and HONORING.
In-quire' (kwir), v., 1. the act of exploration and discovery. 2. To ask questions; to be open to seeing new potentials and possibilities. Synonyms: DISCOVERY, SEARCH, and SYSTEMATIC EXPLORATION, STUDY.
Dr. David Cooperrider is the world's leading expert on whole system change. He has used this process with small and large systems using a framework called Appreciative Inquiry.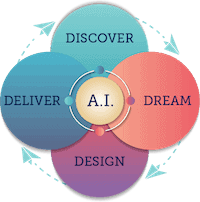 Dr. Cooperrider uses a 4-D process – Discover, Dream, Design and Deliver – to identify the positive core of the whole system and bring the best of what is forward. His process identifies what is working and what the whole system is doing well in order to focus on the opportunities for the whole system to move forward together towards their desired future. This process does not focus on fixing problems, but instead focuses on the future and the path to collectively get there. It is a call for collective action and it creates working groups that plan and work to create results with the voices in the entire system.
Distinguished Visiting Professor David Cooperrider talks about Appreciative Inquiry and the power of strength-based leadership. ⤵︎
Dr. Cooperrider successfully used this process in Cleveland to achieve great results over the last ten years, and will amplify all he has learned working with whole systems in Tampa. You can visit Dr. David Cooperrider's website to learn more about his work and Appreciative Inquiry. And for a closer look at the "story" behind AI, enjoy our recent #gamechanger Interview with David below ⤵︎