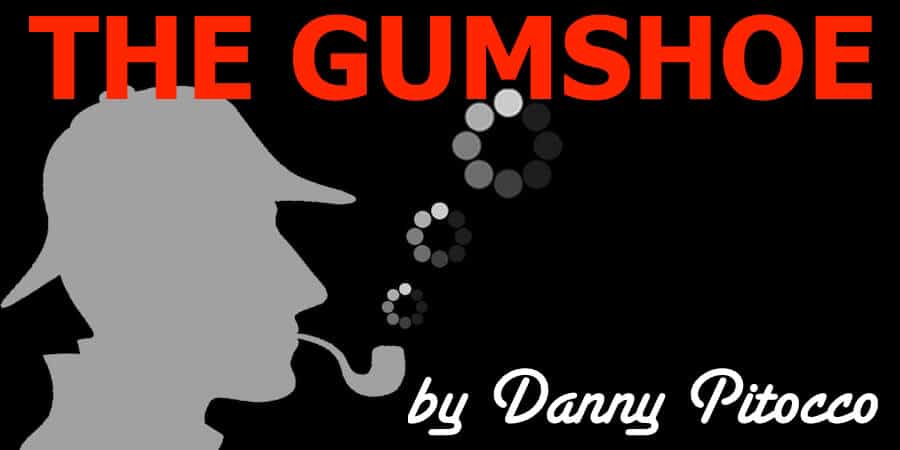 It was always a novelty for Gumshoe when he worked in uniform and drove a black & white "911 Uber" when a citizen or a family member wanted to go on a "ride-along". Public relations at its best; your tax dollar at work.  A memory to be made for sure along with a future animated dinner conversation for sure folks.
Gumshoe always welcomed aboard any adult member of the public (after a criminal background check) to experience an up-close and personal perspective of the workings inside a real-life police cruiser with a blue-suited knuckle-dragger patrol beat officer such as Gumshoe. Mind you, this was decades before the TV on-scene "COPS" syndicated franchise became a hit program. The "Bad boys, bad boys, where are you gonna go when the cops come for you?" tune is really catchy and sometimes it can be an earworm though.  (I bet Gumshoe just had you belt out that refrain)
Gumshoe would have the ride-along wear a nylon jacket that prominently displayed "Ride Along" on the front and back.  Additionally,  Gumshoe would have them don a ballistic vest beneath the jacket.  Gumshoe always kept an additional vest in his go-bag just in case. It is good to know that there is no such thing as a bulletproof vest.
Once my ridge along was attired, Gumshoe could see in their eyes that this police adventure of theirs was becoming serious and not like a fantasy cruise on the jungle boat in Disneyland.
Funny, Gumshoe always thought of "Pirates of the Caribbean" while on patrol along with a bit of "Mr. Toads Wild Ride" for that unexpected adrenaline rush.  Ahoy Matey! Wheeeee!  Lights and sirens.
Once Gumshoe had the ride along as a captive audience of one inside the police unit, the following "boilerplate" admonishment was presented to them without compromise or conflict:
You are NOT a cop but you could be targeted as a cop since you are not seated behind the rear cage. Situational awareness at all times.
In the event of an emergency, this is the hand-held radio microphone.  Push the button to speak, but release it to receive messages.  No death grips.
If Gumshoe is "down" for any reason, get behind the steering wheel and put it in reverse, and step on the gas to safety.  Then refer to instruction #2.
Listen to all instructions. Specifically, Gumshoe's order (not a suggestion) to remain inside the black & white.  I am responsible for your welfare.
Gumshoe would give them a crash course about his sidearm, his backup weapon and the standard-issue Remington 870 pump-action 12 gauge shotgun, and how to activate the hidden release lock mechanism button.
What you don't know can get you dead in a heartbeat.  Knowledge is power for survival pilgrim.
With all of that overwhelming information, some of Gumshoe's ride-alongs requested a bathroom break even before we left the police station's lot. Active bladder possibly? However, they all returned to my ride with a wee bit of anxiety coupled with a more wide-eyed look of possible doom.   Gumshoe would exclaim, "Relax, I've not lost a ride along yet and this is my first week on the job".  This was mostly met with a perplexed and quizzical look from the ride-along followed by a half-hearted laugh while Gumshoe just grinned.
Carsick bags were not included by the way.
Everyday routine for cops is definitely not the norm for the uninitiated civilian.
Off we would go into the night as the 911 calls would flood the airwaves.
Gumshoe encouraged the ride-along to ask questions about anything that came to their minds.  Gumshoe would interpret the radio calls albeit, "who is who, what is what, and the why's and the why not's".  The hows were demonstrated.
Gumshoe is happy to report that he never did lose a ride-along or have them suffer any injury in the decades that followed. However, Gumshoe did occasionally consider shooting a few when they did not follow the aforementioned Gumshoe protocols.  There is no cure for stupid! In those instances, the offending ride-along would be unceremoniously deposited back at the station with a hasty "see you". Your ride-along scheduled time has expired (before Gumshoe expires you).
There was one instance in which a ride-along literally took matters into his own capable hands. The ride-along was none other than one of my real-life brothers named Mike.  He was one year younger than me and two inches taller than my 6'1" frame.  He was very strong and athletic.
It was a relatively slow swing shift on patrol when the radio blared an emergency call of an armed robbery that had just occurred inside a business situated within a large shopping mall that we just happened to be driving around. Timing as well as being at the right place is always a real street cop's dream. Probably a nightmare for the non-sworn Gumshoe surmises.
The radio dispatcher put out the initial physical and clothing description of the two suspects as well as their last seen direction of travel as they fled afoot through the mall. Police units started to flood the area in order to establish a perimeter.
Gumshoe actually had one of the matching suspects in custody almost immediately.  The frantic and winded suspect ran out of one of the mall exits and directly to the side of Gumshoe's unmarked unit that blocked his path. He was quickly cuffed in the rear, patted down, and placed in the right rear of the unit, seat-belted and directly behind my trusty and loyal brother Mike.
Note:  Gumshoe was assigned to a special uniform crime suppression team that drove unmarked plain police cars without cages or visible emergency lights.  
Before Gumshoe could put out on the radio, "One in custody"; there was another patrol officer who had arrived on the other side of the mall who put out a radio call in a loud booming voice that he was engaged in a hot foot pursuit of one of the robbery suspects. Simultaneously, the suspect that Gumshoe had in custody apparently was cognitive enough to hear this foot pursuit radio broadcast and he immediately started to scream out encouragement to his absconding partner to get away (but he used much more colorful words).
Gumshoe's prisoner's deafening verbal tirade prevented Gumshoe from hearing the radio broadcast of the officer involved in the foot pursuit of the other bandit. Instantly and most probably instinctively, my brother Mike rapidly turned towards the suspect and Mike used his wide-open right hand that he swung in a blur that struck the left side of the shrieking open mouth suspect with a resounding slap that seemed to vibrate. Mike shouted, "Shut up! My brother is trying to listen!" as the suspect's head turned violently to his right just like it was on a well-oiled swivel.  Brother Mike's forceful meaty blow got the suspect's attention. Mike withdrew his large palm, and he held it "cocked" at the ready at the eye level of the suspect, just in case another blow was necessary.   Brother Mike glared at the stunned suspect. Obviously, once was enough for the suspect to taste the righteous wrath of brother Mike's bear claw.
Gumshoe was shocked and the suspect was momentarily dazed. You see folks that the rule for all street cops is that once a suspect is cuffed the use of physical force by an arresting officer is a definite, NO-NO.  It's against police depart policy not to mention a crime. So be it! Gumshoe thought, well it was my ride-along brother who demonstrated his brotherly love for Gumshoe as well as for the welfare of the foot pursuing officer who need to be heard to be helped. My brother Mike was not a street cop and he did what was right at the time.  So be it! Nevertheless, the slap produced the intended result.  The suspect stared "bug-eyed" at Mike's ready open palm as he meekly sat in the back seat.
Gumshoe firmly believes that this wayward, misguided, suspect saw the light and he instantly became a monk who took practicing his vow of silence seriously.
The wrath of my brother Mike's slap had spoken. Amen, peace be with you!
Ultimately, the other suspect was apprehended without incident.  He had a toy gun along with a small amount of ill-gotten cash for his efforts.
As for my prisoner who maintained his vow of silence, he kept his vow all through the prisoner processing and his jail booking. He along with his partner in crime later pled guilty to the armed robbery. They ended up doing time to do their penitents in the penitentiary.  Monks are us they are— inside the taxpayer-supported locked-down monastery.
My brother Mike never had the opportunity to accompany me again as a ride-along, but we both know that once was enough for each of us.  In the years to follow, he later became a high-level prison administrator who was well respected for his words and for his wise counsel. He instituted innovative rehabilitated programs that were very successful and copied throughout the prison system.
No slaps were ever necessary.  He definitely took a "hands-off approach".  God bless him always for having my back.  He knows I will always have his.
Remember folks to always love the ones who love you, and really try to love the ones who don't.
Coram Deo!