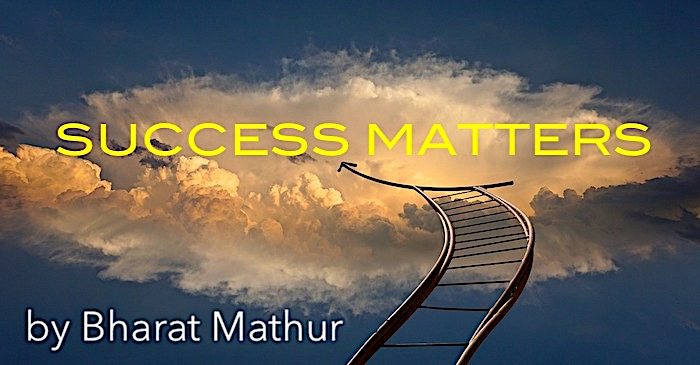 Strange are the ways of the world where the same thing has different, sometimes diametrically opposite meanings for different individuals. Wealth happens to be one of those pleasurable, proud, confusing, or humble symbols in our present-day society. For sure, we all want to be wealthy; we employ all possible means to acquire wealth. Alas, some succeed where many others fail.
When I try to solve the maze surrounding wealth, various authors' wisdom guides me at different turns. One of these gifted personalities is Margaret W. Bonnano, the American science fiction writer, with seven Star Trek novels to her credit. She looks at wealth in an extraordinary, society-friendly way: "Being rich is having money; being wealthy is having time." This statement raises more questions than possible answers. How do we make a happy, contented living on time alone? We need money to survive, so how do we exchange the time at our disposal for worldly riches? Yes, making use of our time for productive chores, whether for ourselves or someone else, happens to be a viable solution, no doubt. But, can everyone be in the same league as the wealthy, by merely using this avenue? Not a chance!
Going a step further, we can identify the fine line between wealth and riches. To accomplish this task in a timely fashion, we must first visualize the focal point of being wealthy.
Is it just financial independence, or a life of luxuries? Does being wealthy mean unlimited affordability?
A beautiful mansion, a fleet of luxury cars, an imposingly huge yacht, significant investments, overseas travel, credit cards with no spending limit, and so many other things can be considered suitable symbols of wealth. But, for all practical purposes, not one of these items compares with the advantage wielded by 'wisdom.'
A library of wisdom is more precious than all wealth, and all desirable things stand no comparison. Whoever, therefore, claims to be zealous of truth, of happiness, of wisdom or knowledge, must become a lover of books.

–Author Unknown
Believe it or not, even the poorest of the poor can easily stake their claim to wealth, within their own right, though. John Wooden, a.k.a. Coach Wooden was of the opinion: "Ability is a poor man's wealth." How could this be true, you may ask. Well, multiple real-life answers can be found all around us, wherever physical labor is called for. The wealthy individual will find it beyond his or her dignity to perform the task, never mind the consequence whereas the poor will jump at the opportunity to make an extra buck. The same job poses a hurdle for the rich but offers an opportunity for the poor. In other words, the so-called wealth sets limits on its owners' competence. In contrast, the poor gets to display his/her wealth of physical ability or endurance to withstand the challenge and come out a winner.
An ancient Greek philosopher, born in the 4th-century B.C., by the name of Diogenes, shared some remarkable words of wisdom that stand true even today. "A man once asked Diogenes what the proper time for supper was, and he made answer, 'If you are a rich man, whenever you please, and if you are a poor man, whenever you can." Here, we do see the vast chasm between the rich and the poor. No doubt, affordability rules the roost. But, can we apply the same yardstick to every imaginable activity involving the two opposite sides? I beg to differ, and rightly so. Here is my explanation: Monetary wealth has limitations, untold, and unforeseen limitations. All non-believers, please take note of the current stock-market meltdown: How fast the Trillion-Dollar corporations have seen their value reduced to Billions. So many Billionaires have seen their wealth eroding beyond their dreams. Alas, their only escape remains heavy does of stress-relieving pills prescribed by some of the topmost physicians.
Given the above scenario, how many poor would you imagine undergoing the same level of stress; none I believe. Why is that so? Here is a hint in the words of Oscar Wilde, the 19th-century playwright from Ireland: "Beautiful things like beautiful sins belong to the rich." A word of caution here, though; it is neither my intent nor a suggestion that only the rich are sinners. These can be found even without a search since they hide, survive, and also thrive in every society. What makes me say that? Well, there is an adage I came across a few years ago. It goes like this: "A thief passes for a gentleman when stealing has made him rich." – Author Unknown
Please allow me to use an analogy about the value of wealth in terms of its longevity. How many wealthy individuals does history remember as compared to the wise? It is not the financial prowess of an individual but his/her capabilities beyond money that make him or her a legend. The majority of heroes in any specific field owe their success to humble upbringing, and not obscene wealth. It was their mental prowess, more than anything else, that brought them to the cusp of glory. No wonder, these names have survived over so many centuries and shall continue to make a mark for those to come.
A tune is more lasting than the song of the birds, And a word more lasting than the wealth of the world.

–Irish Proverb
Benjamin Franklin, the multi-faceted statesman, instrumental in drafting the Declaration of Independence as well as the American Constitution, took a particular interest in distinguishing between the rich and the poor. Here is one of his pointed observations: "Don't judge men's wealth or godliness by their Sunday appearance." Any sane individual can ascertain the truthfulness of this statement, especially when it comes from a man of such high integrity. Little wonder, they say appearance can, at times, deceive! Would you go far enough to apply the same principle to a run-of-the-mill individual with equal fervor? I doubt it.
You be the judge and take it from there.
Thank You!