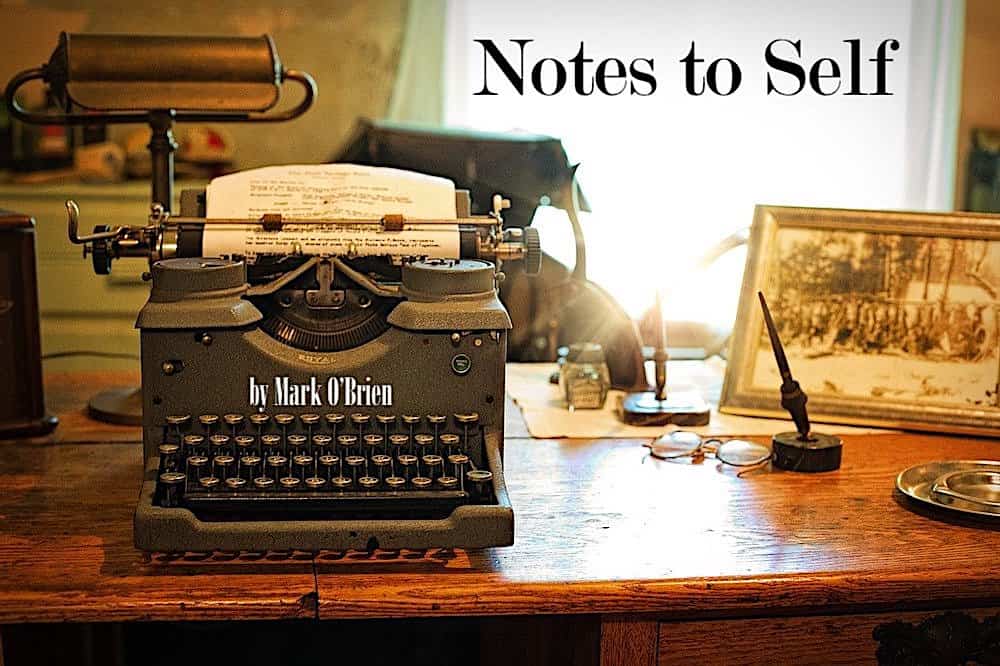 When the late, inimitable Hunter S. Thompson would pull of some act of outrageous, drug-fueled lunacy, he'd frequently follow it by writing, "We are, after all, professionals."
I thought of that the other day when I was recalling an incident that took place in my last corporate job. I was working for one of the country's leading insurance and financial service companies. That's what it called itself. Even then, I thought it a hilarious way to characterize a company for which a colleague of mine said its mascot should be a blindfolded porcupine. But I'm already digressing.
It was 1989. One of my responsibilities was to create a closing presentation for the Employee Benefits Department's Annual Conference. I decided it should be a live-action video. And I wrote a script that was a comedic take on Mission: Impossible.
At the time, the company was in the midst of trying to convince itself and its prospective customers that it had a managed care offering. What that meant in those days was that it sold health-insurance plans that were purported to include — singly or in combination — traditional indemnity policies, PPOs, and HMOs. It had no such things. But it wasn't about to let the truth stand in the way of a good story.
In the video, James G. Batterson, the company's founder, came back to life in the late 20th century to try to figure out what the hell managed care plans were and what had happened to the indemnity coverage he'd helped to bring to the mass market. (We found an actor bearded and suitably portly to play the part. Believe it or not, he later did this.) In scene after scene, he'd make wryly anachronistic observations and express wonder at what he was witnessing. (In one scene, he watches curiously as a man swims laps in an Olympic-size pool. Then he looks at the camera and says, "We used to think swimming was a way to keep from drowning. It turns out there are other benefits, as well.")
In the climactic final scene, the actor playing Batterson says, "I've been dying to do my Martin Landau schtick from the beginning of this thing," and peels off his make-up, revealing the president of the department. The president looks at the camera and says, "That's show business!"
On Site
The conference happened to be in Palm Springs that year. The final night of the conference featured a black-tie dinner, preceded by any number of cocktail parties hosted by various senior vice presidents and other corporate hitters in their executive suites (of course).
At one such party, I was quietly slurping a martini and trying my level best to be inconspicuous or to look, at the very least, as if I fit in. (I didn't.) At one point, a particularly dimwitted vice president sashayed over to where I was standing. Judging from his attire, he was either expecting a flood, was particularly proud of his socks, or had rented his tux from a criminally inept tailor. Decorum being the better part of valor in that context (for the moment anyway), I decided to zip my sarcastic Irish lip.
"Hey Mark," quoth the VP. "Somebody told me you wrote and co-directed that video we saw today."
"I did," I replied guardedly.
"Wow," he said. "That was really good. I thought some professional did it."
At that moment, the Devil, seated on one shoulder, said to me, "You gotta get the hell out, dude. You have no business being here, working in this company, or talking with this stooge."
God, seated on the other shoulder said, "Oh, God. Wait. That's me. Ya know, I hate to admit this, but Beelzebub's right this time."
Taking that as my cue, I suggested to the VP that he should shave his legs. And citing my tardiness for emergency surgery, I excused myself. The Devil, God, and I moved on to another party.
We are, after all, professionals.