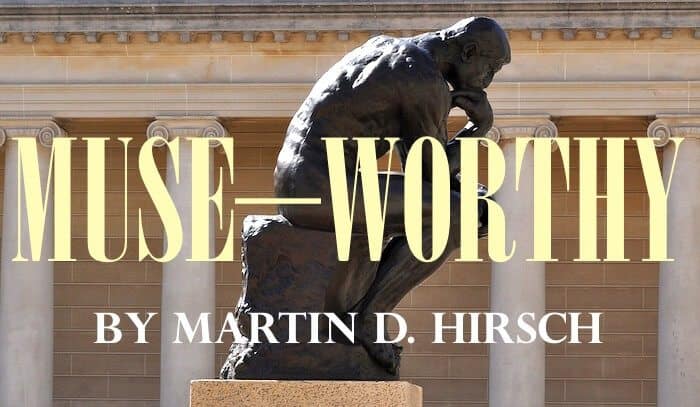 If you've ever dreamed of being a writer, you probably remember the moment you caught the bug. For me, it was fall semester, 1969, English Composition 101 at Temple University. Holding the essay I'd written in longhand in one of those ancient blue college notebooks, Professor Jonathan Mark put his hand on my shoulder as we headed toward the corridor after class and said, "Let's see if we can get this in publishable form by winter break."
"Publishable form." I've been hearing the echo of those words and savoring my teacher's encouragement ever since.
The piece I'd written was about the psychic devastation my first love had wrought. It came to mind during the Golden Globes in 2017, when Meryl Streep was giving her acceptance speech after receiving the Cecil B. DeMille Lifetime Achievement Award. She recalled something her friend, the late actress Carrie Fischer, had once told her after a painful experience. "Take your broken heart," she said. "Make it into art."
The Road Not Taken
I guess that's what I'd tried to do in that essay in my freshman year of college, and many times since. I never published that first piece, but I've written a number of other stories that have periodically found their way into print or online publications in the subsequent 47 years. I made my career in corporate communications, where writing was not my principle task, but nevertheless a skill I was able to parlay into a secure life, a ton of international travel and a retirement that now affords me the luxury of being a struggling writer without being a starving one.
I've traded my memberships in organizations like the International Association of Business Communicators and the Public Relations Society of America for a few new professional groups dedicated to the craft I'd always wanted to pursue. The American Society of Journalists and Authors is one of them.
Coming Home
Finding my way into the ASJA felt like coming home, especially at events like last year's annual conference, where the courses and keynotes took me back to my initial foray into expressing my thoughts and experiences on paper. When I registered recently for the 2019 conference, I found myself transported back to a breakout room where we were instructed to compose personal essays on the spot. "Remember, a good personal essay begins with delight and ends in insight," one of the session leaders told us. "It needs to be less reportorial, more literary… Make the specific generalizable… Create an aha moment."
Those were the appetizers to the main course, which came in the form of a keynote address by Dan Jones, editor of the popular Modern Love column in The New York Times. I hung on every word and tried not to miss a single one of them in the notes I  madly scribbled down in my Moleskine as if my life depended on it. When someone of Dan's caliber in the literary world offers to lead you to the Holy Grail in a talk called "My Top 11 Publishing Secrets," well, you throw on your walking shoes and follow him.
Afterward, Dan autographed my copy of his book, Love Illuminated. And when I asked him for permission to write an article about his speech he graciously agreed. I've since ungraciously procrastinated for eight or nine months, but his publishing secrets have no sell-by date and are as fresh today as they were then. So here they are.
My Top 11 Publishing Secrets
Keynote Address by Daniel Jones, Editor of the Modern Love Column, The New York Times
1. If you're publishing a list, make it an odd number.
2. Publishing isn't about secrets or shortcuts; it's not about having 'the gift' or being the most talented. IT'S ABOUT STICKING AT IT.
3. You have to write badly before you can write well, and it's embedded in EVERY PROJECT.
My dreams of writing were great. The reality of the process was much harder. Writing is about being, and being is a discovery, a journey; and the journey is a struggle. You have to find what you want to say, and a voice, and a structure. And this happens with EVERY PROJECT.
4. The qualities you need to be a good writer are the same as you need for good relationships:      
Good                                                       
Honesty                                      
Generosity                                   
Open-mindedness                       
Humor
Humility                                        
Bad
Dishonesty
Withholding
Defensiveness
Pettiness/blame
Egotism
5. Being clear is better than being clever. At The New York Times, clarity is king.
You can get very attached to your language and your rhythms. But editors will shake you out of that.
6.  Avoid stock phrases like the plague.
I always start by reading the beginning, looking for a confident voice, and a clear storyline. I'll skip around looking for a line that is:
My eyes will scan for gems. Sometimes essays can be built around gems. But stock phrases have the opposite effect and will just shut me down, tell me you're taking the lazy route and one that is less likely to have a fresh, meaningful insight. For example, phrases like:
Fast forward
I curled up in a fetal position
I curled up with a carton of Ben & Jerry's
I remembered (that's obvious, so NEVER say it!)
7.  Give your story a title and make it the best title you've ever written.
Headlines and titles are more important than ever. The burden on a headline is about EVERYTHING:
Cleverness
Humor
Clarity
Suspense
Search terms… all condensed into five to eight words.
Also, you can't know about what your piece is until you can sell it in a few words. If you can't sell it in a few words, maybe you don't have a piece. A piece that yields up its title, in a playful way – it can't be click bait or readers will be disappointed. It can't over-promise.
8. When you're feeling like the best writer in the world, don't submit whatever you wrote that made you feel that way. Take it as a warning sign when you have the sense that, how could anyone not LOVE this?
For writing, you need to have a really strong ego and a really beaten down ego that co-exist. Those forces need to be working in opposition in your mind. You need to send a piece when you feel all right about it and also have deep doubts about it. Chances are that 90 to 95 percent of the time it will be rejected. You could get into Harvard 20 times before you get into Modern Love!
9. Don't pitch too hard. (Harlan Coban: "Only bad writers think they're good.")
Essays are kind of a magic trick that comes from a place of embarrassment and doubt, vulnerability, humility – about maybe coming to understand something. They are NOT about confidence and swaggering and bragging. A cover note should read: "Here's my piece. I hope you like it."
10. Professionalism counts a lot.
I will look into everything about you online to see what you write about, comment on, how you carry yourself professionally in public.
11. AN EDITOR IS ONLY ONE PERSON.
A naïve view of writing and the publishing business is to think that once you're published, that you're a publishable writer. Sometimes well-known essayists become well known AFTER I've rejected them five times. There is no bar, there is no consensus. There is only what people like and don't like. Publishing one thing is no guarantee of more. You have to:
Put in your time
Take your work seriously
And then find people who like it
For writing, you need to have a really strong ego and a really beaten down ego that co-exist.
Of all the writing tips I've heard or read over the years, these from Dan Jones may be the best. I'm grateful to him for giving me permission to lend you my notes on his talk.