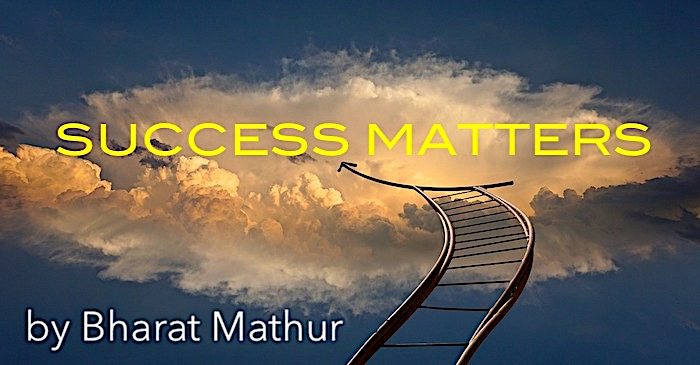 We all want to be victorious in every walk of life, and there is nothing wrong with that. However, not all of us adopt appropriate ways and means to reach that end. We often observe someone taking short-cuts, or using less than acceptable tactics. These unscrupulous people tend to grab the cake and leave the honest wondering if their own honesty was the real culprit. In the olden days, victory used to matter at times of war. The stakes used to be high enough for the soldiers to put their lives on the line. Nations fought battles, mostly to satisfy the whims of their rulers, their individual one-upmanship, or to prove their military might. As modernization started taking deeper roots, competition gradually shifted from pure military power to economic, space, as well as digital dominance. The meaning of 'power' per se metamorphosed into 'Super Power.'
Modern society allows us to count our victories without lifting a finger. We have numerous avenues available to us.
We can assert our command of different ethical, productive, innovative capabilities, and create systems, devices, formulae, and/or methods. It is no more impossible for the common folk to attain unimaginable success beyond anyone's imagination. If you are wondering what exactly I am alluding to, you need not go far. Just look at the past decade, and you will have a fair idea of how some countries have taken the lead in industrial growth backed by the digital boom.
The olden days' limitation of just so many working hours in a day has now given man victory over the most crucial element we know as time.
E-commerce and telecommuting offer us the convenience that was impossible to imagine before. An individual sitting on his/her dinner table is now competing with conglomerates by providing various products for sale online. The astronomical growth of Amazon, E-Bay, Ali Baba, and other regional e-commerce behemoths is giving well-established retailers a run for their money. Can you see the victory of non-traditional businesses over the Global leaders at their own game?
Our victory over distance can be measured in terms of the fast-growing Social Media. Instead of traveling long distances, we can do video calls across continents with our smartphone. Not only that, but relationships have acquired a new meaning as well. The tremendous power of communication media has opened up a vast reservoir of followers for those seeking recognition. We see artists getting their video to become viral within minutes, and that boosts their popularity almost instantaneously. This extended outreach is nothing short of victory over the centuries-old limitations. Even unknown individuals have the power to post something mind-boggling and gain instant fame. What do you call this new system other than a straightforward victory of personal capacity over mostly unaffordable advertising agencies?
Let us now move over to the traditional and see how far the erstwhile words of wisdom still hold their intrinsic value. First on my list is this quote from Harry S. Truman, the 33rd President of the United States of America.
"In reading the lives of great men, I found that the first victory they won was over themselves…self-discipline with all of them came first." 
Who can deny the fact surrounding self-discipline? It is definitely the foremost pre-requisite for success among a host of other equally important ones, if not more. Those with no control over their own thoughts, practices, activities, planning and execution skills, communication, obligations, financial prudence, and other important traits are not much likely to survive & thrive, leave aside growth and sustenance. Of course, a lot more can be written in support of this statement, but I would let my learned readers be the judge in putting two and two together.
Nelson Mandela, the globally recognized voice against apartheid in South Africa, gave a piece of valuable advice related to victory while discussing leadership. 
"It is better to lead from behind and to put others in front, especially when you celebrate victory when nice things occur. You take the front line when there is danger. Then people will appreciate your leadership."
Every true leader knows the reason behind such a move. They know their own leadership will be worthless but for followers. To stay at the top, they must feed the bottom first. Soon the much-deserved recognition stops percolating down, the base starts to shrink, and the most potent, imposing personalities fall from grace within no time. On the other hand, an individual with deep-rooted commitment to involve different cadres in planning and execution, as per their specific roles, will continue to draw support from those same ranks in his/her journey towards stardom. Even Plato, the 4th-Century Greek Philosopher, had identical views on victory.
"The first and best victory is to conquer self; to be conquered by self is of all things most shameful and vile."
As I mentioned earlier, not all victories are a result of fight or war, especially in the modern age. Although nations still continue to wage wars, they still continue to foment trouble in their neighbors' internal affairs. No wonder, arms-race continues unabated, and the whims of political leaders always fuel the fire to develop cutting-edge weaponry to stay at the top. Those incapable of all the R&D themselves are forced to shell out large chunks of their scarce resources to buy these weapons for fear someone else might attack them. On the other hand, technology has opened up such sturdy bases from where even a common man can take over a multi-national corporation. We need not look far to see the M&A activity of E-commerce platforms buying out the behemoths. Naturally, 'invincibility' has become an archaic word to stay buried deep in the confines of dictionaries. It does not surprise the least bit to see some of the corporate take-overs involve transactions bigger than the GDP of many countries.
Are you still with me? I have an absolute faith in the following adage:
"The greatest victory is a victory won without fighting." -Author Unknown
John F. Kennedy, the 35th President of the United States of America said it so well: 
"Victory has a thousand fathers, but defeat is an orphan." 
Of course, we all love winners. Who would want to be on the losers' side anyway? Instead of siding with winners and losers in a day's work, let us start practicing self-discipline and bring about gradual improvement, day-by-day. Such a minor change in our attitude can be the harbinger of unparalleled achievements in life. It will act like the little seed that gives birth to a giant sequoia of all-round growth, and of course, all the added benefits that accompany success.
Thank You!