I replied to a comment by Laura Donnelly by saying "I do not know if the term I use "unexpected expectations" is correct, but at least it is in line with unknown unknowns.
This reminded me of the Johari Window. Now, we have the Expectation Window: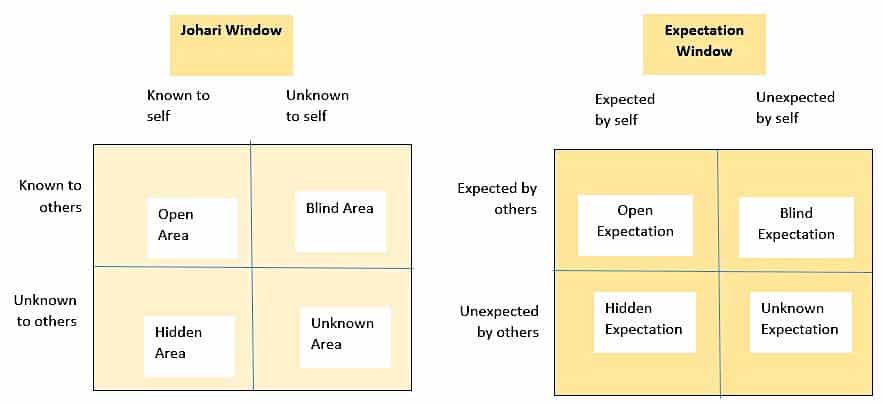 Life is full of examples. One recent example is a post published by Jean L. Serio in which she shared the research finding of employees leaving their jobs because they expected the new offers are the better ones. Most of them ended up regretting leaving their jobs and their expectations failed them. The unexpected expectations fell short of their hopes.
Expectations are different from expectancy. Expectancy is to have hope without an outcome.
Let me explain by example. A job seeker may say I hope I get the job. This is expectancy because it has no definite outcome. Now, if the job seeker says I am 99% confident I shall get the job there is a definite outcome. This is expectation.
I believe the Expectation Window helps in understanding this issue better. This is a crucial window because, in our VUCA world, the likelihood that expectations shall materialize is getting lesser and lesser.
Unrealized expectations can fill the hearts with feelings of failure and can be very demotivating.
There are expectations that are clear and known by self and others. These are open expectations.
There are expectations that are unknown to us but are known to others. I think new employees are an example of this. They know little about the new work culture and may fall into the disappointment of the blind expectation trap.
There are expectations that are known to self but unknown to others. One example is smart investors who have solid information to predict swings in the market that others are unaware of. Others fall into the hidden expectation trap.
Finally, there are expectations that are unknown to all. One example is the recent earthquake in Turkey and Syria. All of the people fell into the unknown expectation trap.
Before you expect try to find out in which domain your expectations fall. This relieves great disappointments.