"There is a chronic culture of lying. We can't possibly trust such a company. Shame on you."
~Angry shareholder at a recent Toshiba meeting
When Toshiba's CEO recently tried putting a positive spin on the state of the company's finances, distressed shareholders drowned him out. It seemed the truth was too painful to bear. As Naoki Tanaka, a 34-year-old stock trader explained:
"Toshiba is not a normal company. They reveal so little and it seems there is much that cannot be told so you're left reading between the lines."
Toshiba's CEO promised shareholders "we will move forward by ensuring a culture clear of lies." He was trying to create the impression his firm would soon recover from its accounting troubles and the risk of de-listing.
Shareholders though, had every reason to be distrustful. Once before Toshiba had promised to make a clean break from its $1.3bn accounting scandal of 2015.
Despite its pledged clean up, Toshiba now predicts the largest loss ever for a Japanese manufacturer. No wonder shareholders were noisy sceptics about the CEO's promises.
Truth in short supply
A study by the University of Massachusetts found that 60% of adults could not have a 10-minute conversation without lying at least once.
Truth often seems a scarce commodity in business.For a whole variety of reasons the truth can prove threatening, and best avoided. Some leaders actively resist honest but personally inconvenient feedback.
For example, they penalize anyone who speaks up about wrong doing. That happened at Wells Fargo with managers and staff fired for resisting unethical practices. Even fraud professionals can feel pressure to suppress or alter fraud findings from senior leadership, direct managers, and peers.
Internal pressure in business to lie is no surprise. This stems from all sides, including co-workers and audit committees, making it that much harder to overcome. An absence of truth in business converts to a lack of trust in leaders by employees. It also stems from the burgeoning number of fraud cases. For example, in the last three years the US Department of Justice has filed more than 10,000 financial fraud cases against nearly 15,000 defendants.
Similarly, the Association of Certified Fraud Examiners (ACFE) has studied more than 2,400 cases that add up to over $6.3 billion dollars in revenue lost to fraud in 2016 alone. This kind of truth becomes difficult to overlook.
Also it's important for organisations to watch out for various tendencies to undermine the existence of truth: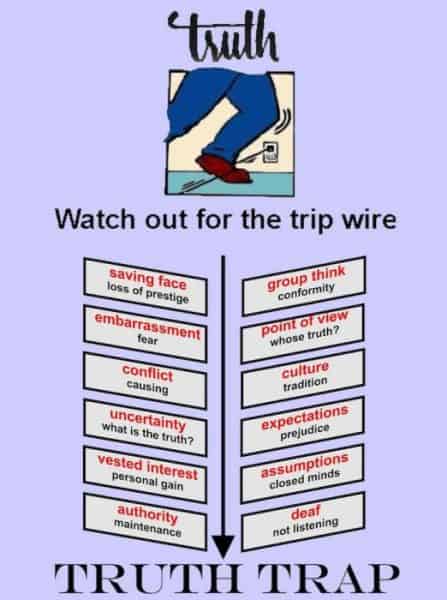 Post Truth
We're now living in a "post truth era". What seems to matter most is not hard evidence, but instead what persuades. This is the triumph of "bullshit"—a complete lack of concern with truth and "an indifference to how things really are."
When leaders resort to "bullshit" it takes a long time for the truth to emerge. When a solution eventually sees the light of day it's often too late. The only remedy is a company culture where truth matters more than the pride or vulnerability of leaders.
For Toshiba in Japan, read Tesco in the UK, or Wells Fargo in the US.
The UKs biggest supermarket chain will pay a penalty of over £100 million for its £325 million deception of exaggerating profits. A misleading annual report turned out to be lies—or so much bullshit.
And when the Wells Fargo's CEO assured a congressional hearing
"We never directed nor wanted our team
members to provide products and services
to customers that they did not need"
he too was resorting to bullshit. His listeners knew lying when they heard it.
Until recently, business has tended to rely on evidence-based decision making—the application of decision science to difficult choices. However, this much vaunted approach has
"run headlong into the buzz saw of politics, where data, facts, evidence and ultimately the truth are bent, twisted and broken to fit the needs of ideologies, platforms and agendas with respect to achieving the outcomes that are counter-factual."

~R.Lees, How business can cope in a post-truth world.
Risk and truth
One area of business where truth is now proving of critical concern is in the area of ethical risk.
After the 2008 global financial crisis, risk cultures in organisations began taking centre stage. Poor risk cultures for example, still explain the cause of many high profile fraudulent incidents.
Many surveys confirm senior company leaders and their boards often shy away from hearing about or facing up to current levels of risk. These may be identified by various sources including financial audits, risk assessments, security assessments and cultural audits.
Sometimes the source of risk lies far beyond the company's immediate horizon. For example, when the Tazreen factory fire in Bangladesh killed 112 garment workers, Wal-Mart claimed the factory was "not authorised to produce merchandise". It argued that a supplier subcontracted work to it "in direct violation of our policies."
Technically Wal-Mart may have been correct. But its failure to monitor and police its supply chain and its refusal to accept any liability left its reputation in tatters, with accusations of irresponsible risk taking.
To ensure there's a resilient risk culture in place, business leaders need to welcome the truth about the risks being run. This means making employees fully risk aware so they understand the consequences of their decisions, and are confident to raise objections when necessary.
The Future of Truth in Business
Humans have a tendency to steer clear of facts that would force their brains to work harder. This combined with the impact of technology swamping us with endless "facts" suggests that truth is indeed a rare commodity and getting rarer.
With declining levels of trust in business and its leaders, it seems right to question whether truth even has a future in the corporate world. As one critic puts it:
"Thirty-plus years of neoliberal narrative and deregulation have cleared the path for business to impose its paradigms and priorities on everyone else, as if the way business does business is the model for how everything should get done, from healthcare to education."
~W. Novosedlik, The Future of Truth in Business
Yet the demand for ethical leaders in business continues to grow. It is not correct that the truth no longer matters. It's just harder to unravel.
---
Sources:
Frankfurt, On Bullshit, Princeton University, 1986
A. Armstrong, Tesco trio plead not guilty to fraud charges, 22 Sept, Daily Telegraph
G. Wearden, £2bn wiped off Tesco's value as profit overstating scandal sends shares sliding, The Guardian, 22nd September 2014
Novosedlik, The Future of Truth in Business, Misc Magazine, Feb 24th 2017
M. Straw, True and fair: why it pays to tell the truth in business, Economia, Feb 2015
R.Lees. How business can cope in a post-truth world, Information Age, 7th November 2016
K.Inagaki, Toshiba shareholders accuse group of 'chronic culture of lying', March 30 2017
D. Zitting, Perception Reality, Compliance and Ethics Blog, April 3, 2017
A. Le Tard, Embedding ethical risk culture in organisation, CSO, 27 March 2017
Yes, I'd lie to you, Economist, 10th September 2016
l.Weiss, What is the Emperor Wearing: Truth telling in Business Relationships, Butterworth-Heinemann, 1998