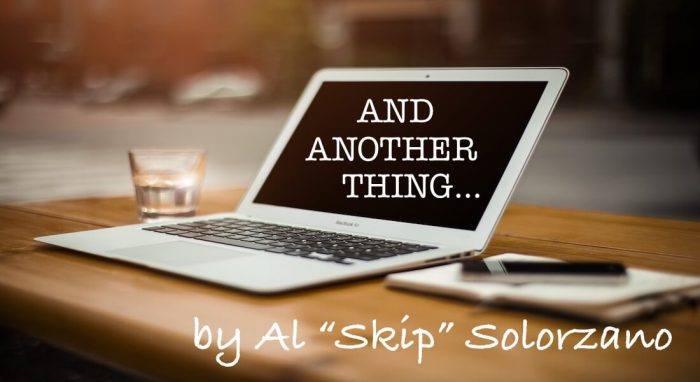 Last week as I sat at home on my recliner I suddenly found myself with difficulty breathing. For approximately 5-6 long minutes I couldn't catch my breath and felt as if my throat was tightening up. As I walked around the house in a desperate state I wondered if this was my grand farewell.
After regaining my breath I decided to contact the on-call nurse services offered by my medical insurer. As I waited on hold for a few minutes I started to contemplate what might have caused this episode. I recently was prescribed a new antibiotic; assuming the role of Sherlock Holmes I discovered that in rare cases, the extreme side-effects were shortness of breath and swelling of the throat – Aha, elementary my dear Watson. The nurse's recommendation was to immediately be seen at my local neighborhood emergency room.
Now, this article's intent is not to discuss my medical condition, but to talk about service, in this case, the constant need for improvement.
I had originally started writing this piece with the working title "O Service, Service Wherefore art thou Service?" but just as I assumed, I had already used a version of this title. This must be a common occurrence for writers when one surpasses the 100 mark. I know we live in a world of sequels but it just seems tacky to add a roman numeral after a title like Jaws 11, Rocky 27, etc. etc.
Back to my story…
As I arrived at the emergency room, the layout of the lobby was a tad confusing – Where do I check-in? Overall the lobby of this hospital in Temecula, California must be on the decline. If a reality show existed like Restaurant Impossible for emergency room facilities, Chef Robert Irvine would be sledgehammering away.
This was actually my second visit during the last three years, and my visual observation I had arrived on the movie set of a Greyhound Bus station with the standard vending machine in the corner, and DMV like seating; I almost expected someone in a dark corner light up a cigarette. Since I didn't arrive via gurney, my walk-in guess was wrong to check at the front counter entering the room. I was directed to stand behind some type of makeshift stand up signage at another location.
As I waited to be called up rather than remain focused on why I was here, I found myself distracted by my surroundings (Oh the curse of my unnatural tendencies to identify process improvements). I noticed five small illustration posters placed erratically under the desk counter, likely some form of health alerts but impossible to read without binoculars.
I could only assume the postings met regulations for official placement, obviously, public visibility was of secondary priority.
As I checked in, two female staff were both talking to me without making eye contact. Initially, I did not respond to one question as I didn't realize I was being spoken to. I'm from the school that one obligation for service also requires one to be a good customer or patient, so I politely mentioned it was somewhat difficult to communicate with both individuals at the same time.
My insurance must not qualify me to be admitted inside to the premium level, five times (5 times!) I was taken inside for procedure after I was immediately advised to go back and sit to the waiting room. Something about eye contact with this hospital.
After an x-ray as I was being escorted back to the Greyhound station, one nurse asked another if she should keep me in the back for blood work. Well instead of looking at her colleague the nurse looks directly at me and in what felt like a scolding manner to go back and sit in the lobby, I assumed she was too busy – Wow! I suddenly envisioned myself turning into Robert De Niro and reenacting the famous scene from the movie Taxi Driver as he looked directly in the mirror and asked: "Are you talking to me?"
During my three hour stay, I went through an EKG. Chest x-rays, blood work and during an initial interview with an MD (who was being mirrored by an intern) I shared my layman suspicion of a severe reaction to the new medication. He did not appear impressed by my suggestion and failed to check my throat for the tightness I was experiencing. A couple of hours later I was discharged I reminded him of my symptoms and he finally checked my throat. After initially pooh-poohing my feedback his brilliant diagnosis was that I may be experiencing heartburn (Come on now!) and possibly a side effect of the new medication – Do they now process medical schools on-line?
Have a Nice Day…
A patient is someone seeking medical care or treatment, and a customer is someone seeking to buy goods and services. When a patient is concerned enough to seek emergency care, that person should receive the highest level of care and attention. I walked into the ER with a high degree of concern for my health, although I recognize emergency staff are likely under constant demands, in comparison I've received more eye contact and extended attention (listening) from retail cashiers during the holiday rush season.
Now I'm one of those customers that when shopping I complete the surveys on the receipts for a chance to win a cash prize. So far there's been no check in the mail, but as QA consultant providing feedback are invaluable resources for improvement and gauging service levels. To be fair, one needs to communicate both bad and good. On my prior visit to this facility, I really received exceptional care and shared my experience with the hospital. After this visit, I conveyed my observations, yet it was obvious I received a standard reply. A pet peeve of mine is to receive a "cut and paste" response, especially when one takes the time to offer feedback. Perhaps I should be thankful for the inspiration in writing this article.
As the Dos Equis spokesman might say Stay Healthy, my Friends.
Skip