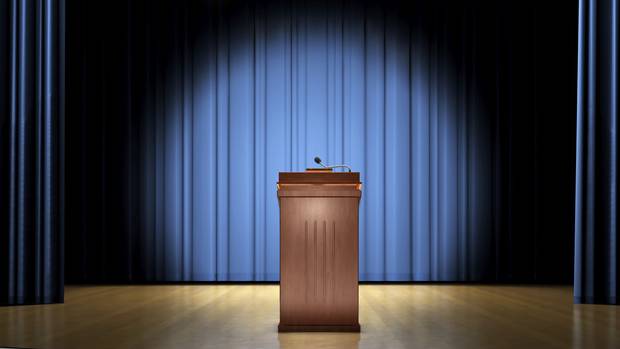 Up until I was 14 years of age I was so shy that my parents were beside themselves as they watched me refuse to go to any event where I would have to meet and speak to strangers. I desperation they enlisted the help of one of my cousins to get me involved in some youth activities.
Their strategy worked very well—my cousin had me join the Masonic Order's youth group DeMolay and my shyness suddenly disappeared and I have not talking since. In fact my family often refused to sit with me in restaurants because I literally, and to this day at the age of 88, I spoke to everyone there.
The fact is that the social, business and professional success of any person more often than not depends on their ability to establish warm relationships with others and one aspect of that is being able to stand in front of major groups and share your knowledge with them.
I attribute whatever achievements I have made to my ability to capture the attention of the many groups I have spoken to over the years and in the following paragraphs I will share with you, my reader some of the key steps that you can take, regardless of whether you are a shy, or outgoing person to give a successful public talk.
Steps that Contribute to Successful Public Speaking
Arrive at you talk site one hour ahead of your talk so as to become comfortable in the environment, that your set up needs have been addressed and that you have a chance to become familiar with the attendees as they arrive.

Speak only about subjects about which you have experience and knowledge and do everything you can not to use notes or read your speech. In other words, speak from the heart. Avoid using any kind of prop, power point, slides etc. Always, keep the attention of the audience on you not anything else.

Learn all you can about the group to whom you are speaking and tailor your talk to address their interests and concerns.

Find sources of humor that tie into the theme of your talk and use at least 3 such humorous stories, one at the start of your talk, one in the middle and one at the end. This is a key to keeping the audience's attention.

In Preparing your remarks avoid using complicated statistics or you will lose your audience.

If you have informational handouts pass them out after your talk, not before – or your audience will be looking at them while you are speaking.

Dress professionally for the occasion. Men should wear suits or sports coats and a very bright tie. Women should wear a bright colored outfit or a dress with and a bright scarf. I cannot stress enough how important it is for the attention of the audience be focused on you.

Stand as close to your audience as possible and not behind a podium.

Stand in one place do not walk back and forth.

Make certain, when using a microphone that you hold it close to your mouth so the audience can hear you.

Finally, keep in mind that early morning talks can be more serious, noon talks need to be light and after dinner talks need more humor.
While I understand that we each have our own unique style of speaking, the techniques I have described have proven to be very effective and hopefully, they will help you achieve great success.