I

have been in my own business
for over 20 years, in New York, California, Florida, and Canada. I'm always trying new business ideas; sometimes they work out, sometimes they don't. I guess you could call me a "serial entrepreneur" – I have been a "freelancer", a "consultant" a "small business owner" I've had a very costly OJT (on the job training) over the years, I didn't get an MBA, don't know how to calculate ROI, usually I just go with "my gut".
I
do
know how to do some things, like marketing, B-2-B selling, writing books, creating training programs. But my business education has huge gaps in other important topics, like Strategic Planning, Financial Management, Legal Structures, etc. I've often wished I could "catch up" on these subjects, somehow. But I've never gotten around to it. Now I've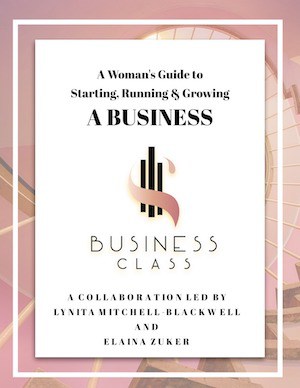 partnered with an awesome businesswoman
Lynita Mitchell Blackwell
and publisher (of 5 magazines for women) to create BUSINESS CLASS, which we hope will address those needs of women business owners. Here's the link to the ad campaign we're running on Facebook and other social media
Living the Leadership Lifestyle
.
Basically, what we're offering is a year-long webinar series, created BY women FOR women, on topics from Strategic Planning, Financial Structure, Legal Issues, Hiring, Marketing, Branding, etc. for women business owners, at whatever stage their business is ("A Woman's Guide to Starting, Running and Growing Your Business"). We've recruited an excellent, accomplished group of experts to teach each monthly topic. The book "Business Class" is being offered as a FREE download as a sampler of the quality of expertise of our "faculty" – and we're hoping to sign up students from all over the world.
The first evening is scheduled for December 11, 2018, with an opening session on Mission and Goals.
Please share this information with your network, or with friends/colleagues you think might benefit from this program!