I alone cannot change the world, but I can cast a stone across the waters to create many ripples.

–Mother Teresa
We hold this space as an opportunity to showcase those people we encounter now and then who simply show up every
day with a radiant,  uplifting spirit coupled with a genuine willingness to give back. That said, as Publisher and Editor-in-Chief of this award-winning global media digest and CEO/ReImaginator for 360° Nation, I was delighted to have the opportunity to get better acquainted with Cassandra Tindal, CEO & Executive Producer, WOM Media LLC & Womenz Straight Talk —whose multimedia enterprise focuses on producing real stories through content that enlightens, inspires, and informs the viewing audience or readers. Cassandra expresses her interest in raising social awareness of today's global society through media.
Who is Cassandra Tindal?
I Cassandra A. Tindal, am a native New Yorker who grew up in the Bronx. My strong desire and curiosity to understand the world around me – guided a path to explore life through the colorful spectrum of the creative arts, philosophy, and religion.
I am a visionary, and creative designer who always loved to imagine different worlds through my own songwriting, and stage plays. My passion for the arts began at a very young age. I would create the scenes and get my friends to act out storylines and sing the songs I wrote. And dress them up in costumes while acting as the director. My mother was an amazing fashion designer and interior decorator. I remember her sitting me down at the sewing machine, at a very young age. She only had to show me once since creativity naturally was in my DNA.
During my Junior H.S. days, I received a Scholarship to attend the Fashion Industries H.S. and later went on to attend The Fashion Institute of Technology, where I Sharped my skills in fashion apparel design, illustration, and millinery design. I was also a part of the drama club at FIT and acted a part, on stage.
Telling stories in the form of artistic expressions, drawings, playwrights, songs, and costume design has always been my passion.
We'd like to hear about your professional journey up to now, and wisdom gained/lessons learned along the way, including any pivots/course changes.
Life took a turn for me when I was diagnosed with cancer. I consider myself a survivor in more ways than one. That's when I suddenly realized that it was my turn to give back. I felt the need to do something that would be life-transformational for others. In a way that would inspire healing on all levels for humanity and the world.
Tell us about WOM Media LLC & Womenz Straight Talk, and the inspiration behind it.
So, it was my own personal experience, and the stories of others, that inspired me to envision WOM Media LLC, aka Womenz Straight Talk® media broadcasting, production, and publications company.
What's unique about your business, and who is your ideal audience/participant?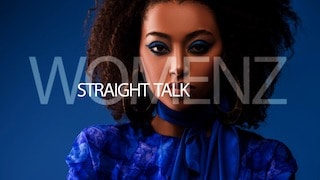 WOM Media LLC | Womenz Straight Talk® is unique in the way it provides a platform for diverse women in media, writers, and journalists to create their own narratives and share their own perspectives, opinions, and views, on a broad range of topics that are quite edgy, relevant, and straight to the point.
Our media appeals not just to women audiences, but to society in general. Everyone can relate to the content. It's about the desire to gain knowledge of ourselves, to inspire humanity, and to encourage positive change in the world we live in today.
When did you launch WOM Media LLC & Womenz Straight Talk, and what's been your biggest challenge so far?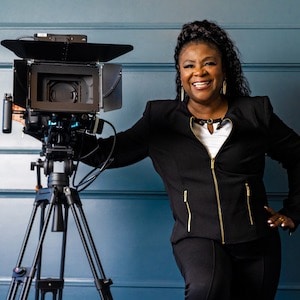 We produced and aired our first thirteen (13) television episodes of Womenz Straight Talk – Show in February 2018" on Comcast Cable Channels, broadcasting to three (3) million television household viewers in NJ, PA & DE. And in the following year 2019,  we launched our magazine. We now have our very own WOM TV Channel… On ROKU. A global streaming network reaching 60 million daily subscribers.
The biggest challenge for me is bringing so many creative ideas together in a way that's cohesive, so people get it. Our company now produces videos, and publications for other businesses, and nonprofit organizations.
Any noteworthy surprises or 'A-ha' Moments along the way?
The surprising A-ha Moment for me, was when I discovered that people really had a lot to say and felt like they needed to be heard, in a way that was truthful, and in their own authentic voices.
What distinguishes your business from others in the same/or similar profession?
In a way, we are similar to other media platforms like 360° NATION, in amplifying voices and bringing like-minded people together. WOM Media LLC is also a member of the United Nations – SDG, and UN Women – Media Compact Group. Promoting global initiatives.
What's the next big thing and/or greatest challenge for WOM Media LLC & Womenz Straight Talk?
The next big challenge for WOM Media LLC, and Womenz Straight Talk, is to become a global media outlet for more voices to be heard.
As an experienced leader and entrepreneur, what's non-negotiable for you?
As, an experienced leader and entrepreneur, the one thing that is non-negotiable for me is discrimination, dishonesty, and disrespect.
How can our global audience learn more about you and WOM Media LLC & Womenz Straight Talk?

You can learn more about us on our website and social media platforms presented below.
BONUS QUESTION: What's one thing people would be surprised to learn about you?
The one thing people would be surprised to learn about me is, that I was a majorette for the PAL (Police Athletic League.)  I played the Bugle, (Instrument) and Twirled a Baton in holiday parades. Many moons ago.
Our Websites & Social Media Links:
EDITOR'S NOTE: We are excited to now include such an impressive, like-hearted organization as one of our special global media partner alliances. See below↴