There's an old saying about smiles: "Smile and the world smiles with you. Cry and you cry alone."
Well, I suspect there's some truth in both parts of that, but it is true to me that many times, when I smile at someone, that person does smile back.
And I smile a lot, as I should!
I have a great life, still working and staying healthy at my advanced age of 76.
I live near a small bay in southeastern Massachusetts, in a tiny house, a 30-second walk to the beach just down a small hill.
I work from home, so my time is largely what I make of it.
I have two small dogs, and we take walks around this wonderful small village every day we can, often for 5 miles total. Up and down the hills, breathing the fabulous salt air.
My favorite people to smile at, though, are babies and little kids!
Their responses are so natural, so joyous, so without any "social rules to follow" kinds of smiles. Aren't they? Does even thinking about that get you smiling? 😁 Yeah, me too!
*****
I was thinking about this the other day while looking at my LI profile, with one of my featured articles showing my dad's very old passport picture (that had my mother in it, somehow) right up front, a photo that had aged poorly and was cleaned up by Freelance Photo Editor and Retoucher  Jillur Rahaman, who saw it on my LI page. (You can see the original there, of course.)
Bless his heart; he did it because he knew how to, and I am and always will be grateful for his incredibly kind gesture.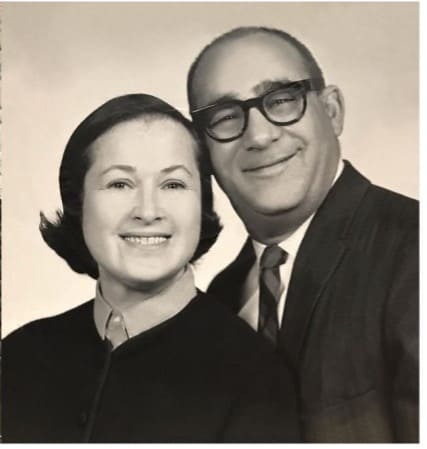 Can you see the difference in their smiles?
I've written a few articles about my mother and my dad – heck, even how I title them gives it away.
But their smiles reinforce what I knew … that my mother was all about her need to be seen as someone desirable, as someone meaningful and special. To me, her smile seems a little stiff; it's polite and socially acceptable, but not warm. It's a smile for the camera more than anything else.
I see no true warmth in it, even though she looks wonderful … in her own way. And please understand that I know she did the best she could; her childhood was filled with real trauma, and she was pretty empty inside.
Do you see my dad's smile in another way? I sure do!
His eyes are all crinkled up. His smile goes higher and has warmth. He doesn't appear to be even looking at the camera. It's as though he's having a wonderful time, and to me it shows.
I clearly see the man I knew as dad, the man who loved life, the man whom others gathered around – and not because they had to – to bask in his glow. It's the kind of smile that draws people to us, to want to be near us – it's warm. Of course, his childhood had been ideal, full of love and caring with no major traumas, so he got a head start on feeling loved. He was openly warm, caring, and loving in an era when many men just weren't, at least in public.
I loved him more than I can ever express. He was my rock.
Funny what thoughts we humans have, isn't it?
Now, go smile at your world and mean it! 😁