I love watching professional golf; I grew up doing so back in the 1950s and '60s, and as I've aged and television and technology have changed – sometimes for the better – I've continued to enjoy watching individual excellence on the links.
I was watching the first day of the Shriners Children's Open last week (10/16/22), and once again I was struck by how we sometimes perceive things.
Physical distances, especially, at least with golf.
I often guess how far a golfer has to hit the ball to get it into the cup, and once in a while I'm rewarded when one of the commentators suggests a distance that agrees with mine!
Once in a while, the network actually shows us how far the ball has to travel. I love that!
But even more interesting to me was something I realized I see a lot – two different cameras tracking the golfer from different angles, and it made me realize how often we think we know what's going on from just one.
Our perspective in many situations may be just ours and based on nothing more.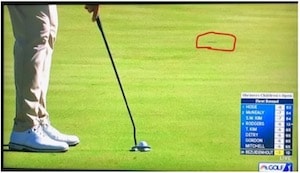 How can we be sure we're right?
Here's a golf shot that I actually thought would be an easy one for this player; it didn't look like it was more than just 8 or 9 feet … right?
I was absolutely sure he would get it in the hole with very little effort. But then he missed.
I was truly surprised. It looked so close!
Now, how often do we think or say to someone else, before we learn about the situation in detail: "Yeah, but you should have because…"? Or "Why didn't you …"?
And how often do we say it without having the faintest idea of why the other person acted in a way we're judging?
What if someone doesn't return a call in our expected timeframe.
How do we respond?
Do we automatically think they don't care about us?
Do we ever realize that it may not have the slightest connection to us and/or our relationship?
Do we at least consider they could be sick? Hurt? Really slammed with work? Dealing with a family issue?
Do we consider all the possibilities, especially with friends or family members? A valued colleague?
I know that when I don't jump to a conclusion without knowing ALL the facts, that alone keeps me from getting upset, which allows me to keep a relationship from going under … at least in the short term.
Now, back to the golf game and picture.
A few seconds later, I saw another picture on my screen, and I realized how looooong that distance was! Easily more than twice what I thought; maybe three or four times longer.
I saw it from a drone's angle that showed its true length … wow.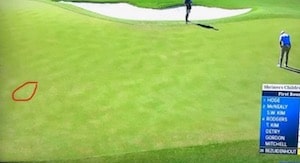 As viewed from above – a totally different perspective was revealed, one that made me think about how we judge ourselves, others, or situations where we only have a single bit of knowledge.
I realized the player was faced with a daunting task, one that I hadn't realized. I was "judging" without all the correct facts.
Does this resonate with you?
Is there a situation you've been in where you did or didn't have all the facts? How did it turn out?