Promoters and owners of events businesses will be the first to tell you that their work is easily the most rewarding, as well as the most challenging. Often, all of the hard work and graft comes down to a single night that ultimately determines whether the entire project is a success or not.
To the untrained eye, holding an event is nothing more than renting a venue, bringing in a catering team and some entertainment for the audience. You never see the hard work that is put in by promoters looking to sell tickets, book the best entertainment, organising the equipment and marketing all within a tight budget.
It is only when the last of the paying audience has left that a promoter can breathe a well-earned sigh of relief. If working around the clock to ensure you put on an event to remember sounds like your ideal career, then carry on reading.
The Essentials
Before you even think about starting a business or planning an event, you are going to need public liability insurance. This covers you for any damages to your venue, or equipment during your event and injuries to members of the public. Ensuring that you are properly covered is hugely important; otherwise you are at risk of falling victim to damages that you otherwise cannot afford to cover.
Once you have your insurance in place, you also need to know what type of event(s) you are going to hold. Will you be aiming for businesses or consumers? What area will you be operating and do you have any contacts that you can call upon to help?
Making Money
You might think that ticket sales are the be all and end all when it comes to turning a profit in the events business. That's not true at all, although it certainly helps. Sponsors and advertisers are what you should be aiming for before selling any tickets as, particularly for small businesses, this provides the funds to hold your event.
Sponsors look for exposure and, even if your event is small, you can grab their interest by including their brand on all marketing material and give a rough estimation of your expected reach. Local businesses will be more willing to work with promoters than larger companies, so focus your efforts here.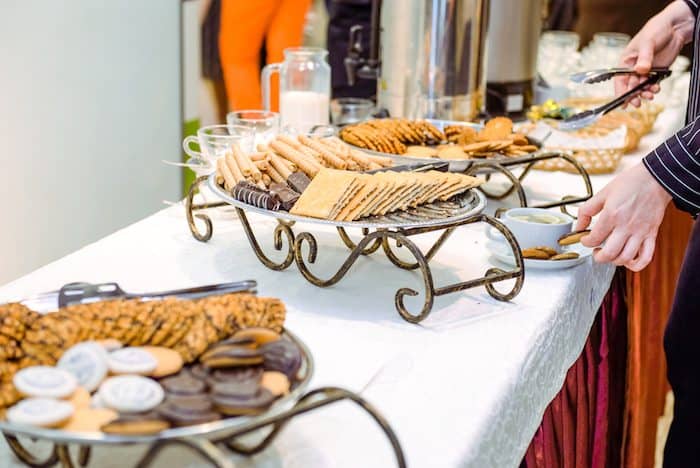 Catering
A well-organised event required seamless catering. Refreshments can easily be forgotten, but you will soon hear about it if your guests cannot find anywhere to buy a drink. Most catering teams provide their own equipment, but it can never hurt to have some in reserve just in case. Items such as disposable plates, paper napkins and cups are available at wholesale, meaning you can purchase in bulk at discounted rates.
A lot of venues will have a bar and kitchen which can be used as part of the rental agreement. It is common practice for the venue to keep all profits made from food and drink as they are providing the service on top of the hire.
The Event Itself
The most important part of organising an event is what everyone is coming to see. Whether you are throwing a stand-up comedy show, exhibition or a simple team building event, booking the main part of the event early on is important. There is no point in selling tickets for an event that people don't know what they are going to see.
Once everything is booked, make a plan for how the event will unfold. What time will everyone arrive, any arrangement that needs to be made, when will the audience arrive and what time will the event start and end. Keep to your timings to ensure that everything runs as planned.
All it takes is one poorly run event to ruin your reputation as a promoter, which could result in acts refusing to work with you and putting the public off from attending your events.
It's the toughest business around but, when you get it right, it's certainly the most rewarding.