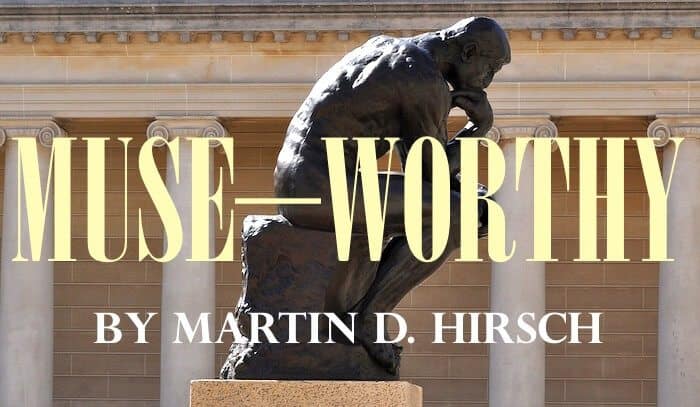 "So what's your ultimate career advice?" the twenty-something-high-potential-bright-young-woman-with-her-whole-life-ahead-of-her asked the sixty-something-finish-line-approaching-reasonably-successful-older-man-with-ample-gas-left-in-his-tank over lunch the other day.
Up until that moment, the conversation had been stimulating, entertaining, free-flowing and fun. But "ultimate career advice"? That's a pretty high bar. Suddenly the pressure was on. The mind of the sometime mentor of promising youth flashed back around 10 years to a weekend in Berlin, where he and his wife had gone to meet with a dear friend from the States whose talented 12-year-old daughter Kate was performing in an international dance event showcasing the cultures of countries from around the world. They knew Kate had been studying dance seriously since she was a very little girl and that she was good, but her performance, from the musical "Chicago," absolutely blew them away, along with everyone else in the packed auditorium.
Mother and daughter conflict
Much of the conversation that weekend focused on the conflict between Kate and her mom about Kate's future. Kate wanted to study dance and devote her life to it. Her mother, a successful corporate lawyer who was raising Kate alone after the death of her husband, insisted that Kate pursue something more likely to support the kind of upscale lifestyle to which she was becoming accustomed.
As Kate's mom and the would-be mentor's wife chatted during their strolls through Berlin's streets, Kate talked to the older man about her love of dance and plans to apply for prestigious programs run by the American Ballet Theater and other renowned institutions. He couldn't help but admire her passion, and having seen the proof of her show-stopping performance, he saw her ambition as more than a pipe dream.
No guarantees
But success was far from assured. As Kate's mom explained it, dance at the highest levels subjected young women to pressure-cooker conformity in terms of body type and stature. Kate had a fine physique, but she was shorter than average and, according to doctors, unlikely ever to reach the ideal dancer's height. That could be a major, and possibly even insurmountable, obstacle.
As someone long obsessed with solving the riddle of the ideal life – his own and others' – the older man, knowing full well he was about to enter very adult territory with a very young person, confronted Kate with a question he couldn't help himself from asking: "If for some reason you wound up not becoming a professional dancer with a well-paying company and instead had to make your living teaching students, or performing in dinner theater, or otherwise doing what you love but not earning enough to have the beautiful home and swimming pool and vacations in five-star hotels that you enjoy today, could you be happy?" Kate didn't have to deliberate long before saying no.
Fast forward to the present. Kate still loves dance, but she heeded her mom's advice – and maybe the counsel of the older man long ago in Berlin – and decided to study law. She was accepted at a top-tier school, interned for a powerful United States District Attorney in New York last summer, and made law review. She's now weighing offers from several major firms. She's poised, self-possessed and by all outward appearances, well-adjusted and happy.
Abandoned dream or ideal life?
What to make of this story? Did Kate abandon her dream and sell out, or did she make a wise assessment of her deepest needs and desires and navigate a path leading as close as possible to her ideal life?
The sometime mentor of promising youth was reminded of what he'd always found to be the most memorable line in one of his favorite books, "Revolutionary Road," by Richard Yates. In the excellent movie version, Leonardo Dicaprio and Kate Winslet starred as Frank and April Wheeler, an idealistic 1950s couple – April an aspiring actress and Frank a bundle of nonspecific, nonconformist passion – who meet at a party in Manhattan, fall in love and marry. As time goes by, they watch their youthful passions wither when they settle into a suburban community, have a child and depend on the income from Frank's evolving career writing marketing copy and advancing in the ranks of the business machine company where his late father spent his entire working life.
Reviews of "Revolutionary Road" say it's about how the 1950s witnessed the strangling of the American dream when stifling suburban neighborhoods lured promising young men and women into the trap of tedious lives like flies to a spider web. But Leo's complex interpretation of the role betrayed a hint of actual inspiration in the way his Frank Wheeler contemplated fatherhood, family and even the challenges of his life as a rising company man.
In one scene, he appears to take genuine satisfaction in composing this line of copy for a brochure on managing inventory:
"Knowing what you've got, knowing what you need, knowing what you can do without – That's inventory control."
It may also be the answer to the riddle of the ideal life. Knowing your innate capabilities and strengths and what you've got going for you. Knowing what you're passionate about, what you want and feel would make you happy. Knowing that there's no guarantee that you'll get all the way there, but that you're willing to do whatever it takes to try.
Maybe that's as close to the ultimate career advice that any of us will ever get. That's what the 60-something mentor told the 20-something aspiring career woman over lunch that day. The look on her face said she was already digesting it.