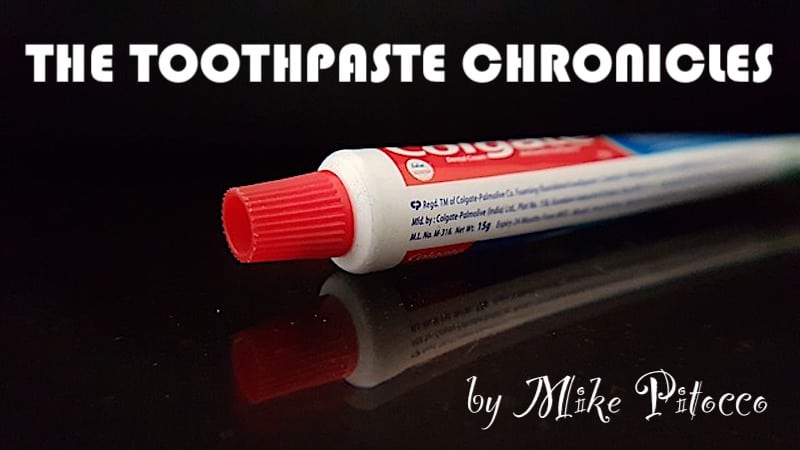 As you remove the tube from its box and prepare for that first squeeze have you ever thought about how much life will have transpired between then and the time you force the last little bit of paste out of hiding and onto you brush? No? Well, not to worry, I have.
In the days, weeks or months that lie ahead (as determined by the size of the tube, frequency of use, the amount used per brushing, the number of others who use the tube, etc.), how many things will happen outside of the usual routine things of life? How will you and those around you be impacted? What challenges await?
What about that tube you just tossed into the trash? How did things play out? Did things occur you would never have imagined? Out of the ordinary? Memorable? What might you have done or said differently if you had the opportunity? Or, did time simply and quietly pass by?
I don't know why the thought drifted across my mind (just as well…I likely saved a bundle in counseling fees). We hear about thoughts 'striking' people as if they originated from somewhere outside of our mind….. some sort of thought warehouse. Or maybe falling on our head from out of the sky as a flock of thought birds fly overhead…..no doubt some of my thoughts might best be described as thought excrement of this variety.
But the 'toothpaste' thought didn't 'strike' me, it just unexpectedly and without fanfare, 'oozed' out of my brain for no apparent reason, and there it was. Once it did I could not shake it; like the relative who comes for a visit with no departure day in sight, it just lingered and would not go away.
Maybe if I just ignored it, the thought would go back to wherever it came from – like what my older brother Danny would do when mom insisted he take me with him as he was departing to his friend's house…. ignore me – pretend I wasn't there. (mind you, I have put these countless emotion-scaring incidents completely behind me and bear no ill will toward brother Danny…… (it's truly amazing what a few hundred counseling sessions can accomplish!). Similar to how I responded to my brother's efforts, my thought would not be ignored. It actually turned out okay with Danny's friends once I got to know them… you see, mom knew I didn't have many friends of my own – okay, by 'many' I mean there were only two (if you apply a very loose definition of the word 'friend') – but that's a tube for another time.
I don't recall having any particularly heavy thoughts the day this one arrived. Don't get me wrong, I'm quite a heavy thinker ya know…. I just don't recall any 'great' thoughts that day. There already exists quite an ample number of perfectly normal and extremely more accurate measures of time than toothpaste tubes, so there was absolutely no need to create a new one….."I'll be away for a few days"…. much preferable to, "See you in 12 squeezes!" It came out of the blue, or in this case, the gray, matter…..one evening some time (I'd say roughly 5 or 6 medium-sized tubes) ago, as I squeezed a new tube for the first time – a very mundane, inconsequential, oft-repeated and not very exciting activity – squeezing a tube of toothpaste….but at that moment a few random brain cells collided and there they were…..
THE QUESTIONS; "What events will take place before that tube was empty?, What cool stuff would happen?, What not-so-cool or even downright bad stuff would happen?, Would I meet new people?, Experience new things?, Where might I go?, Would I want to go there? How will I get back if I do go? Would I learn a new card game?, Make a new friend? Improve my tennis serve?" (still hoping for that last one).
I consider myself to be in decent health, but a few 'big' questions too; "Would I be around for the last squeeze?" (after all, our tubes are numbered). Most of my tube wonderings aren't earth-shaking types of queries (i.e., "why am I here?", "why is there air?", etc.), but from the moment of that first series of questions, time for me has been divided into the Pre-tube and Post-tube era. There is simply no going back.
First, some background. You should know that when I say 'the last squeeze' of a tube, I mean there is no remaining toothpaste in the recesses of that tube. Having been raised in a large family (eight kids) by post-depression era parents who were on the lower end of the economic scale, discarding a tube of toothpaste, or anything else, with anything usable remaining would be unthinkable. So yeah, I mean THE…last….squeeze, as in there ain't no mo paste comin' outta that tube! It's important for you to know this before we go any further.
Where did it come from? Okay, I know I said it was just as well not to know the 'why' behind my thought, but I can't help wondering what dark, shadowy, weird recess of my brain formulated such a thing. A severe lack of vitamin whatever? A yet-to-be classified psychotic disorder? After all, surely I had more important, or at least more practical, things to think about, didn't I? Wouldn't no thoughts at all have been preferable to that one? As my mother often said, "What was I thinking!?"
I could blame the 60's…. a time when, yes, I did, in fact, inhale (note to millennials: Google President Bill Clinton's response when asked whether he smoked marijuana). I admit (not proudly but in all honesty) that yes, I did in fact – unlike our former president – inhale….to the best of my recollection I did so on more than one occasion. Okay, "more than one" could more accurately be described as "numerous" occasions. It was, after all, those numerous occasions that were the likely cause of my never becoming an astronaut, but even so, can I really lay the blame for my 'toothpaste' notion on the '60s? Sadly, and again, perhaps mercifully, I'll never know. I know what you're thinking… what does it matter anyway? Good point.
Since the time the thought flittered across my mind it resurfaces regularly with most every squeeze of the tube (economy or travel size, it matters not)…..like 'sands through an hourglass', so goes the days, weeks, or whatever of my life.
There is no escaping it. I now live in a PC (Post Colgate) world of my own making. First squeeze, "What lies ahead?", mid-tube squeeze, "What have I done?", final squeezes, "Will I ever get it right?" Thankfully (at least so far) there's always another tube, another chance…a 'do-over'.
As you and I open our next new tube, will we find ourselves asking,"What does life have in store?" As for me, the answer appears to be a strong 'yes'. As for you….though, perhaps, fortunately, you have only limited exposure to this way of thinking thus far, is it too late? Have you been infected? Sucked into a Twilight Zone realm from which there is no return?…..asking yourself similar questions to mine with every new tube….every squeeze? Is it worth the risk of ever grabbing a tube again? Should you go pasteless?
We can't put the paste back in the tube. How many times have you and I thought back to a moment in time and wished that we had said or done something differently…..or not done or said something at all?
Perhaps a little 'toothpaste' thinking will help us to be better prepared for those moments; better able to respond in a way that causes us not to regret but to feel good as we relive those moments.
You may be familiar with an old Jim Croce song, 'Time in a Bottle' (love that song). The lyric goes "If I could put time in a bottle, the first thing that I'd like to do, is to take every day, til eternity passes and then, I would spend them with you". What a lovely sentiment. I don't imagine the song would have been nearly as popular had Jim went with 'toothpaste' in the lyric rather than 'time' (after all, everyone knows toothpaste doesn't come in a bottle; and you can't squeeze a bottle), but the concept is the same……once it's gone, it's gone, toothpaste or time. We must use it well!
"Live your dash" comes to mind. It's a phrase from one of the most popular poems in the world – The Dash, by Linda Ellis.
It means to be mindful that we're only on this earth a little while. It encourages the reader to spend each day with passion and purpose… and to inspire others by living a life of joy, compassion, and kindness.
When I hear someone say, "Live each day as if it were your last", I can't help but think, "Who does that?!" I mean unless it really is your last day, who lives like that?" My bank account would be empty! Chocolate for breakfast! Cake and pizza for lunch! Forget the workout! Extra butter with my bacon, please! Okay perhaps I'm being too literal, but I get the idea…..It's easy to buzz through life repeating a series of repetitive habits and behaviors and miss the real substance of it all; not stopping long enough to 'smell the roses'. Perhaps toothpaste thinking isn't such a bad thing?
Aside from promoting good dental hygiene, it's my hope in recording some of the meanderings that follow – The Toothpaste Chronicles – that you and I might just be a little better prepared for whatever lies ahead for us; good, bad, and in between; routine or not. To live on purpose; intentionally; and in doing so to squeeze all we can out of opportunities we are given….and in the wake of that, be encouraged.