Does the Universe move everything in its power when a story needs to be told? Even a cloud to draw our attention? Are we intuitive so we can pick up what needs to be told? Or is life just something that happens? I really don't know the answers. All I know is that the Universe has its incredible ways.
The Story behind "Be My Lover" is an interesting one to tell. I wrote the song about a woman who – like many of us perhaps – has been taught that love comes from someone else. Books, movies, songs often tell us that same story and have so for centuries. I will become happy when I have love, in the form of a lover and without it my life means nothing.
Some, more than others, therefore go to the extremes "to keep the other in the room", as Donald Walsch so beautifully puts it. Maybe when I do everything for him, pay his depth, help wherever I can, accept his others, never complain, he will see what a wonderful woman I am.
"I don't care what you do, as long as you're in my life."
As I to some degree did something similar in the past as well and saw other women around me disconnect from themselves (and the love that they are) even more, I wanted to write this song to shed a light on this topic.
It started one evening in Southern Spain.
As always, I did not have a plan for how to make the music video. I learned over the years it will come and show up. Never in a million years, I could have imagined how this video would present itself to me. It started one evening when I was in the south of Spain. My eye and attention were drawn to a peculiar-looking cloud in which I saw the face of a lying man.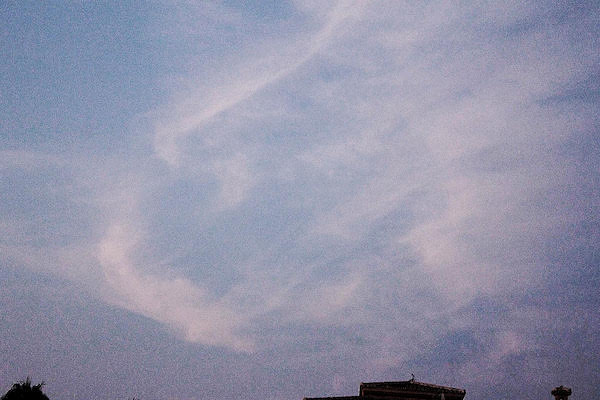 In the photo, it may seem like an insignificant cloud, but I felt an unexplainable call to visit the mountains the next day and so I woke up early, prepared myself for a day out, and went. I had a wonderful day in which I found stunning canyons, extraordinary blue lakes, and humble encounters with huge predator birds.
After hours and hours my "hard disk" felt a bit overloaded and I decided to go back to my stay. When I took the highway a very loud inner voice said: "LOOK TO THE LEFT!" But as it was extremely busy with traffic, I only had a second to take my eye off the road, grabbed the camera with my right hand from the seat next to me, and shot some quick shots without knowing why. Once home I took a look and was stunned to see a mountain in the form of a sleeping man. Including eyebrows, nose, nose pit, lips, chin, and even an Adam's apple.
Was it a coincidence the cloud the night before looked the same or was my imagination running wild?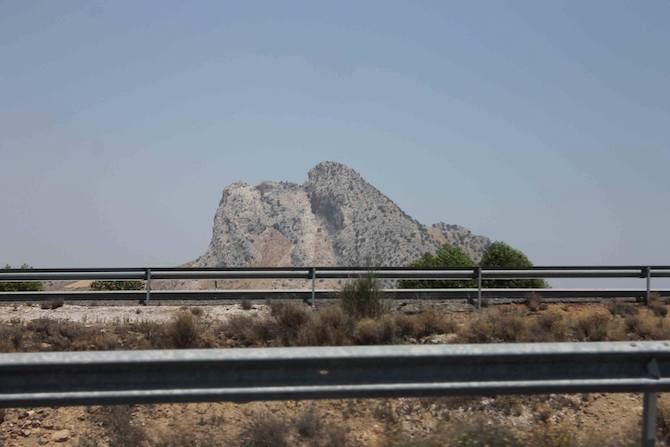 Coincidence or not, the cloud had drawn me to the mountains where I found this amazing place! The radiance around the mountain made my stomach turn. I had no idea why, but I had to go back!
I strongly felt we had to shoot "Be My Lover" here
A few days later my friend from Sound of Lighthouse visited. We took our equipment and left early in the morning to shoot the video at the feet of the mountain. As I had done my research, I knew the sun would come up behind the sleeping man and would slowly make his face visible. We left at 04.00 o'clock in the morning, drove to the mountains, and waited with a cup of coffee in the dark, while goat bells were clinging in the sleeping valley. (Can anyone be happier than this?)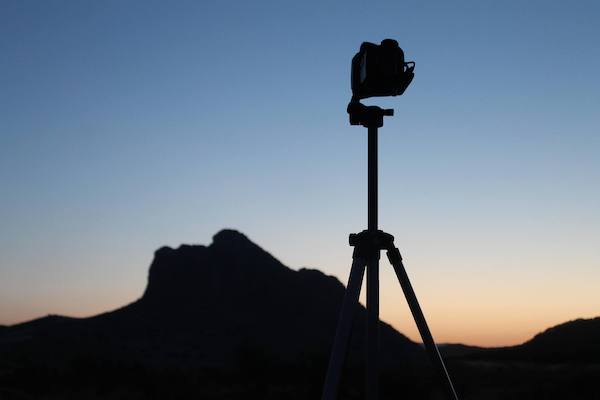 The mountain was next to a railway where we made the video and improvised as we were not allowed on the mountain itself. My friend who is very intuitive as well later back home sorted all footage we had and created the video as it is.
Was it a coincidence he let the train run over me?
Once the song and video were released, the city hall of Antequera (the town near the sleeping giant), complimented us on how well we had told the story of the Sleeping Giant. We had seriously no idea where they were talking about. The ancient story appeared to be about a man who was left by his lover and decided to go to sleep. He only wanted to wake up when she would return. It was EXACTLY where my song was about! Be my lover or else my life means nothing!
Another story went back to about 4000BC where a young princess and a man from two different clans were not allowed to be together. They committed suicide in order to be together forever and jumped from the nose of the giant. As if this place was carrying that energy, over the years they had to shut down the railway as a lot of suicides took place here. I got goosebumps when I heard it.
Did my friend and I intuitively feel the story? Or does The Universe move everything in its power when a story needs to be told? Even a cloud to draw your attention?
Are we intuitive beings so we can pick this up?
Or is life just something that happens?
I really don't know the answers. All I know is how this story came to me.
Love, Eyra
Song: "Be My Lover" by Eyra Moon and Sound of Lighthouse
Now on KNOBTV on your Roku.