Up until November of 2018, I had never experienced a sauna.  For some reason, it never appealed to me. It conjured up images of random strangers wrapped in plush white towels, sitting in a room so thick with steam they could barely breathe. Growing up with asthma, the thought of not being able to breathe is a bit terrifying. I think these images came from movies and television, but I was fairly certain saunas were not for me. So, when my childhood friend, Lisa, suggested going to a sauna "in the woods," during my upcoming trip to Maine, internal alarm bells went off.  Another former classmate, Nicole, also lives in Maine. She and Lisa see each other regularly, but I hadn't seen either of them since the last reunion a few years prior. I was happy to learn that they were both excited about The Divine Breadcrumb and very much "on my page" when it came to health, wellness, and spirituality.  Lisa gave me an "out" right from the get-go saying that if it wasn't something I was interested in, it was no problem.
I had recently started making a conscious effort to get out of my comfort zone and it seemed to me that a sauna in the woods would push the boundaries of comfort. I heard myself saying into the phone "sure, that sounds really cool." Cool indeed.
Lisa told me to bring a bathing suit and snow boots. We joked about the odd combo of clothing and I felt a little flutter of panic as Lisa explained that we had a short walk from the car and up the mountain to the sauna (hence the boots). However, I was not going to back out. "Don't be such a wuss," I told myself.  "This is a whole new experience—an adventure! I will be fine." The day I left for Maine we had the first snowstorm of the year.  As far as New England storms go, it was fairly mild, but because it was the first of the unofficial winter season, everyone was talking about it.  Ultimately it worked out fine. I ended up leaving for Maine a few hours later than planned but arrived at Lisa's house before dark. So far, so good!  Lisa had made a delicious soup in the crockpot—perfect on a cold, blustery day.  We sat on her couch, sipped wine, and caught up on each other's lives.  Nicole was to meet us the next day and we would drive to the sauna together.
I breathed a deep sigh of gratitude as I took in the atmosphere, complete with the aroma of their wood-fired oven and grill.
The next morning Lisa and I headed to Freeport to do some window shopping.  Freeport is such a cool little town and I was in my glory, wandering around the many gift shops.  Images of moose, chickadees, trees, and lobsters adorn everything from serving plates to pajamas.  I loved it all but managed to control myself.  I'm a sucker for mugs and I saw some really great ones. After perusing the shops, Lisa and I had lunch at the lovely Harraseeket Inn in their Broad Arrow Tavern.  At our request, we were seated in front of the fireplace. I love the feeling when your toes and fingers start "defrosting."  I breathed a deep sigh of gratitude as I took in the atmosphere, complete with the aroma of their wood-fired oven and grill.  Lisa and I both ordered the lobster stew which, if you like lobster, is heaven in a bowl. After lunch, we headed back to Lisa's house to meet up with Nicole.
After some quick catching up, Nicole told me a little about her long-time friend, Jen Deraspe, the founder of the Nurture Through Nature Retreat Center, the location of the sauna. Nicole and Lisa wondered aloud if we should put our bathing suits on under our clothes.  I wondered (not aloud) if this meant there wasn't a private place to change and felt a little wave of panic. I must have had a concerned look on my face because Nicole explained that I could change there as there was a small changing room. I had packed bathing suit shorts and a tankini. After careful consideration, I decided to put my bathing suit top on under my clothes and change into bottoms when I got there. There was no way the shorts would fit under my jeans (lesson # 1:  it's best to wear something you can get in and out of easily).  Soon we were on our way.  I sat in the back seat, noting the odd combination of snow boots on my feet and a bathing suit top under my sweatshirt.  I felt a mixture of excitement and trepidation as Nicole pulled out of Lisa's driveway. There was no turning back now!
When I'm nervous I tend to ask a lot of questions, you know, just to clarify things.  "How long is the drive?"  "How far up the mountain do we have to walk?" "How long do we sit in the sauna?" I sounded like an eight-year-old traveling with her family to the Grand Canyon. Nicole and Lisa didn't seem to mind my questions, but at some point, gently ended the Q&A session.  With knowing smiles, they agreed that I would have to experience it for myself.  But Nicole did have one question for me: "Are those earrings metal?" I was wearing small silver studs.  "Yeah, do I need to take them out?"  Nicole said, "yes it gets really hot so you'll want to take off anything made of metal." Another wave of panic. "How hot was it going to get?" I wondered.
As we got closer to Pleasant Mountain, Nicole pointed out places of interest. We passed some beautiful vistas and as the late afternoon sun broke through the gray sky, the light streamed down creating a heavenly effect. I settled back into the seat, comforted by the view. Soon we turned onto a very snowy road, which Nicole's Jeep had no problem getting through.  I was fiddling with something in my bag when I heard Lisa say "ok, we're here." I looked up and saw a few cars parked in a snowy area.  I didn't see any buildings, but I saw signs referencing buildings. As I got out of the car, the cold air hit my face.  Brrrrr.  We gathered our things and started hiking up the hill.  I was grateful to have warm boots and mittens.  Between being out of shape and inhaling the cold air, my breathing was a bit labored.  Every time we came around a bend I thought, "I hope this is it." Eventually, we came to a small building—an outhouse.  Nicole announced that this was the last chance to go to the bathroom as the sauna did not have a bathroom.  Any woman over 45 will tell you that given a chance for a bathroom break, you take it.
After our impromptu bathroom break, we continued up the mountain.  Soon the sauna came into view. The building was much like I had pictured, only smaller.  It's circular with stairs leading up to a small deck. I watched as Nicole opened the door to go in. Lisa started to remove her boots on the deck and I followed her lead.  Unfortunately, I did not think to take off my socks and stepped onto the wet slats of the deck (lesson # 2: pay attention to where you're stepping). It never occurred to me that I would be taking my socks and boots off outside. As I stepped into the building, my eyes scanned the space. The walls were made of cedar and the room smelled wonderful. I was standing in one half of the circular structure, which was divided by a wall.  There was a small table along this dividing wall which contained a guest book, a pitcher of water, cups, and some healthy snacks. To the right of the table was a door, but I couldn't see what was beyond it.  To the right of the door, I noticed a curtain pulled across a small entrance. Ah–the changing area! For some reason, actually seeing it gave me a feeling of relief.   Along the other walls were built-in benches.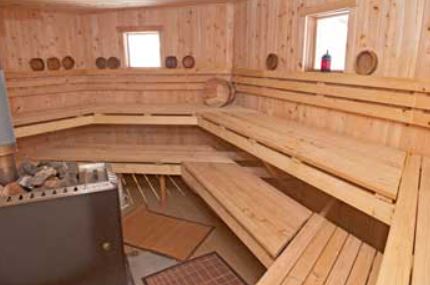 We quickly took turns changing. Nicole went through the mystery door. I sat on one of the benches as I waited for Lisa to come out of the changing room. At this point, I was by myself in what is known as the "transition area." I felt strange—an alien in a strange land.  What would I experience past that door?  I didn't have long to ponder the question. Lisa emerged and I followed her into the other half of the "circle."  It was dark, but from the glow of the wood-burning stove I could make out two rows of benches along the walls, one at ground level and the other a bit higher up—like bleachers only nicer.  Nicole and Lisa had already explained that if you're not used to the heat, it's best to sit on the bottom level. Nicole sat on the second level and I sat next to Lisa on the bottom level to the right of the stove.  As my eyes started to adjust to the darkness, I could see other people—both men and women. Some were sitting quietly, others were chatting as if they were in their own living room.
I closed my eyes and tried not to focus on the heat, but rather the experience of being in this beautiful little structure in the middle of the woods.
Large containers of cold water from the nearby river sat on the lower bench. Numerous small wooden bowls were placed near the containers.  Luckily Nicole had explained some of the sauna etiquette on the ride over.  I filled a bowl and held it in my lap.  It didn't take long before I needed a splash of that cold water.  The area gets to be anywhere from 160 to 180 degrees.  I closed my eyes and tried not to focus on the heat, but rather the experience of being in this beautiful little structure in the middle of the woods. As I started to sweat, I had to fight thoughts like "how am I going to get my jeans back on?" and "how are we going to get down the mountain in the dark?" I willed myself to stay in the moment. Nicole introduced me to Jen who happened to be sitting directly behind me. Jen couldn't have been nicer and more welcoming. I mentioned that I was a little nervous. She asked, "did you check-in?" I said, "yes, I wrote my name down when I came in." Jen laughed "no I mean did you check in with yourself?"  Oops.  We all started laughing and I felt much better.
After a little while, Jen asked everyone if we were up for group chant. Everyone said yes and she proceeded to lead a beautiful chant about the Earth, Air, Wind, and Water.  I don't remember all the words, but I remember how they made me feel.  I'm not exaggerating when I say that I felt incredible peace and a sense of community. Five minutes ago, these people were strangers and now suddenly we were all connected. When the heat got to be too much, I went back into the transition room to cool down. The second time I went into the sauna, Jen passed around a bowl of tea and asked us to share something we were grateful for. When it was my turn, I said I was grateful for leaving my corporate job to create a life I loved.  I was grateful to connect with old friends and to make new ones.  When I went back out to the transition room the second time, I was a little braver. This time I actually went outside. There I stood, dripping with sweat, wearing my bathing suit in the middle of a snow-covered mountain. I felt invincible!  When the sauna was over, and I have dressed again, I thought about how lucky I was to have this experience.
I noticed the stillness.  I smelled the fresh air mixed with the aroma of the wood-burning stove. I was present.
Jen invited us to her amazing, totally off-the-grid home, after the sauna.  My experience at her home could fill another blog post, so I'll simply say this:  it was an incredible experience, filling me with peace. Later, as we walked back down the mountain in the dark, I noticed the moon shining through the trees.  I noticed the stillness.  I smelled the fresh air mixed with the aroma of the wood-burning stove. I was present. I didn't feel cold.  I didn't feel worried.  My friends were there to guide me. The moon was there to guide me. I felt happy, at peace, and alive. Something in me shifted that night. The worry in me quietly evaporated, like the steam rising from the water atop the wood-burning stove, leaving only the present moment. The only reminder of the past was my slightly damp socks–damp socks that could not dampen my mood. I smiled as I continued down the mountain, feeling sure and sure-footed for the first time in ages.