Part of New Christian protective planning was not only the placing of assets outside of Portugal but also the placing of family members abroad  to control those assets. As has already been recounted, Rouen was one of the places that attracted New Christians, like Antonio, who felt safer living there  believing  they had successfully distanced themselves from the attention of the Inquisition. To exit Portugal for South America and the Caribbean was the choice for some. António distancing himself from Portugal  in Rouen, as we have seen,  did not prevent his son from  being arrested  by the Spanish Inquisition or his own effigy being burnt because his live body was not in their possession – only because of his desire to practice Judaism.
The French Crown was also well aware of the trading benefits to the French economy of attracting  to France   immigrants who, although nominally Christian, might be closet Jews. Just like the Spanish and Portuguese Crowns, the French Crown could not prevent some of "the Portuguese" as New Christians were called  in France  being subjected to legal action in 1613 as being unfaithful to Christianity and really Jewish at heart.  However Elie de Matalto a Marrano and a doctor to Louis Xlll tried successfully to influence his patient to adopt a supportive attitude to the  New Christians.
The Jewish community in Rouen was able to expand and by the 1630s had over 100 members. Amongst the residents were  three brothers according to a credible source – Manuel Fernandes de Morais  (the eldest) who in 1615 married Isabel  Goulet D'Oliveira (almost certainly Luis's sister), Joâo Rodrigues de Morais and my ancestor,  António Rodrigues  de Morais- also a powerful man in Rouen like the sibling's  uncle,  Antonio Rodrigues de Lamego. If you gain  the impression that my ancestors were in Rouen in force you are not wrong !  Because of conflicting source information it may be that  Antonio Rodrigues was the son- in-law of Luis rather than his son. Whatever the precise relationship they were all blood relatives.
This branch of my family originally lived  in Lamego, Morais and Vila Real, a group of  towns close to each other in the Porto district of Northern Portugal and popular with Jewry for centuries.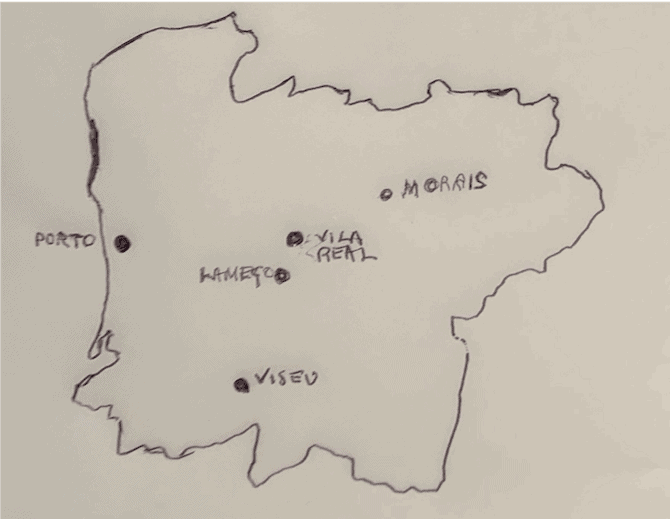 Lamego had a Jewish population at least from the end of the Middle Ages. Their occupations ranged from trade and craft merchants, weavers , tailors doublet makers shoemakers blacksmiths goldsmiths and physicists. In 1436 Lamego its  Jewish quarter contained over 300 residents. In the years after the compulsory conversion the rich secret Jews met in the Rua Nova. In 1542, after the Inquisition started in real earnest, a local tribunal was set up to prosecute the secret Jews. It was active for 6 years.
Vila Real became a haven for crypto Jews trying to avoid the Inquisition because the Inquisitors were  concentrating  on towns nearer the coast and not on hill towns.
In the main the region's entrepreneurial New Christians rushed to exit Portugal to places such as Rouen where I have the clear  impression that wherever possible a blind eye was turned to the possibility that any of the Portuguese living there were  closet Jews.
However, whilst the French might somewhat ignore their religious practices,   the New Christians in France were not as safe from the attention of the Portuguese Inquisitors. Their spies in Rouen were looking for any signs that the New Christians were closet Jews that could be reported back to the Portuguese Inquisition. What might these signs be? Stopping work before sunset on a Friday. No smoke coming from the chimney on a Saturday before dusk. Wearing a clean shirt on a Friday evening.  Using these reports of these innocuous matters as evidence the Inquisition could decide to try the accused in absentia. If found guilty his assets in Portugal were open to confiscation and his effigy might be burnt at the stake. Relatives of his, particularly those living in Portugal might be the subject of special attention from the Inquisitors and evidence of their attendance at say prayers abroad might well prove damning.
In 1631 the New Christians of Rouen suffered some adverse treatment that at the start, might have been  simply racist. Diego  de Acosta was tried for the offense of  buying cloth – an activity   only open to citizens of France. It was felt necessary during the trial to mention that after 27 years in the country Diego could speak very little french. It is likely Diego was a close relative of Antonio d'Acosta aka Antonio  da Costa OLIVEIRA of London and Cartagena and in my family grouping of Rouen.
Far worse  came in 1632. Yet another  Diego, Diego  OLIVEIRA , the father of a large family, with at least 15 children, sought letters of naturalisation in order for him to become a French citizen. For this to be successful he needed to obtain  certification  from a priest that he was a good Catholic. The making of this  request resulted in assertions being made by the priest  approached to the contrary that  Diego Oliveira had been circumcised and was not a true Catholic. Diego Oliveira  did not leave it there but continued to legally pursue the priest for the reference. The priest was eventually required to provide guarantors for costs. The Spanish Inquisitors became involved and used the furor this created to take legal action in France.
Diego Oliveira was imprisoned and orders given that his family should join him there. Matters further escalated with charges of a similar nature being brought against many others. In particular, orders were also  given to arrest and question Antonio Rodrigues Lamego himself together with his brother-in law Antonio Cacares and Isaac Cardosa.  Antonio Rodrigues Lamego was in a partnership with his nephew,  Antonio Rodrigues de Morais/Maraes.It was the António Rodrigues Lamego arrest that led to the Spanish Inquisition arresting his son Bartoleme in Madrid with the consequences already recounted. Antonio Fernandes de Carvajal ship owner and bullion merchant was another victim of the charges and an important player in the return to England.
Then came a pleasant shock for a change. On 31st June 1633,  Antonio Rodrigues Lamego and all the others accused were surprisingly  completely cleared of the charges, surprising  given some, if not all of them, were undoubtedly in truth followers of the Jewish faith. It was ordered that their seized goods  be returned and  thereafter no one was to be permitted to annoy any  of those accused again on the matter. No doubt behind the scenes manoeuvring,  "donations' to certain organisations and people,  coupled with continuing  the undoubted commercial benefits the Crown knew the community  brought to France, clinched the desired result for the Marranos.
The non- Jewish locals did not all by any means welcome the non-guilty verdict – not appreciating the extent of benefits the Marranos were bringing to the community and, of course,  out of the usual  jealousy. Diego did succeed in gaining his naturalisation. Some of those fleeing returned  including Carvajal but beneath the surface nothing was ever to be the same as before.
Around 1632 Isabel Dias, a cousin of the Morais brothers, married Manuel Fernandes Vila Real (Vila Real)  born in Lisbon in 1608  the son of Francisco Fernandes a merchant from Vila Real. Vila Real worked on major trading ventures for Joâo and Antonio and eventually in 1638 joined them in Rouen from Madrid together with his family possibly being nervous about possible Inquisition interest in him. According to his memoirs his status was that of a commercial agent. He almost immediately became friends with the Governor of Le Havre who was Cardinal Richelieu's nephew. He was introduced to members of the French Court in Paris and soon much of his time there promoting the idea of freeing  Portugal from its Union with Spain. The funding of the significant cost of this campaign  was provided courtesy of the Morais brothers whose family  had no reason to be supportive to any extent of Spain.