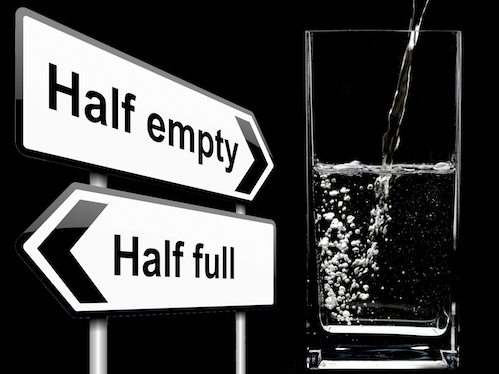 It's great to get good reviews and hear positive feedback . . . positive is good. But negative is powerful. Don't get me wrong: the glass is half full. But what's in that "empty" half? I think it's filled with clues on how we can make the good even better. The trick is to spot the clues.
Hang in the negative
We've been using this idea at Decision Toolbox (DT) for years. Not surprisingly, people like to focus on what's working. But imagine this: at the end of an engagement, let's say a recruitment project, you get back a client satisfaction survey with a score of 100%. Now shake things up. Call the client and say, "We appreciate that feedback, but no one is perfect. Wasn't there something we could have done better?"
For one thing, you've just blown that client's mind. She's thinking, "I just gave them a perfect score and they still want to be better? Wow!" But suppose she tells you, "Well, now that I think of it, there were a couple of days during the engagement when I wondered where things stood, but I wasn't getting updates."
This is feedback you can use, a guide for making that good thing even better. No, the changes probably won't be huge. But Olympic athletes like Apollo Ohno take steps to shave .02 seconds of their time — and sometimes that difference is golden.
Listen to the silence
There's also power in silence. No, I'm not going all Zen on you. Not long ago, Kathy Marshall, DT's Director of Recruitment Quality, blogged about this notion. She says the feedback she does get around quality is valuable, but she believes there is "quality gold" in the feedback that isn't always offered. You have to go and get it.
This applies beyond client satisfaction surveys. For example, people tend to ignore introverts on their teams. But you need both introverts and extroverts. You don't usually have to ask extroverts for their opinion — in fact, sometimes the challenge is getting them to be quiet for two seconds!
But the introvert in a meeting may be quietly looking at the issue from multiple viewpoints or playing out different scenarios in his head. If you're leading the meeting, make a point of asking the quiet ones to share. Or find some time alone and ask their thoughts.

Think inside the box
A lot of people rush to think outside the box. It's sexy. But thinking outside before thinking inside is like trying to sell someone a drill when all they really need is a hole. Great innovators first look inside the box so they're really clear on what's there. THEN they turn outside.
Here's an example. Years ago I headed up a project to fill 20 pharmacist openings around the country. We filled 19, but we couldn't fill the one in Petaluma, California. You know, the "Egg Capital of the World"? We tried drawing candidates by selling the career path, the benefits, the professional development opportunities . . . these worked everywhere but Petaluma.
So we took another look inside the box: what does Petaluma have that nearby areas don't? Then it hit us: lower real estate prices, particularly compared to other parts of the Bay Area. NOW we looked outside the box. We created a flyer with pictures of three porta-potties and the caption, "The only three toilets for less than $1 million in Silicon Valley." We sent it to every registered pharmacist in that area, and soon after we filled the position with someone who was tired of an astronomical mortgage. We had the selling point inside our box the whole time!
Co-Authored By Tom Brennan, Senior Writer