After gently setting the crown on the table, "Lee," her mother said, "Let me tell you a story about my grandparents."
"Wait," the girl asked … "before you do, how is it you've had this crown and I never knew? And what about that disc and that prayer, mother?"
Her mother poured herself another coffee and took a bite of a biscuit and began to talk. "I almost forgot about that crown," she said. "Isn't that odd."
"They say that when my grandfather first met and kissed his bride, her crown slipped off her head and onto her breast between them." She went on sharing the old story and told the girl that he laughed, placed her crown back on her head, and kissed her again!
When grandfather went off to war, grandmother gave him the crown for luck, which he tucked at the bottom of his arrow pouch, always with him in battle. And when he came home, he placed the crown back on her head as a ritual. This was his good luck charm as he lived to the ripe old age of fifty and survived many wars.
ENJOY ALL PRIOR EPISODES HERE↴
Episode Ten — An Incredible Journey
Jaya closed her eyes, tucked her hands under her hips and fell into a light nap-sleep as she was catapulted down the river, riding on the discs, rushing furiously.
When she was little, there were minor disturbances like this, forced by the Spirit Demons who, it seemed lived only to disrupt the delicate nature and environment on eRada. Her father and other children's fathers, crafted  'rafts' of large caladium leaves, held together with wiry twigs from the birch trees that grew in dotted stands around the planet. If you squinted your eyes as you traveled above the trees to go to school or to study, males on the backs of the females, it looked like the trees were puffs of clouds or snow dotted the landscape.
As Jaya swiftly drifted down the riverbed, overhead she watched one of the females transporting the magic truffle from the surface of eRada to manufacturing and packaging and then back to retrieve another.
While females transport males, they also use their wings to quickly pluck the tender truffles from their beds and move them into the dark and cool underground to preserve their shine and intensity of flavor, and their 'magic.'
This is Freya, pictured, named by her parents after a Viking god they both knew very well before they were selected to inhabit and populate eRada.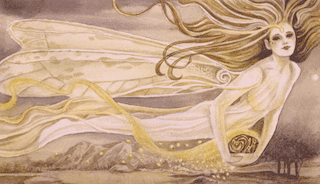 The ride down the riverbed could last several days before it subsided. It depended on how angry the Spirit Demons were and how fast Stuvan could gain environmental control again on eRada. You'll meet Stuvan in Episode 11.
As the hours went by and she catapulted down river, Jaya kept seeing the image of a person walking along the shore. How could they keep up? She didn't know how fast she was going, yet there he was!
[The girl turned over and sat straight up in bed in the middle of the night! The image she was sure was Van! How could that be she wondered, flopped back down, turned on her side, and went back into her dream.]
Finally, after three days of turbulence, the winds subsided, and she walked, wobbly-legged to the shore. Now for the long walk back to her home. Oh, she was so hungry and could almost smell the rabbit stew mother always seemed to have simmering over the hearth.
____________________
Episode 11 reveals Where is Van? The girl needles her mother for more information about her past. Who is Stuvan?
---
Main picture and of Freya; Original artwork by Ian Daniels https://www.iandanielsart.net/ purchased rights March 2004 via [email protected]