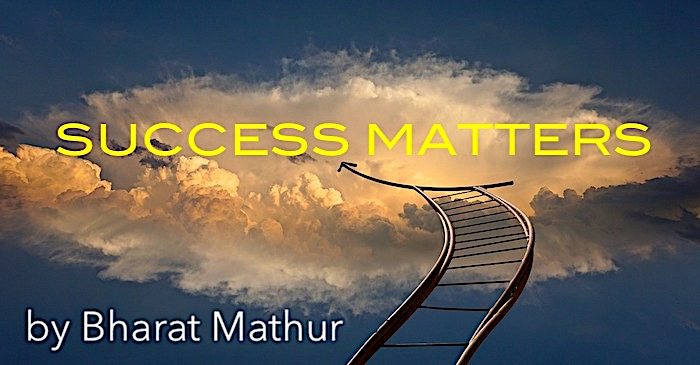 There is no shortage of negativity surrounding the ill-effects of the raging pandemic. It shows no signs of abating anytime soon. No matter what newspaper or magazine you read, the lead story relates to the endless pain inflicted by this silent killer. Stories abound of the horrific death suffered by the hundreds of thousands of individuals, a vast majority of them in a totally helpless situation, even more so in complete isolation.
Against the above backdrop, how can someone like me be so inconsiderate and insensitive in showing an utter lack of sympathy and presenting a contradictory view? Well, the fact of the matter is that I too lost two of my extremely close friends that were closer than most of my blood-relations. I am as deeply pained by the tragic turn of events as anyone else. I have every sympathy for the sufferers and the loved ones left behind to suffer in silence. However, I am a firm believer in the age-old wisdom, 'when handed lemons, make lemonade.' The only difference in my outlook lies in my making marmalade, instead of lemonade. Why, because it tastes better and lasts longer, much longer, as a fact.
So, where do I see a silver line?
According to a report from the Centers for Disease Control and Prevention, "Road traffic crashes are a leading cause of death in the United States for people aged 1–54 and the leading cause of non-natural death for healthy U.S. citizens residing or traveling abroad. Each year, 1.35 million people are killed on roadways around the world. Every day, almost 3,700 people are killed globally in road traffic crashes involving cars, buses, motorcycles, bicycles, trucks, or pedestrians. More than half of those killed are pedestrians, motorcyclists, and cyclists. Road traffic injuries are estimated to be the eighth leading cause of death globally for all age groups and the leading cause of death for children and young people 5–29 years of age. More people now die in road traffic crashes than from HIV/AIDS."
In light of the above facts that we hardly ever consider worth our attention, how can we afford not to see the value of lives saved due to forced shut-downs at a global level? Add to that the amount of severe but non-fatal injuries suffered by even more significant numbers of innocent victims. You will see the silver lining shining bright. COVID-19 has inflicted collateral damage to the psyche of the common man and the very fabric of society per se. However, it has revived the spirits of resilience, patience, creativity, sharing-and-caring, and so much more. As a matter of fact, it has given a new meaning to humanity we have known thus far.
Let us analyze the hidden value of this reawakened side of our strengths:
RESILIENCE: We have learned to survive through disaster by making some unimaginable changes in our daily lives
PATIENCE: We have learned to be patient while awaiting the delivery of essential items (sometimes 5 to 6 days) by companies that offer such services.
CREATIVITY: Who can deny the fact we have become creative beyond expectations. Don't you believe me? Look at the culinary talents of each member of your family
SHARING AND CARING: By staying together, almost endlessly, family bonds have attained a new height of the share-and-care spirit that forms the very foundation of togetherness
ESSENTIALS VS. EXTRAS: We have come to realize the difference between absolute essentials, and all the non-essential extras that we can plan to gradually cut out of our shopping lists.
PRODUCTIVITY RULES: Both, the fear of the virus and a pressing need for Social Distancing together taught us that telecommuting is a viable alternative to the daily commute, and cheaper.
NO ROOM FOR SHOW-OFF: The urge to keep buying new clothes, items of personal grooming, expensive cars, expensive social gatherings, non-essential outings, and huge gatherings are gone
Each one of us can add a few more indirect advantages of COVID-19 that we silently enjoy (because nobody would listen to our grumbling anyway.) Accordingly, this list could quickly become a mile long. Suffice it to say, we are slowly entering a phase where human endurance is creating a collective bond of togetherness.
Thanks to the wave of 'Social Distancing,' we are becoming more adept at giving the other person space he or she rightfully deserves. The constant pushing and shoving have turned into a patient line-up where we willingly confine ourselves to the circle duly earmarked on the ground, the floor, the grass, the bus, the train, the plane, the ferry, or any other venue or means of transport.
We control our emotional outbursts with comparative ease out of respect for the family members nearby.
One of the brightest offshoots of the raging pandemic is evident in the rise of a disciplined society, trying to hide its fear of the unimaginable by adapting to self-restraint. We control our emotional outbursts with comparative ease out of respect for the family members nearby. Still, we also manage to be creative with the available resources. Let us also not forget the voice even the young family members have gained of late. There is little likelihood of them being ignored for any reason. On the contrary, parents have assumed the dual role of teachers as well, in addition to the parenting obligation.
Society has banded together, in a never-seen-before manner, to adjust to the prevailing circumstances. The collective resilience is helping us be more creative in passing each day of suffering. Online shopping (and that includes grocery-shopping as well) has come to our rescue, more as a blessing than a simple convenience. Circumstances have forced families to find creative pastimes while confined to the house in a mode of animated seclusion.
With limited interaction, almost non-existent leisure activities, negligible entertainment sources, and an insatiable supply of energy, our creative juices have started to flow in making an impact. Siblings find solace in teaming up against their parents when indulging in an indoor activity. This exercise helps them connect with each other at a much deeper level than before. Naturally, a bond of mutual sharing and caring is taking a concrete shape.
COVID-19 has taught us not just to survive but also to thrive on smaller budgets with limited needs. How many new clothes did you buy, or how much money did you spend on personal grooming, since the pandemic raised its ugly head?
Yes, you may not accept it with a smile, but please be honest with what you like better, money in the wallet or a small, passing grin on the face? I am sure you got your answer loud and clear.
Thank You!