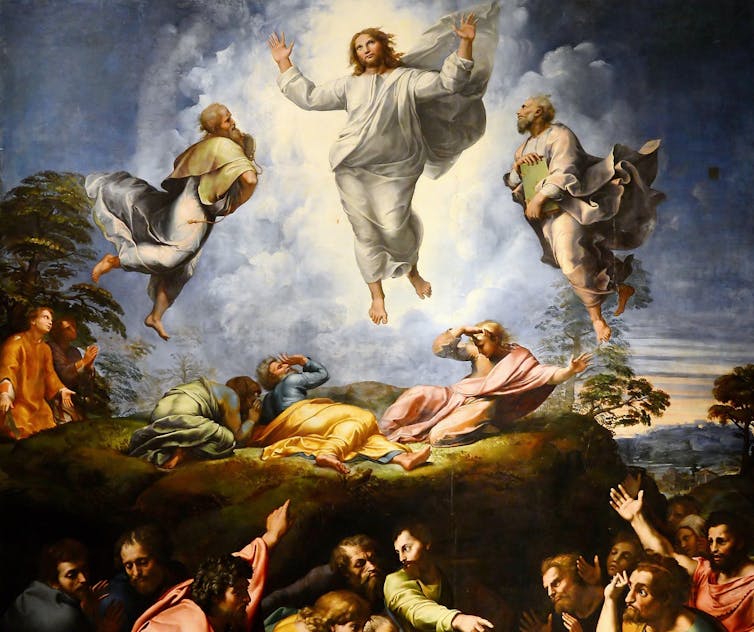 Anna Swartwood House, University of South Carolina
The portrayal of Jesus as a white, European man has come under renewed scrutiny during this period of introspection over the legacy of racism in society.
As protesters called for the removal of Confederate statues in the U.S., activist Shaun King went further, suggesting that murals and artwork depicting "white Jesus" should "come down." His concerns about the depiction of Christ and how it is used to uphold notions of white supremacy are not isolated. Prominent scholars and the archbishop of Canterbury have called to reconsider Jesus' portrayal as a white man.
As a European Renaissance art historian, I study the evolving image of Jesus Christ from A.D. 1350 to 1600. Some of the best-known depictions of Christ, from Leonardo da Vinci's "Last Supper" to Michelangelo's "Last Judgment" in the Sistine Chapel, were produced during this period. But the all-time most-reproduced image of Jesus comes from another period. It is Warner Sallman's light-eyed, light-haired "Head of Christ" from 1940. Sallman, a former commercial artist who created art for advertising campaigns, successfully marketed this picture worldwide.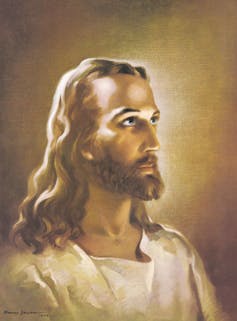 Through Sallman's partnerships with two Christian publishing companies, one Protestant and one Catholic, the Head of Christ came to be included on everything from prayer cards to stained glass, faux oil paintings, calendars, hymnals, and night lights. Sallman's painting culminates a long tradition of white Europeans creating and disseminating pictures of Christ made in their own image.
In search of the holy face
The historical Jesus likely had the brown eyes and skin of other first-century Jews from Galilee, a region in biblical Israel. But no one knows exactly what Jesus looked like. There are no known images of Jesus from his lifetime, and while the Old Testament Kings Saul and David are explicitly called tall and handsome in the Bible, there is little indication of Jesus' appearance in the Old or New Testaments.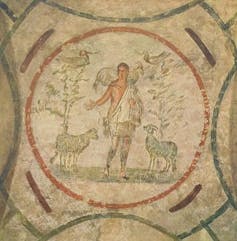 Even these texts are contradictory: The Old Testament prophet Isaiah reads that the coming savior "had no beauty or majesty," while the Book of Psalms claims he was "fairer than the children of men," the word "fair" referring to physical beauty.
The earliest images of Jesus Christ emerged in the first through third centuries A.D., amidst concerns about idolatry. They were less about capturing the actual appearance of Christ than about clarifying his role as a ruler or as a savior. To clearly indicate these roles, early Christian artists often relied on syncretism, meaning they combined visual formats from other cultures.
Probably the most popular syncretic image is Christ as the Good Shepherd, a beardless, youthful figure based on pagan representations of Orpheus, Hermes, and Apollo.
In other common depictions, Christ wears the toga or other attributes of the emperor. The theologian Richard Viladesau argues that the mature bearded Christ, with long hair in the "Syrian" style, combines characteristics of the Greek god Zeus and the Old Testament figure Samson, among others.