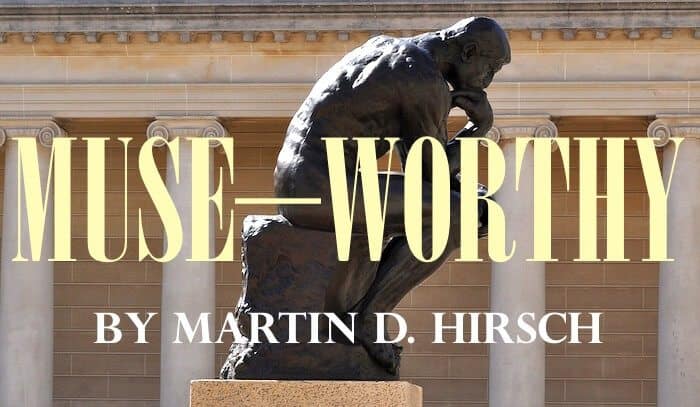 My father sometimes used to say he wanted to write. But he didn't. When he killed himself he didn't even leave a suicide note. Nothing but unanswered questions, and a few personal effects.
As I was rummaging through them after that awful day in the summer of 1972, I came across a bite-sized curio that I've kept with me ever since: The Little Webster, a miniature dictionary measuring two inches wide, just shy of an inch-and-a-half high and a quarter-of-an-inch deep.
Bound in an ancient-looking, weathered leather cover with a snap button closure, it contains 800 pages and 18,000 words. The inside cover says it was "Printed in Germany by H. Schmidt & C. Gunther of Leipzig." It was written by Gerhard Jacob, Ph.D., and sold by Miniature Dictionary Publishers, Inc., at 7 West 42nd Street in New York City, just a few blocks from where I live today.
I never looked at it closely enough to know these details — not until I sat down to start writing this story. Because The Little Webster is less a literal dictionary to me than a totem – a spiritual symbol whose meaning encompasses both words themselves, as well as all the power words wield to enchant, enrage, educate, elucidate and inspire. And this particular dictionary was the peculiar possession of a tortured man who toiled for decades in a factory yet said he wanted to write, a man whose final words to his son were, "Take good care of your mother," leaving the 20-year-old who had yet to complete his education or start his career to contend with this lightning strike of tragedy and its devastating aftermath.
A Long Look Back at Loss, and Healing
I used to say I wrote for love or money. But many times my job hit the sweet spot and enabled me to do both.
It's taken me over 40 years to fully appreciate if only incompletely understand, the impact that the absence of a mentally healthy father can have on a boy's development and all the self-education required to overcome it. Writing has been a big part of my healing process, and so much more than that. It has been key to my ability to complete my education, impress employers in job interviews and earn security in and from my work for a major international healthcare company. On an almost daily basis, I was called on to write speeches for CEOs to engender confidence in investors and employees, to craft credible explanations of accidents and assurances that they wouldn't happen again, to convey the priceless value that deathly ill patients derive from biomedical innovations. I used to say I wrote for love or money. But many times my job hit the sweet spot and enabled me to do both.
I'm "retired" now, to use a word that seems to make many people cringe these days. I'm retired from my corporate job of 35 years. Yet still, I write — for platforms like this one, or when someone offers to pay me for a project that sparks my passion, or whenever the spirit moves me and I just can't help myself.
The Great "What If"
That day long ago when I found The Little Webster among the things my father left behind, I distinctly recall having an inexplicable feeling that I'd see my dad again someday. Since then, that feeling has faded and I no longer engage in such magical thinking.
But if I'm wrong and there does come a time in an afterlife when I meet my father again, I'll tell him how grateful I am that he left The Little Webster for me. I'll tell him that it inspired me to write and that my writing helped me to get through college, earn a living, and fulfill his last wish, to take good care of my mom. I'll tell him I kept on writing even after I retired from my job, and that before my own days were done I wrote a book about all I learned from his life and death that might help others who'd endured similar losses.
This is now, though. So back to the present, where I've got a lot more writing to do.