We would like to give people the benefit of the doubt and consider their connection and communication with us is authentic and with good intentions. In reality, we must navigate the landmines of deceit and take off the masks of those who cross our paths with discernment regarding trust. Karin Sebelin, Author, Trust Expert, Personal Branding Coach + Trainer (Key Person of Trust), and Speaker believes trust is a legitimate part of branding success.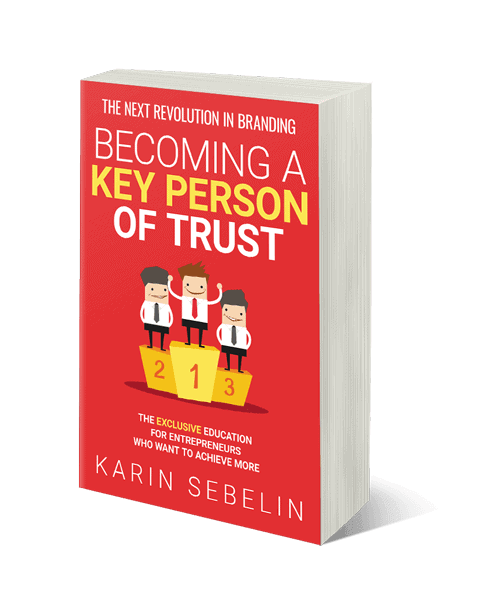 Within the pages of her new book, The Next Revolution in Branding: Becoming a Key Person of Trust, you will find an array of concrete principles and action steps towards success encouraging the reader to understand the importance of trust in relationship building.
In this interview, Karin shares her passion, philosophy, and reasons behind her taking an idea and formulating it into this book.
Your success story was born out of passion for what you do. Becoming an author, personal branding coach and TRUST expert is a culmination of planting seeds and nurturing your passion. What are the roots of your beginning and how has this impacted you up to today?
My roots reach back to the author platform Suite101 where I enjoyed writing articles to different topics. In 2010 I began to find passion in creative writing. And this passion is still there. I love the process of storytelling, expressing myself and being able to inspire other people with my thoughts.
You have a philosophy of ORS – being open, random and supportive. Tell me more about the importance of this belief.
I learned this philosophy on the English business platform Ecademy that I joined in 2011 and where I had huge success. Ecademy was one of the first online networks founded in 1998 by Penny Power and her husband Thomas Power. Thomas invented the networking concept of ORS – be open, random and supportive. Thomas realized that organizations must make the shift from institutional thinking to network thinking – from being closed, selective and controlling (CSC) to being open, random and supportive (ORS).
Nowadays you must be open and accept everything that comes, it is beneficial to be random and accept the disorder of things that come at you and to be supportive of the people around you. To be successful, you have to build trust first. To do this quickly and effectively the key is to be open, random and supportive (ORS). Only when we are open for other people, let random contacts and relationships happen, and help others succeed will we have our own personal success.
Who inspires you to achieve your highest potential and why?
I am inspired by great leaders, by their wisdom, by their successes, to achieve my highest potential. Regularly reading books, following great leaders and learning steadily from many sources, increased my self-confidence to the extent that I am capable of seeing my path very clearly. Great leaders like John C. Maxwell, Peter Drucker, Dorie Clark, Seth Godin, Mark Schaefer, Stephen M.R. Covey and many more influenced my thinking and encourage me to follow my path.
You have identified 5 virtues of TRUST: Authenticity, Tolerance / Acceptance, Openness / Transparency, Reliability, and Congruence.  Please briefly describe the core of each of these virtues and why they became a part of your list.
Authenticity
What is authenticity?
Authenticity means staying true to who we are, what we do, and whom we serve. It is a measurement of the strength of our character. Authentic people don't play a role, they are the real deal. They convince with originality and avoid looking for another person's approval. They know where they come from and who they are. And they accept themselves how they are. People love authentic brands. Authentic brands don't try to be something they are not. Great brands know what they stand for and operate on that. When we want to become a great brand, authenticity is a must.
Tolerance / Acceptance
What is tolerance?
Tolerance means accepting people how they are, not judging their color of skin, their race, their gender, their religion, or their world view. Tolerance is so important as it all begins with tolerance.
How can I give my trust to someone, when I don't tolerate the very person at all? Tolerance is a must have in our globally connected world.
Openness / Transparency
What is transparency?
Transparency is about sharing our problems, mistakes, and struggles with our audience and our customers. We, too often, think sharing our problems makes us vulnerable. But that thinking is false! Vulnerability is a strength. When we can open up, we gain trust and become trustworthy. Customers will love us, even more, when we are transparent. Hiding problems is never the key to success.
Times have changed and customers put more weight on good service and on great customer experiences. Experience is the brand.
Reliability
What is reliability?
Being reliable means, we can trust the very person that they will deliver what was promised. Reliability is being sure about other people's support. In upcoming problems, acting with reliability will increase our reputation. As our world is open and competitors are there, being reliable in our actions is a means for increasing brand trust.
Congruence
What is congruence?
Congruence means thinking, feeling, saying and acting in the same way. Personal congruence refers to a state in which a person's values and beliefs are consistent with the way he lives his life.
Mahatma Gandhi was a great leader and he was a role model in congruence. What Gandhi thought, felt, said and did were all the same.
"Be congruent, be authentic, be your true self." – Mahatma Gandhi
When we consistently demonstrate inner congruence to our belief system and principles, we inspire trust. People feel we are strong, solid and dependable.
Every entrepreneur sets their intentions on bringing to fruition their hard work and enthusiasm for their passion. You have learned there is blind optimism that can sabotage the ability to have true success. What do you emphasize about branding and TRUST to shift from struggling entrepreneur to achievement?
Many entrepreneurs are really blind optimists. They believe that entrepreneurship is about earning big money, making a big impact and living a life without worries. They think when working hard and being ambitious, success will come. The answer to so many problems is rooted in trust and branding. In the social media era, branding yourself is no longer optional. No matter, what your business is, you need to create your own brand. Done right, branding can make you a successful entrepreneur.
Branding matters. But trust matters too – even more.
Maximum success needs a new branding concept …
a concept that encompasses the topics entrepreneurship, trust, and branding. 
Here my concept "Becoming a Key Person of Trust (KPT)" comes into play.
The branding concept of Key Person of Trust (KPT) is based on 4 pillars:
Trust
Personality
Leadership
Brand
 Becoming a Key Person of Trust (KPT) is …
… the only branding concept on the market, that teaches about trust in detail!
… the exclusive education for entrepreneurs who want to achieve more.
… the branding concept that will help you to maximize success.
You have just published a new book, The Next Revolution in Branding: Becoming a Key Person of Trust. Why did you write this book and what do you hope those who read it gain from the information you share?
I wrote this book because I wanted to share the branding concept of Key Person of Trust (KPT) in a useful guide. This book can be used as inspiration, as a means for education, a chance for personal development, and as training material. The book teaches the background of trust and shows you how to become such a "compelling" Key Person of Trust (KPT).  In the end, you are best prepared for maximum and long-term success.
Implement what you learn in the book and you can:
Become successful with regard to trust
Gain a new attitude with regard to success
Gain self-trust and self-confidence
Become authentic, credible and trustworthy
Develop character and attitude
Make a difference, become unique and distinctive / Position yourself
Better present and better perform
Become visible and attractive (for people, contacts, dream customers)
Become a thought leader / Build effective teams
Convince with the own personal voice, message, mission, vision
Create chances and opportunities / Get orders easily
Develop a good reputation
Enjoy more trust and influence
I hope that my readers will enjoy reading this information-packed book, and will profit from this powerhouse resource.
Often, we go through life's trials and tribulations before we reach our destination. What have been some key turning points in your life giving you the strength to push forward and continue to walk your stepping stones contributing to your success?
My turning point came on the business platform Ecademy. Here I learned the hard way that trust is so critical in life.
I learned that people are more important than success.
I learned that we shall never trust too quickly.
–> Trust is no light-hearted affair.
I learned that there are people who try to abuse our success, our goodwill and heart.
–> Trust is a risk.
I learned that facing the same problem twice is a cause to follow a new path.
–> Trust can lead to change.
I learned that we should never give up our friends.
–> Loyalty is a critical element in the trust building process.
I learned that we shall forgive in order to free our burdened soul.
–> Forgiveness is a chance for our life.
And I learned that we must give our respect and trust first that people will learn
to trust us.
–> Trust begins with us.
I have learned …
–> Trust … the only kind of influence that really matters
This became the title of my first book.
What is your favorite quote? Why?
My favorite quote reads:  "Trust begins with me." – Karin Sebelin
Why?
We, too often, have a false perspective in life. We expect too much and give too less. We expect that others make the first step. Or that they should become trustworthy for us before we give our trust. We expect that others become "worthy" for us. "Worthy or not worthy" is a kind of derogatory thinking. We should learn that giving our trust gives people the chance to come into our life and learn to trust us.
Change is part of life. You say TRUST can lead to change. In your quest to understand TRUST as a foundation of your work, what are some of your experiences where change was necessary for you to rise to the challenge and overcome any obstacles put in your path?
Through my experiences on the business platform Ecademy, I learned that trust can lead to change. Trusting too much and getting disappointed can be a cause to follow a new path. Sometimes we must realize that trust is not always given and change is necessary. Only when we change something in our life can we gain back our strength. The change for me was not easy (giving up the platform twice), but in the end, I found my way back to my former strength.
Please share some words of wisdom for entrepreneurs wanting to achieve a level of success they can be proud of and could be their life legacy.
In life, it's not what happens to you. It's what you become because of it.

– Karin Sebelin
Karin Sebelin is a Featured Contributor for BIZCATALYST 360°

Author, Trust Expert, Personal Branding Coach + Trainer (Key Person of Trust), Speaker.  Author of the books:

 "TRUST … the only kind of influence that really matters"

"THE ETHICAL ENTREPRENEUR"

"PERSÖNLICHKEITSENTWICKLUNG – ERFOLGSFAKTOR VERTRAUEN: GRUNDLAGEN – HINTERGRÜNDE – STRATEGIEN"

"THE NEXT REVOLUTION IN BRANDING – BECOMING A KEY PERSON OF TRUST"

See more at www.keypersonoftrust.de and www.karinsebelin.com