Stuck! Not again?!
Yep, stuck, can't get it together to act, hating my lack of action, still not acting. Sometimes it's writers' block. Sometimes it's a task I really don't want to do. Sometimes it's "workhorse syndrome" – feeling I'm perpetually "in harness" and just wanting some fun. "I mean I am supposed to be retired. Right? Yeah, right."
All too frequently though I don't know the reason I'm stuck. That's frustrating. Sometimes frustration can lead to action that alleviates the frustration, but today that isn't working.
What am I stuck about today? Writing, my new fourth career. No, that isn't right, not writing, but publishing, or at least moving toward publishing, doing anything that would be forward motion on getting my now three books published.
I had this idea that I would share some accumulated knowledge. I'm learning this isn't uncommon in people my age. I started sharing on social media. Then friends said "you should write a book." Friends? Ha! Curse them!
No, I don't mean that; I appreciate the vote of confidence and support – really. I'm just stuck and lashing out.
Anyway, I wrote a book. My wife offered to edit it. (Billie earned her living as a writer and editor and is really good at editing and despite my lack of gratitude when faced with "red ink," my work is always better when she edits it.)
"You know," she said ". . . you have stuff you learned about business here and then you have these lovely "homespun wisdom" stories. You might have two books." I wrote more.
Then another reader of the business book said, "You know. . .  you have a lot of good stuff here, but some of it is targeted to consultants and some to change leaders. . . " I wrote and rewrote more. "Writing is rewriting" and I do enjoy the process, but if someone says, "You know. . .  four books. . ." it might be detrimental to my health.
In the interim. . . a side career of sorts . . . (Did I mention, I'm retired?) . . . I contacted forty literary agents. Query letters and proposals are a different writing process. "Writing is rewriting." Very few of those agents wrote back, but those who did said I needed to work on my "platform," which is an online presence, social media, blog, website, work with a publicist for media exposure, and other ways to sell books.
I did talk to a publicist. She told me to beef up my online presence, get an agent, or publisher and call her back. Authors who self-publish tell me, "Look whether you go the agent-publisher route, pay as you go with a hybrid house, or self-publish, you still have to do the platform stuff.
So I started a blog, rewrote the copy for my website, posted a lot on LinkedIn, beBee, Medium, BizCatalyst 360°, commented on others' posts, etc., etc., etc. It's working. . . ever so slowly. . . .
Now I'm stuck. I need to finish the edits on my books, rewrite queries and proposals, and/or make a decision about self-publishing. I'm spending all my time feeding the "platform-beast."
I write songs too and for two years I've had five songs ready for lead sheets and copyright apps. Then I need to look for a music publisher. Arrrrgh! Stuck!
Hey, wait a minute. I used to help other people who were stuck as part of my last career, change consultant. I coached CEOs and leadership teams who felt stuck. I helped continuous improvement project teams who seemed stuck defining a problem to solve or deciding which process to improve. Maybe I could coach myself? OK, let's try this.
I invented a simple analytical tool, the Is-Should Matrix, and often used it when I suspected that there wasn't just one problem, but rather many problems competing for attention.
The Is/Should Matrix is a tool that helps increase clarity in defining a problem by asking:
What is actually happening?
What is happening that should be happening?
What is happening that should not be happening?
 What is not happening?
What is not happening that should not be happening?
What is not happening that should be happening?
What is actually happening?
The answers to these questions are entered into the matrix at the left.
This tool makes visible different interrelated problems or different parts of the same problem.
Then one can prioritize and pick what to work on.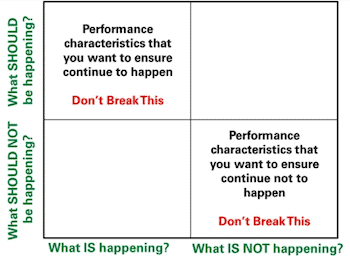 When I consulted, I told people to start with what was happening that should be happening and what wasn't happening that shouldn't be happening. These were constraints for the problem. "Don't break these," I told people."You don't want to make things worse."
Then I told clients to fill out the other two quadrants.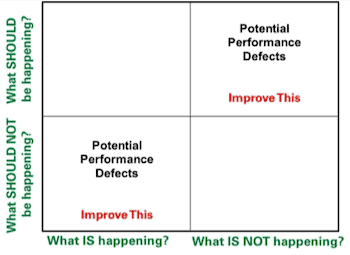 The end product was a picture of many different problems to work on, different Continuous Improvement projects, and strategic or organizational issues to be resolved. This was often a very helpful analysis.
Will it help me get unstuck? I have no idea, but I'm frustrated enough to try anything. So here goes.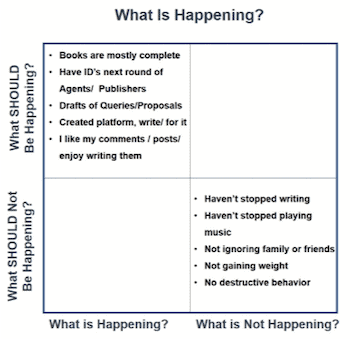 First I'll record the constraints:
I'm pretty far along with the books and publishing.
When I have been stuck in the past, it has often gone on so long that  I have started to engage in self-destructive behavior like overindulging in food or alcohol. I have ignored my support network of family and friends. Thankfully none of that is happening,
One challenge I see is that I am enjoying my posts and my commenting. It is mentally engaging work, fun even. I post my new thinking and comment on the thinking of others who inspire me.
I know as I record the issues that this may set up a conflict. Lets's have a look: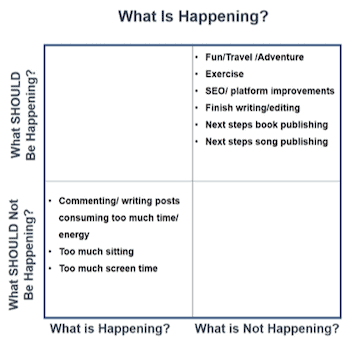 As I suspected, one of my main issues is that my posting and commenting activity is consuming a great deal of time.
I spend too much time sitting in front of a computer screen. I am neglecting exercise, while the list of things I am not doing grows, and my frustration along with it.
I am feeling like I'm not having fun – not doing the things I imagined retirement would be.
I recognize that some of this deprived feeling is Covid isolation driven. I also get that SEO and improving the platform are endless.
My challenge will be what can I let go of in order to find the time to take the next steps toward publishing?
In the past, I've found that time spent exercising pays dividends in terms of energy, (as long as I resist the urge to do too much too quickly, thereby ending up injured, "wasting" more time in recovery ☹).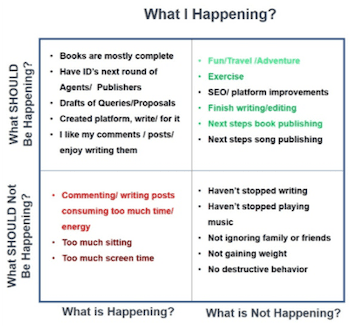 I need to think about this . . . .
. . . Fast forward to my conclusions:
The red are things I will do less of or differently
I conclude that I've been obsessing about my contributions on social media in real-time and need to time-shift some -get ahead on posts. I also need to comment less or in a less real-time way.
The Green are things I will start doing.
I will spend some of the time beginning to increase my daily exercise by adding a morning walk.
I will begin some strengthening exercises three days per week after the afternoon walk with the dog but before dinner, and not on the evenings when I cook.
The priority is to finish the writing and editing of the books. This involves some rewrites and my editing before I turn them over to Billie. I need to do this before the rewrites on Query letters and proposals mostly because of the table of contents that goes in each proposal.
Coming out of Covid dictates that the fun, travel, and adventure will start slowly, but perhaps some beach trips this summer.
I decided to let the songs sit for now.
So that's the plan. I shared it for two reasons:
I know that by making a public statement I am more likely to follow through. Avoiding embarrassment is a major motivator for me.
I wanted to share the Is-Should matrix, which I've used for clients, but never for self-improvement.
Let's see how it works.
Please let me know your thoughts.
"Feedback is a gift." (I promise to say that three times before responding.) 😉