I was delighted to be invited to attend the second day of the recent IoT Tech Expo, Olympia, London.
Complementing a bright and chilly winter's morning on 24th January 2017 was a great sense of excitement and optimism amongst the throng of visitors pouring into the exhibition. The only thing that slightly dampened that sense of positivity was a long queue for the cloakroom. More about that later.
The café was thriving with business people evidently sharing their experiences about this newest wave of technology. You really could smell the coffee!
I sat down for 5 minutes to take a look at the expo magazine to plan my visit and decided to take a picture of my badge on the front cover of the magazine to tweet it.
As expected, the expo was well laid out with different colours determining technology in relation to themes. There was in fact, a separate focus on Blockchain. The organisers cleverly flipped the back cover of their magazine to accentuate this and allocated over a quarter of the print space to it.
So the Blockchain zone I headed for where Carsten Stoecker, Council Member of Global Future Network, Economic Forum, was speaking and in full swing. As expected his seminar was packed and he was very engaging. Another tweet shoots into the cloud!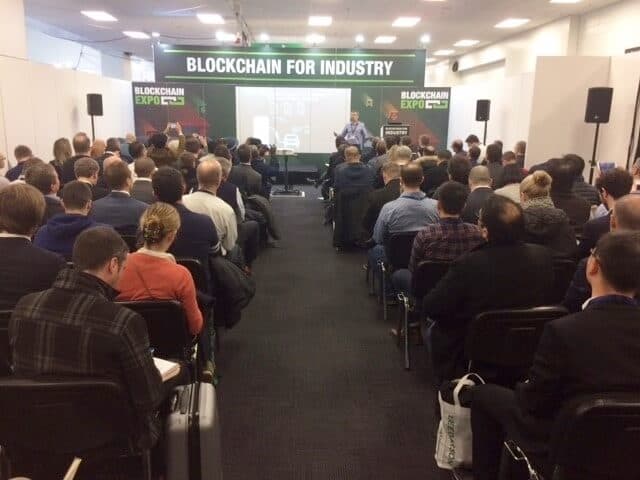 The objective of this blog isn't to provide you with a step-by-step rundown of what I saw and heard at the expo. There are already a number of other updates and articles you may find that cover that aspect. Simply search #IoTTechExpo on-line.
Instead, my intention is to share my overall observation of my visit.
I committed earlier to revisit the issue of the long queue for the cloakroom.
Picture the scene.
An expo full of some the best brains on tech from the UK and abroad. This, after all, was an international event. One didn't have to walk far to hear the different European languages and varying English accents spoken. Of course, the Chinese were present too.
Here's a 15-second video tweeted to give you a sense of the buzz of the event.
The tech and innovation in there were amazing. Yet, unbelievably, the cloakroom staff were using the well-established paper ticketing system your great Auntie would use at your local bingo hall. To top that, they had a Victorian-style pin cushion pin cushion with countless pins stuck in it. (Perhaps it was actually Victorian, given Olympia was built in that era). The tech was as 'innovative' as literally attaching the numbered tickets to your coat. No wonder the long queue – even when I decided to finally hand in my jacket and bag in approximately 2 hours into the event.
Given this was a tech expo, was this one big irony? Maybe, someone with a sense of humour? (Those, like me, who had to queue weren't laughing, that's for sure).
Did the organisers somehow overlook that there surely must have been a number of their exhibitor clients who could have brought their 'cloakroom pin tech' into the 21st century? If the organisers were able to scan the visitors' badges, then who missed the cloakroom?
The point of highlighting this is to illustrate how very easy it is to get carried away with the next big thing. In this case, the Internet of Things, and whilst not seeing the bigger picture. (I did not take a photo of the queue as my objective is not to show up or embarrass the organisers who I felt did a superb job overall).
The presenters and the panelists were, as expected, very knowledgeable in what they were sharing with their respective audiences however I found one common thing. In my view, quite a few of them didn't articulate nearly well enough how the technology they spoke about actually benefits the consumer.
Here are some considerations.
What's in it for humans? In this case, especially those outside of the tech sector.
Why would anyone be interested in the IoT? Would they even understand what the Internet of Things is, even if the acronym wasn't used? If it's to switch on more lights or heating in one's home, that may be easy to explain.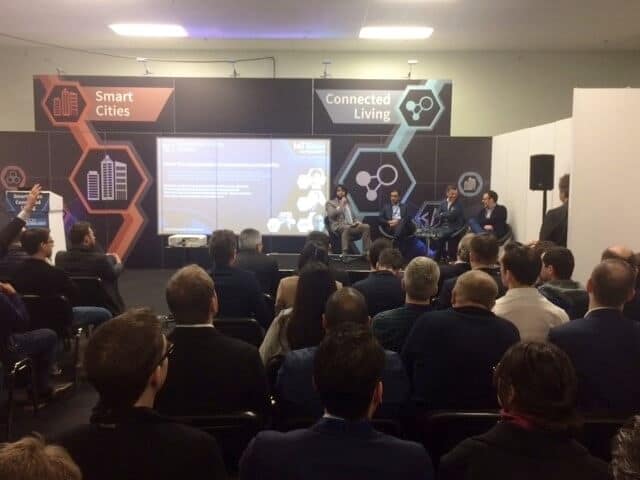 What about the IoT and vehicles?
I sat listening to the panels for 'The next generation of cars and mobility' and, separately, the 'Platforms, smart meters, gateways & hubs' panel interviews. Both sessions were part of the expo's Connected Living theme. Yes, another tweet! 🙂
In my view, a few of the panelists were talking about tech from a very insular angle. It simply served to tell me that they were very close – perhaps too close – to what they were doing.
Although I understand they were speaking with their counterparts in tech, it seemed evident that they almost completely overlooked that not everyone in the audience was as tech savvy as them. After all, this is a niche sector that is still very new to many. Attendees at expos attend seminars to learn, not just to have a day out.
Again, like the cloakroom scenario, what about the bigger picture? What challenges or even problems are their solutions actually trying to solve?
Why should Jo and Joanne Public be interested? More to the point, why should they spend their hard earned money in purchasing new technology such as apps controlling IoT-enabled appliances which will no doubt cost them, dear, at least if they were to become early adopters?
Perhaps both Jo and Joanne actually like driving and want to be control of their vehicles? (After all, no-one needs to be a petrol-head to admit they love cars). What would driverless cars do for them, especially if the are adverse to it? If it's in the context of beating traffic and ease of parking in congested areas, then the benefits need to be communicated. So I'm guessing that it may perhaps be less stress and more time meaning Jo and Joanne may spend more relaxing leisure time.
What are the benefits of specific IoT solutions and would those benefits justify their investment in upgrading their modern and unbroken technology in our already overpriced – and dare I say it – over hyped world?
How will those in the tech sector combat the "If it ain't broke why fix it" mentality?
Some of the presenters and exhibitors would no doubt rightly claim that they are in the B2B space and it would, therefore, be up to their B2C client, who ultimately sells to the end user, the consumer.
To me, that would be missing the point and in fact, could be seen by others as somewhat naive. Regardless of whether they are B2B or B2C, they surely have family and friends who would be consumers. They should be ambassadors and advocates, explaining why and how the Internet of Things is going to make their lives all the more easier. For if their family and friends are sold on this, they will naturally help spread the word and, hopefully, ultimately buy the solutions and products the Internet of Things is driving.
Sitting on a panel mostly talking about IoT standards, M2M technology, and all the other geeky stuff is of course expected in such an event like the IoT Tech Expo. It's important to also speak in plain English so it's not assumed everyone understands what is being discussed.
To balance my views here it's important for me to share that, thankfully, there were speakers and exhibitors who did communicate the benefits of the IoT. In my experience of being there during the second day of the expo, they appeared to be few and far between which is why I felt compelled to write this article. Additionally, the IoT Tech Expo organisers ensured the January 2017 edition of IoT News was available and in abundance too. There are some excellent articles within it.
So with tech such as Internet of Things (IoT), Artificial Intelligence (AI) and Blockchain, convergence between them is, of course, crucial and the importance of which was quite rightly stressed a few times by the speakers and exhibitors alike.
But the importance of humans is just as, if not more important. Without them, who will use and benefit from this wonderful technology? Where would they fit into the so called tech ecosystem?
Miss the bigger picture – like that long queue of humans to the cloakroom and how it looks like to a visitor like me – and many consumers will miss what the tech experts and their counterparts in sales are trying to solve and sell.