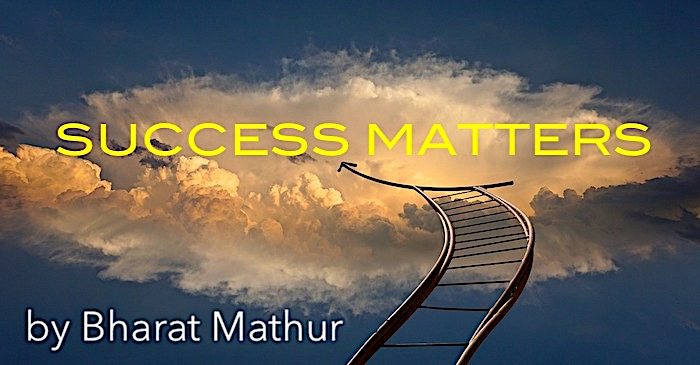 Yet another Stepping-Stone towards the Hidden Treasure
In our perennially ongoing quest for the 'hidden treasure,' we all go through a never-ending cycle of ups and downs, success and failure, gains and losses, as well as moments of joy and those of disappointment. However, the hope of attaining the ultimate objective continues to flicker unabated. What remains to be seen is our preparedness as also an ongoing momentum to stay the course in association with other fellow-travelers for mutual encouragement, inspiration, and growth.
EDITOR'S NOTE –ENJOY PART 3 AND PRIOR BELOW
What is honesty? Is it a virtue, a blessing, a personality trait, or a passion for few under-achievers?
Since times immemorial, scriptures, treatise, and books continue to guide us on the path of honesty. They all implore us to adopt an austere lifestyle, so our needs and demands do not push us towards dishonesty. Saints living in caves and surviving on fruit and vegetables never saw the need for any extravagance, and hence honesty came to them as a natural trait. Industrialization gave us the means for advancement, and opportunities as well as the instinct to compare, comprehend, and compete.
Without going into the critical factors including, but not limited to, the increasing population, pollution, environmental changes, and growth of communication channels, we can easily understand what forces us to indulge in dishonest practices. For some, it is a necessity as their income fails to meet all their needs.
We all know a few individuals with a deep-rooted faith in one-upmanship. These individuals will pull all the stops in competing with their neighbors, friends, and relations where the display of wealth comes into play.
We all know a few individuals with a deep-rooted faith in one-upmanship. These individuals will pull all the stops in competing with their neighbors, friends, and relations where the display of wealth comes into play. To them, it does not matter a wee bit if the riches so gathered come from dishonesty. They only care to have more riches than anyone else in their circle.
The above comparison shows us a clear distinction between the wise and those bereft of wisdom. While one believes in the power of ethical conduct that nurtures honesty, as a rule, the other person pushes his sense of ethical behavior aside in favor of a false show of success, no matter how transitory.
Why did I call it 'transitory?' The answer is simple: ill-gotten wealth brings in its bag of goodies a lot more troubles in the form of law. Whether it is the law of the land or the law of nature, the old adage 'easy comes, easier it goes' proves its worth time and time again.
No wonder, Thomas Jefferson opined: "Honesty is the first chapter in the book of wisdom." He was an American Founding Father and the principal author of the Declaration of Independence. Thomas Jefferson later served as the third president of the United States from 1801 to 1809. Source: https://en.wikipedia.org/wiki/Thomas_Jefferson. Who can dare challenge the intelligence of such a capable leader when it comes to matters of wisdom, success, leadership, and/or other personality traits that he possessed and displayed?
"Whoever is careless with the truth in small matters cannot be trusted with important matters." Albert Einstein gave us these words of immense wisdom, so we know who to trust and how to gauge the person. No doubt, it makes a lot of sense in practically all matters in life. Can you afford to maintain a friendship with dishonest, or less than reliable individuals? I believe not. Same holds true for the other person as well in the event you prove yourself to be less than honest in your dealings.
One of America's most famous literary icons we know as Mark Twain (real name Samuel Langhorne Clemens) gave us a precious lesson about honesty in the following words: "If you tell the truth, you don't have to remember anything."
I am positive we all know one or more such individuals that like to tell things in their own way, i.e., with added comments, observations, and also hearsay that ultimately dilutes the facts to the level of a misrepresentation of facts. The interesting component of their character is such that they can never tell the exact same thing twice. They will forget what they had said earlier and add a new twist to the story. No wonder, getting away from the truth leads them to twists and turns, and hoops and confusion. If only they were truthful in the beginning, there would never be any need for improvisation, because truth remains the same, no matter what.
Looking into all the above quotes, the words of wisdom, and the lessons from some of the wisest and most intelligent luminaries, it becomes abundantly clear that following the path of honesty is always the best way to lead our lives. Little wonder Benjamin Franklin said in unequivocal terms: "Honesty is the best policy."
The question that raises its ugly head more often than not pertains to the logic behind people leaving honesty aside to follow the path of dishonesty. What makes them do that? I guess we have an answer in the following words of Josh Billings, the 19th-Century American humorist regarded as only the second best after Mark Twain. He was of the opinion: "Honesty is the rarest wealth anyone can possess, and yet all the honesty in the world ain't lawful tender for a loaf of bread."
Yes, it is correct dishonest people are generally more prosperous than the honest ones. But they may not always lead a life of peaceful coexistence. For them 'me, mine, and myself' happens to be the guiding principle.
At this moment, I am reminded of a sweet little message of relevance from the genius of William Shakespeare: "No legacy is as rich as honesty." If you want to leave behind a legacy, make sure you adopt honesty as an essential measure of life. You may not always benefit financially by displaying this trait, but you will also not be spending as many sleepless nights, popping pills, just to get a little rest before the break of dawn.
In our quest for the hidden treasure, we have discussed the importance of true friendship, truth, empathy, and honesty so far. Before moving on to the next steps leading towards 'dedication to the cause' and also 'attaining as much perfection as humanly possible,' let us reiterate the need for taking these steps. Until and unless we set our mind to something and work diligently towards the cause, it shall be next to impossible to make any long-term progress. Creating something tangible requires both time and effort.
Yes, there are many more requisites that we can never overlook. The difference in here is way beyond small success; we are aiming at finding the hidden treasure that gives us access to ways more than average. It is in this spirit that we try to acquire the guide-map as outlined in these sequential narratives I have been attempting to put together out of my own life's lessons.
The intelligence and wisdom of the luminaries that showered me with their messages we read as 'quotations,' and also some of the hard-fought challenges that I have taken the liberty to share with the discerning audiences are all meant to help us pave the way to a better tomorrow.
It is entirely up to your own free will and direction of life that you may choose to either imbibe the whole or part of these messages or just let them go in from one ear and out the other. The more you retained and acted upon, the better future you will be able to carve out for yourself and for your loved ones. So, take a deep breath and absorb as much of these messages as you reasonably can, before discarding the entire package. I can assure you it will all be worth your while, guaranteed!
TRY IT, WHO KNOWS YOU MIGHT LIKE IT A LOT!