How America's heartland became the birthplace of a strong work ethic and a Mt Dew addiction.
Each generation has its own twist on the ideal way to live, work, and play within the confines of the socioeconomic climate of that time. Some beliefs prevalent years ago have faded into oblivion over the years, abandoned because of functional irrelevance.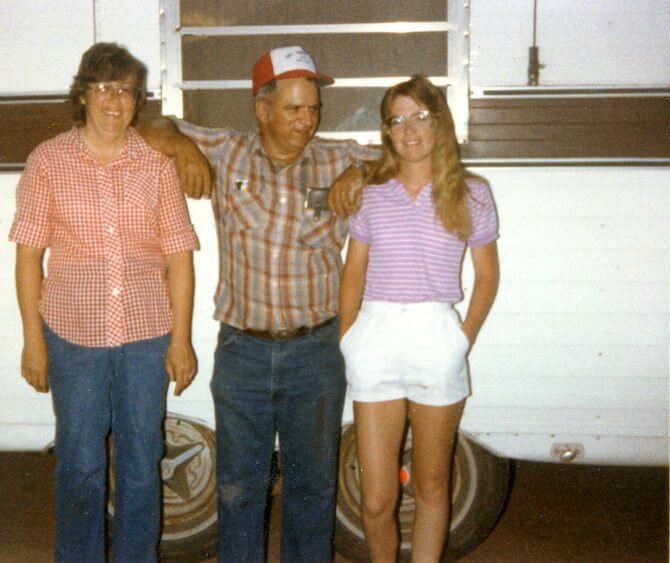 Gender roles, racial equality, and religious beliefs have seen dramatic transformations over the course of history. Other beliefs have stood the test of time maintaining relevancy throughout generations of shifting priorities. The importance of family and the significance of a strong work ethic are such beliefs that have retained some measure of value from generation to generation.
Work ethic is often a learned trait, the result of being influenced by a hardworking individual who possesses a strong moral compass.
My father was such an individual in my life. Growing up, we did not have every new toy, designer clothing, or electronic gadgets galore. We had the basics, never went hungry, and always had a decent home.
Dad wore many hats over the years; farmer, truck driver, construction worker, machinist, and custom combiner, to name a few. Whatever his job, he performed to the best of his ability, striving to produce a quality product. His work was an integral part of his very soul, a reflection of the core of his character.
Dad was wearing his custom combining hat when I went to work for him as a truck driver. We made the harvest run from Oklahoma to South Dakota, working long hours, and living out of a camp trailer. Not a typical job for a teenage girl, but I did not hate it. There I was, maybe 100 pounds, looking like I was about 12 years old and somehow my Dad saw a truck driver and farmhand in me. He always, always believed I could do anything the big boys could do; I just needed to learn. And teach me he did.
Dad thought he was instructing me to drive a truck, service a combine, and know the difference between a wrench and a screwdriver. In reality, he was teaching me so much more than that. The lessons he taught by instruction and by example were about teamwork, organizational efficiency, problem-solving, and public relations. These tools allowed us to successfully compete with other more traditional harvest crews. We were not traditional. Our crew consisted of a man, a woman, and a scrawny teenage girl, each with a role to play as we traveled through the Midwest.
Those hot summer days began early. Waiting for the morning dew to burn off the golden wheat fields, we busied ourselves with the daily chores. Assigned roles were methodically performed each morning. Fueling the tanks, checking the oil, greasing the zerks, etc. were simple tasks seemingly of minimal significance, but collectively especially important. Missing a step could result in mechanical failure and production stoppage during peak harvesting times. Unexpected problems would of course arise from time to time, but predictable failure could be avoided. We excelled at organizational efficiency throughout our journey across the plains.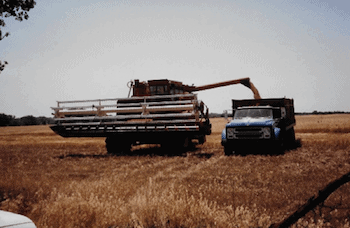 America's heartland was the birthplace of my Mt. Dew addiction and my problem-solving skills. The former thanks to a farmer's grandson; the latter from a hardworking life on the road. Along dusty dirt roads in sweltering temperatures, we encountered mechanical challenges, battled Mother Nature's surprises, adapted to local elevator procedures, and faced the occasional snake, wasp, and tarantula.
I dislodged obstructions from the bowels of a combine, switched gas tanks on the fly during a vapor locking problem, downshifted (and prayed) to make it up a hill with 600 bushels of grain, and calmly instructed my Mom to close the pickup door before telling her about the big snake slithering under the pickup.
And belts; it seemed a combine was held together by nothing but large, expensive rubber bands, each anticipating the most inopportune time to break. We overcame it all; failure was an option that meant finding a different way around the problem.
Being a small, nontraditional crew meant some farmers wouldn't consider hiring us, couldn't see past our appearance to our potential. Some hired us because they felt sorry for Dad with his diminutive young helper by his side. No matter, work was work and we were glad to have it.
The farmers who took a chance on us had no regrets and soon determined pity was unnecessary. We could backup Dad's salesmanship with results that exceeded their expectations. In the end, we became a part of many families, enjoying work, dinners, ballgames, conversations, pain, and laughter with some of the finest people in the country.
The experience I gained during those long summer days was more valuable than money or material objects. Along the way, I learned about compromise, sacrifice, decision making, and compassion. I learned what it means to work hard and with integrity.
Hindsight has revealed that Dad was the best boss that I would ever have; the only mentor that I would ever have. As inexperienced in life, as I was, he respected my opinion, trusted my judgement, and believed in my abilities. From wheat field to wheat field across the Midwest, Dad's strong work ethic guided us throughout our custom combining journey. I have worn many other hats since those times, but none more positive than that of custom combining.
In no other workplace have I found the respect, the fairness, and the freedom to speak and contribute as I found in those hot, dusty wheat fields so many years ago. I remember fondly what it felt like to wear that hat and I am proud to have worn it.
The hat that shaped my life was a ball cap, in case you were wondering.