What is it about building a resume, refreshing your resume, getting your resume ready, updating your resume, anything related to your resume, that produces the cringe?
Perhaps it's trying to figure out what you could possibly put on your resume that will give you the leg up?
Perhaps it's trying to decide which is most important to go first – Education? Experience? Hobbies? (hint: probably not hobbies)
Perhaps it's trying to edit down all of those amazing accomplishments to highlight the most important success elements?
Perhaps it's trying to beef up your accomplishments to make them sound important?
Perhaps it's deciding how far back you need to go?
Maybe it's just all of the above? Yep, that's definitely it for me.
Resume writing is hard, however, it may not be as difficult as resume screening. How in the world does a recruiter or talent acquisition specialist gleam from an 8×11" piece of paper the 'fit' of an individual into their organization? After all, education and experience are only a small piece of what is being sought after. And truth be told, 2020 may have demonstrated that we aren't looking for those things at all. At least not first.
Education and experience have somewhat dimmed compared to the rock star status that soft skills have earned this past year. By soft skills, I mean emotional intelligence, of course. The skills that are abilities that when they are possessed, place an individual leaps and bounds above their peers with low proficiency in these areas.
In fact, the difference is shocking – 68%. Individuals with equal IQ…the one with higher EQ will outperform their peers by 68%.
Since EQ often matters more than IQ…why is one's emotional intelligence NOT a part of their resume? Or even worse yet…a part of the interview process?
In my experience as a certified EQ practitioner and coach, it's because very few people have high EQ. Who wants to put their EQ profile on a resume that shows skills they don't have? It would be similar to applying for a Management role, Director, role, Executive role, and having only a high school diploma under Education and no managerial experience in your Work History.
Enough research has been done that builds the business case for emotional intelligence, which 2020 has been the poster child for, related to mental health, loneliness, depression, and wellbeing in the workplace, to prove beyond a shadow of a doubt, that workplaces must embrace emotional intelligence in order to engage people at work and life.
In fact, having proficiency in emotional intelligence skills accounts for 68% of a Managers performance and 30% of occupational performance.
The future in the resume lies not in chronologically highlighting only accomplishments, certifications, and education. It lies in highlighting the use of emotional intelligence skills to foster relationships, retain and engage employees, have difficult conversations to problem solve the most costly organizational problems, manage stress and reduce sick days/wellness days/disengagement, create spaces of psychological safety and innovation, and to enhance personal performance through higher well-being.
The future of the resume may just be to include your EQ profile. With pride, to put on display the skills that so many workplaces are craving their leaders and peers and employees to have. In fact, Generation Z demands these skills where they work.
2020 has demonstrated that pretty close to everyone has demanded these skills from their employers AND from their employees. But we have learned, the hard way, that far too many people just don't have them. And because those skills were lacking, performance was drastically and dramatically impacted.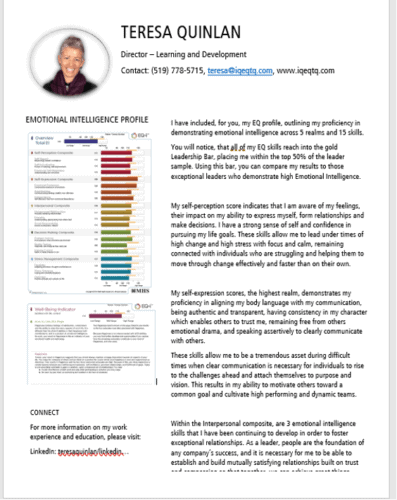 Most of the research on hiring costs demonstrates a range of $8000 – $40,000 to hire an employee. The top end of the range, for hiring high profile positions, can quickly exceed the $40,000 mark. With retention and engagement numbers across the globe at catastrophically low numbers, who wouldn't want to hire the right person for the job?
Trillions of dollars are at stake every year. The EQi profile report cost?
$70-$325.
What do you think? Do you think you'll be on the leading edge of this curve? Will you ask potential candidates to include their EQ profile if they have one? Will you make EQ profiling part of your recruiting process for candidate selection? Will you be part of ushering in the future of work by demanding the skills that are most often needed are the skills that employees actually have?