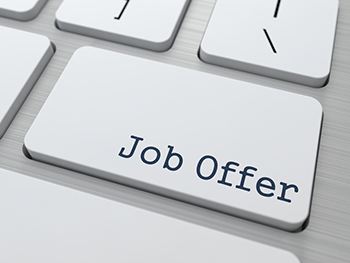 by Jeff Altman, Guest Contributor
[su_dropcap style="flat"]C[/su_dropcap]ONGRATULATIONS After all this time and effort, you've received a job offer from the firm you want to work for. Hooray!
There's only one problem . . . The offer is for less than what you were looking for. You want the job but you don't want to settle for less than your value and less than what you told them you were looking for. You also don't want to "blow it?"
What do you do?
Every day, job hunters face this scenario. Every day, job hunters, particularly in the United States, cave in without even attempting to get the firm to increase the offer. Here's what to do if you are confronted with this nightmare scenario.
[message type="custom" width="100%" start_color="#F0F0F0 " end_color="#F0F0F0 " border="#BBBBBB" color="#333333″]
Determine, in advance, what the "drop dead salary" will be that will cause you to accept any offer of employment and in particular, this one. Too often, people start looking for work without getting clear about what they are looking for in their next job or employer. This includes being fuzzy about salary. They also forget or choose to ignore the fact that if you ask for a particular salary, it doesn't guaranty you will get it. If you ask for a salary range, it doesn't mean they will give you the top number of the range; you may receive an offer of the bottom number of the range or any within it.
Remember what Michael Corleone said in "The Godfather." "It's business, not personal." The firm has extended an offer in what they think is their best interest. They are not "insulting you." They are trying to save a few dollars.
When you receive the offer, here's how to respond. Job search, interviewing and salary negotiation are like theater. You have to get the audience's attention before you speak. Be quiet and count to three. Then speak. Sound disappointed and sincere. "Thank you for the offer. I really appreciate it. I would like to think about it. Can I get back to you tomorrow?" Immediately, they know it's about the money and that you are disappointed about it. They will say, "Yes." After all you've only asked for one day.
Here's what to say when you call them the next day or if they start pressuring you at the time of the offer. "I want to be clear that I really like the job that's been offered. I like the firm I like (first name of the hiring manager) and the team. I'm disappointed in the salary that has been offered."
Be quiet and listen. At this point usually, the recruiter or manager who has made the offer will attempt to rationalize why the offer was extended at this level. They will explain how they compared your knowledge and experience with the people already working there. They may talk about their budget and what they can afford to pay someone.
Ignore what they say; it is irrelevant. In almost all cases, what they are saying to you is irrelevant. They are trying to score "debaters points" to get you to make a concession. As for their budget, that is their problem that has nothing to do with you.
Ask this question. Sound sincere and sound you are finding it very difficult to speak. You are agonizing as you talk.
"I hear what you're saying but the market for what I do is (state the range for the market for what you do; if you don't know, just repeat the salary range you asked for). " When they ask you what would cause you to say, "yes," again start by saying that you like the company, you like the opportunity and the people. Then pause and say, "Can you do a touch better?" This is the most gentle question to ask to try to get a company to increase their offer. You haven't threatened them. You've only asked whether they can do "a touch better." If you have another offer, this is the time to tell them about the other offer you have for a higher amount . . . but ONLY if it is true. After all, we are trying not to have the offer rescinded and you left with nothing. We are trying to get them to increase the job offer. If you do have another offer at a higher amount, tell them you have another offer at $ __________. Tell them you'll accept their offer if they match the one you have from the other firm or pay whatever the amount is that you tell them.
Decide.  You know what your rock bottom or drop dead offer is that will cause you to accept the job offer. Thus making the decision should be easy. Turn down the offer if it doesn't meet the base salary you've told yourself is the least acceptable or accept their new offer on the spot and schedule a start date. Do not resign until you receive an offer letter.[/message]
Congratulations on a successful performance. Even if you ultimately turn down the job offer, you have done what few are willing to do and you now know you do it again in the future.
© The Big Game Hunter, Inc. Asheville, NC 2015
Jeff Altman, The Big Game Hunter has more than 40 years of headhunting experience, is the author of 8 books about job search, one about hiring, the host of Job Search Radio, No B. S. Job Search Advice Radio, No B. S. Hiring Advice Radio and the creator of more than 1400 YouTube videos about job search and hiring.He has written about the job market since August 2001 and coaches people into correcting their job hunting mistakes.